Decorating your home is a creative process that requires a lot of planning and organizing. While most people focus on finding the perfect furniture and the most unique and modern decorative objects to incorporate in their home, they often disregard the huge importance of one essential aspect. Yes, I'm talking about modern curtains and their amazing decorative power. Curtains can drastically change the look of a room. They certainly give a special dimension to the space and provide a wide range of decorating options. Online and offline shops offer a vast variety of curtains that come in different sizes, designs and materials, thus, choosing the perfect style and model can be quite the challenge. And while design is nonetheless important, you should certainly not compromise on quality and efficiency.
The secret to creating a modern and sophisticated room is finding the style of curtains that will best fit in the room's interior design. To help you with your decision, in this article we will discuss everything you need to know in order to invest in modern curtains like a pro.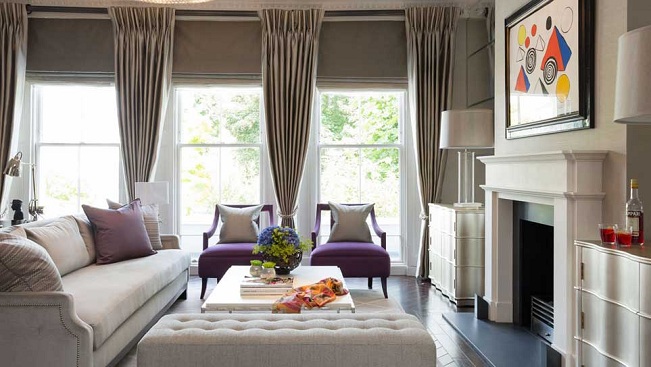 The material is essential
One of the most important things to consider when shopping for the perfect modern curtains is definitely the quality of the material. Sheer fabrics are great for rooms where a lot of light is required and are perfect for creating a luminous bright look. They do not fade and have neutral shades that can blend well with any style of interior design. Denser fabric on the other hand, moderately or totally block out light and provide more privacy
Make a unique colour contrast
The colour of the curtains can really make or break the atmosphere in a room. Modern curtains are available in a variety of colours and patterns. For creating a neutral and calming atmosphere, go for a brown and white colour combination that goes well with any style of furniture and décor. However, models in bold green and blue shades for example, can give a pop of colour to the space and are great for kids' bedrooms or dining rooms.
The right length of curtains
Most people focus on the design but one of the greatest factors that really determines the style of the curtain, therefore the one of the room, is actually the length of the curtains. Long curtains with unique patterns and designs are great for decorating the windows in your master bedroom or dining room. In these rooms you can really get creative and choose curtains that extend to the floor. These models are great for giving a room a royal and sophisticated vibe. Short models on the other hand, are the perfect option for kitchens or hallways since they are very practical and easy to clean.