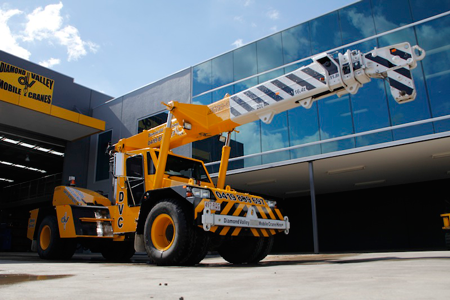 Franna was a family-owned company that dominated the Australian market. In 1999 the American giant Terex bought Franna and changed the name into Terex-Franna. The first pick & carry Franna crane was designed and produced by the Australian engineer Dave Francis. The name of company "Franna" comes from the name of the owner Francis and the name of his daughter Anna. However, Dave Francis operated the company for three years and sold his rights to Brian Hain and Lou Parolin in 1983. The original design of the remarkable pick & carry Franna crane was kept by these two engineers because Franna was gaining a huge popularity in Australia.
In the following years, the Franna crane earned popularity in other continents thanks to its powerful performance and superior lifting results. In 1999, Franna changed its name to Terex-Franna, because the rights were acquired by the leading American manufacturer of heavy equipment – Terex. Although the company has new name, the cranes are still known as Franna cranes all around the world.
Many wonder what is so special about the Franna crane. The Franna pick & carry cranes come with unique settings and maximum lifting capacity of 25 tonnes. Although similar to the mobile crane, the Franna crane does not has stabilizers or outriggers, meaning that it can be operated efficiently in tight areas. Also, because there are no outriggers or stabilizers, the Franna crane can be operated on every job site.
The Franna crane is known for quick operation, incredible versatility, mobility and powerful performance. Another big benefit of the Franna crane is that it is road legal. The Franna cranes can travel on large distances and are more flexible than the other crane models. The Franna cranes come with unique combination of specifications and features. Suitable for construction job sites, plants, mines, coal industry, workshops, industrial facilities and other places, the Franna crane is ideal for lifting and moving loads in every industry sector. The benefits provided by the Franna crane are the main reason why Terex-Franna dominates the Australian market.