A hand pallet truck is a simple and hand-operated truck that is used for moving pallets from one place to another in warehouses or storage facilities. The hand pallet truck eliminates the need for using a forklift, because aside from moving pallets efficiently, it also makes the loading and unloading tasks much easier and safer. Commonly known as a pallet jack, the hand pallet truck is usually small and lightweight, but easy transportable.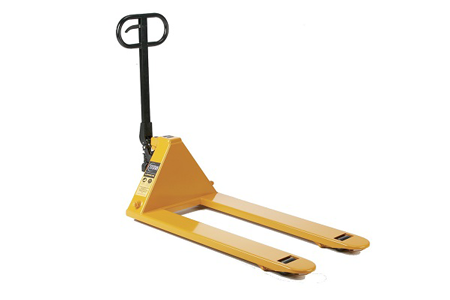 The hand pallet truck features a pair of blades which lift the pallets several centimeters above the ground. The blades go under the pallets, and that's how it transport the pallets to the desired location. The hand pallet truck is most commonly used in warehouses, food storage industries, chemical factories, pharmaceutical factories, retail stores and other industry sectors. The first hand pallet truck models were designed with levers and cranks to lift pallets in position, while the modern versions use hydraulics. They can minimize the time for transportation in indoor environments.
Since the production of the first hand pallet truck in the first decade of the 20th century, many different models have been designed and developed to suit different material handling applications. The first hand pallet truck was used for light applications, like moving light pallets. Today, the hand pallet truck is significantly improved and it capable to do a lot of things.
Today, the hand pallet trucks are being designed to perform both indoor and outdoor applications, and to work on heavy terrains also. Some models are designed from rigid materials to withstand heavy conditions, such as a moist atmosphere, which is very common in pharmaceutical factories. With a hand pallet truck, the operators are capable to lift one or few pallets and to transport them easily and quickly. Most hand pallet truck models today make easy turns as the operator maneuvers the rear set of wheels.
The main advantages of the hand pallet truck are the small size and exceptional maneuverability, providing a great solution in tight areas where big forklifts cannot fit in. However, it offers a lot more advantages over the forklifts and other similar material handling machines. For that reason, most manufacturers dispose with at least one hand pallet truck in their product line.