It's been a while since the introduction of the 3rd largest crawler crane by Terex-Demag and from 2012, it is finally available on the Australian market. Tutt Bryant's Terex-Demag CC8800-1 is a huge crane with terrifying capacities and capabilities. With 1,600 tonnes lifting capacity and maximum load moment of 24,000 metre tonne, this crawler crane requires a large space, few lifting equipment (cranes, trucks, etc.) and a lot of time to be assembled. The world's third largest crawler crane is the largest in Australia and it will be a great addition for the biggest lifting challenges for the construction companies in the country.
Large yet flexible design, the Terex-Demag CC8800-1 is the most efficient machine that can be used for erection and installation of large facilities. The previously preferred alternative methods in Australia, such as jacking towers, lift cranes and tower cranes, will quickly become past. This crawler crane has completed all the testing, configuration builds and commissioning at the most reliable construction companies in Australia. The CC8800-1 will provide each company with flexible and efficient solutions for either shift or heavy lifts.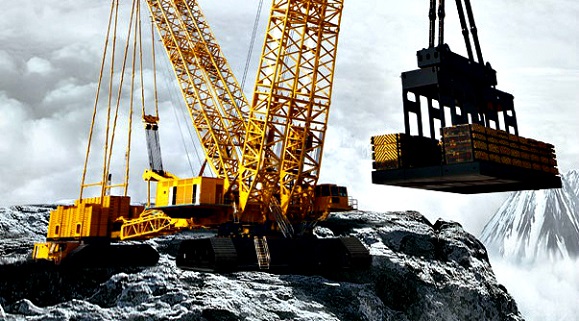 The new addition on the Australian market will be especially efficient for building large-scale projects, such as the building of Minnesota Vikings new stadium. CC8800-1 is currently employed to assist the process of building new stadium that cost over $1 billion. The crawler crane arrived in early July and took out 11 days for complete assembly. It was delivered by 70 trucks over one week, piece by piece. It is expected the crane to remain on-site for about 15 months, until the finish phase of the project. When assembled, the monstrous Terex-Demag crane is over 120 meters high and able to lift up 1,600 tonnes. The average crawler cranes are roughly 2.5 meters high.
The boom booster is a relatively new attachment for the CC8800-1 that significantly increases the lifting capacity and is suggested for long system lengths only. Easy and cost affordable to transport, the boom booster can be transported in a typical 12-meter container and can be fitted to any CC8800-1. Five 10-m long by 10-m wide boom sections provide the Terex-Demag CC8800-1 with extra boom of 72 m on top. A crawler crane with boom booster is especially efficient for erection and installation of wind turbines, construction of tall buildings, large vessels and similar applications. The boom booster is most effective at shorter radius.