Jaw crusher is a versatile and efficient piece of crushing equipment with many uses in different industries. In fact, it has become an essential tool for the quarrying industry, because it is capable to crush hard materials with ease. The jaw crusher can be used for primary, secondary and recycling materials, including hard concrete and rocks. However, the jaw crusher is ideal for reducing the size of large debris to a manageable size quickly after a demolition work.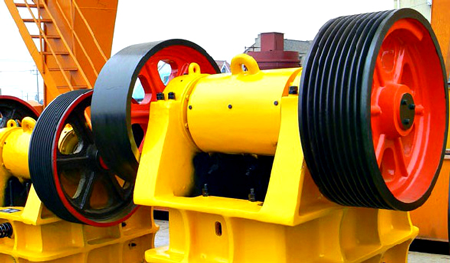 The crushing process is carried by a pair of vertical jaw plates. One jaw plate is fixed in place, while the other moves back and forth. The place between them is called crushing chamber, where the whole process of crushing is carried out. Positioned in this way, there is a wide opening between the jaw plates at the top, known as gape, and a tight discharge opening at the bottom. As the material moves downwards, it is being crushed to smaller and smaller pieces until the desired size is achieved.
Maybe because of its simple structure and working principle, or because of its huge range of applications, the jaw crusher is becoming the favorite crushing toll for many companies from different industries. The jaw crushers bring many unique advantages over the other crushing machines, such as low operating costs, big crushing ratio, reliable and efficient operation. But their biggest advantage is that the jaw crushers are fully adjustable, unlike all other crushers. Also, their structure is made from rigid materials, like iron and steel.
Despite having an indispensable value in the construction and in the mining industry, the jaw crushers are becoming essential tools in other industries as well. For example, they have a huge role in the sand production process, simply because many contractors are recognizing their efficiency and the benefits they offer. However, for every industry there is a specific type of jaw crusher. The most popular and widely used jaw crushers are: single toggle, double toggle, semi-mobile and mobile jaw crushers.
Reliable operation with small owning and operating costs, easy for maintenance and having an environmentally-friendly impact is what makes the jaw crusher to be a vital tool for every contractor.