Two years ago, New Holland introduced its incredible C -Series backhoe loaders, and today these machines are some of the best selling backhoes on the market. Incredible power, superior performance and great fuel efficiency, the C- Series New Holland backhoe loaders offer many benefits and advantages. The New Holland C-Series include four backhoe loaders: B95C, B95C LR, B95C TC and B110C, all designed with Tier 4 Interim engine. These four New Holland backhoe loaders come with lifting capacities of over 1,700 kg, most of them are 3.6 meters high, and provide bucket breakout forces of around 5,500 kN. So, it is safe to say that they are capable to perform any given task.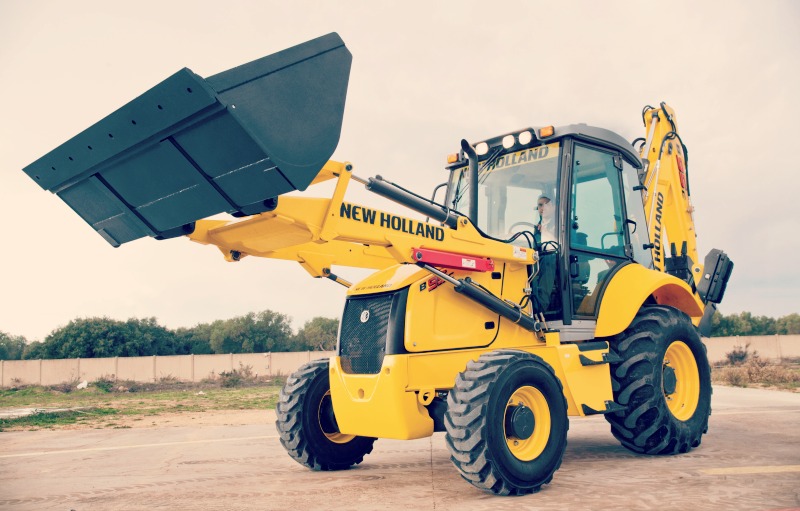 The aforementioned Tier 4 Interim diesel engines are incredible in many terms. They meet the emission regulations and provide horsepower of 95 up to 108 or 71-81 kW. Also, these engines provide an increased fuel efficiency when compared with the previous New Holland backhoe loaders. The well-known exhaust gas recirculation emission technology (CEGR) is also included in the new loaders in combination with a diesel particulate filter (DPF). With this technology, the nitrogen oxides inside the engine are significantly reduced.
The C-Series includes a long reach loader (B95C LR), and a tool carrier (B95C TC). The long reach New Holland backhoe loader has the same compact size like the B95C, only with longer stick and better dig depth, longer outreach and less fuel consumption. The tool carrier is ideal for material handling applications, due to its self-leveling. Although every model is suitable for specific jobs, they all deliver enough torque and power to perform any loading, digging, trenching and pushing job quickly and easily.
The biggest feature of the C-Series New Holland backhoe loaders is the auto ride control. This system was designed to replace the standard ride control of the previous New Holland backhoe loaders. The auto ride control was included in the wheel loaders exclusively, but now it comes as a standard equipment for every New Holland backhoe loader from the C-Series. It provides ease of operation, reduces the spillage and improves the performance. When the backhoe loaders are traveling slowly, the ride control system is automatically shut down. In addition to their versatility and flexibility, these New Holland backhoe loaders support a full range of attachments, such as booms, forks, augers, rakes, hydraulic hammers and many more.