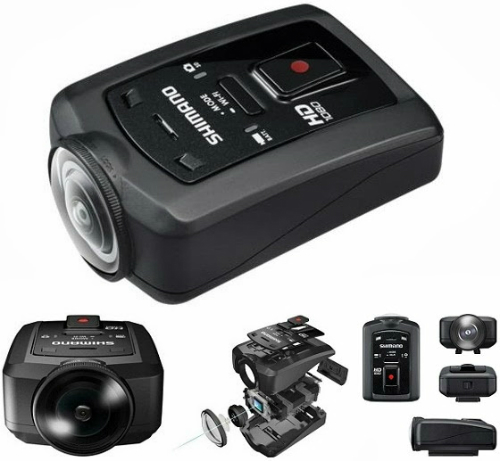 Fishing is a popular sport in Australia. It is in fact a multi-billion industry. Even though for some it is simply a favourite hobby, many Australians take their angling seriously. For this they need high quality fishing equipment. From rods, reels and fishing line to fishing lures, tackle storage and fishing clothing, every piece of equipment matters. And not just equipment, but fishing accessory is also important to ensure a good catch and enjoyable fishing experience. Reel covers, rod wraps, scales, pliers, knives and cutters are just some of the fishing accessories popular among anglers. But lately, one fishing accessory is setting a new fishing trend – a fishing sport camera.
A picture is worth a thousand words, so why not catch those exciting moments with one of the latest fishing invention that makes this sport even more racy. The fishing sport camera is one of the "must have" fishing accessories as is ultra light and can be carried anywhere you go. Whether you go fishing, kayaking, diving, etc., make sure to capture the excitement with this unique sport camera. If you've always wanted to capture all the beautiful fish you see under the water, then get yourself a Shimano sport camera.
Capturing videos and photos under the water is now possible with this sport camera which is waterproof up to 10 meters and offers excellent HD resolution. Underwater photography was just a dream few years ago, but quite common these days thanks to Shimano sport camera. Even in low light conditions, you can rely on Shimano sport camera that has outstanding F2.0 lens that produce bright HD movies and pictures.
Say bye to all those big cameras heavy carry around, and enjoy your nest fishing trip with this pocketable sport camera that offers dual standard angle of 135° and auto image rotation of 90° to allow users flip the sport camera in as many directions as they want. For greater security, Shimano sport camera comes with a lens cover, wearable chest mount harness and an adhesive mount. Intelligent sport camera that has simple instinctive operations.
Also, thanks to the wi-fi connectivity, you can view, control and share videos directly from your mobile device. You only need to connect the USB directly to your device and upload all the pictures and videos captured during the day. Now you can take photos and videos for 2 hours straight. But anglers are not the only ones that can benefit from this sport camera. Cyclist love it also as they can place the sport camera on the cap, shoot photos and transmit data from bicycle computers and D12 transmitter, due to the ANT+ and ANT wireless connection that this sport camera has.