Grape varietal Pinot Gris is probably one of the best known varietals in the wine world. It is used for the production of a variety of white wines and can be grown in different areas. However, even though it originates from the Burgundy region of France, the northeastern part of the Italy is world's largest producer of varietal Pinot Gris or Pinot Grigio, as it is called in Italy. Although there are two names for this grape varietal, both refer to the same grape and in general, represent the same wine style – texture, aroma and bouquet.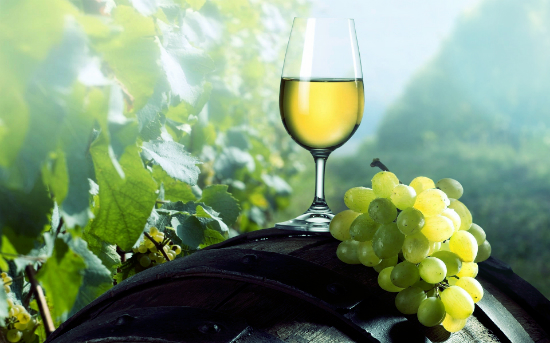 Varietal Pinot Grigio is mostly grown in the Italian wine regions Valdadige and Veneto. Grapes grown in these two regions are known as more crisp, dry and refreshing and have more body and substance due to favorable climate. Normally, varietal Pinot Grigio is naturally low in acidity and in order to obtain the 'easy-to-drink' and refreshing wine style, grapes are harvested early, what allows winemakers to retain the fresh acidity as much as possible. Aside from early harvesting, the crisp style of wines produced from varietal Pinot Grigio is achieved by adding the flavors and aromas of lemons, green apples and blossoms. Also, to retain freshness and zing, the grapes are fermented in stainless-steel tanks. The end result is a clean and simple wine style, which is intended for consumption within a year or two.
Depending on the region, grape varietal Pinot Grigio can differ in style. For example, grape varietal Pinot Grigio grown in areas with warm climates tend to lack acidity and structure. For this reason, varietal Pinot Grigio is mostly grown in coller climates, such as Baden and Pfalz in Germany, and Alsace in France. Varietal Pinot Grigio is naturally low in acidity and high in sugars. These regions produce wines with various levels of sweetness, from bone dry to lusciously sweet. Flavors and aromas can vary depending on the region and style of the wine, but the most common ones are pears, apples, stone-fruit, sweet spices and a hint of smoke. Also, winemakers swear by less contact and incomplete malolactic fermentation as key elements fro producing weightier and more complex wine style. Also, winemakers do not use oak barrels to avoid sweet aromas, which would diminish the real taste to the palate.
Although Varietal Pinot Grigio and varietal Pinot Gris refer to the same grape, both are recognized and respected for their authenticity. For example, varietal Pinot Gris produces wines that are richer in texture and aromas and are sweet. On the other hand, varietal Pinot Grigio produces more crisp and light wines. Also, less expensive wines offer a nice and neutral flavors while more expensive wines feature a more intense body and flavors.