When it comes to decorating your garden, you have plenty of options for making a beautiful and unique outdoor place where you will spend more time with your friends and family. There is a wide range of garden decor accessories that can help you to create a real master piece. But before buying accessories for your garden, you should determine your style, lifestyle and budget. To stay within your budget, you need to be smart when buying decor accessories. The following garden accessories are some of the most popular garden pieces that go well with any garden style. Let us introduce you to the most popular garden decor accessories, starting with the water pot.
Water Pot
If your garden is Asian-inspired, the water pot is a must-have outdoor piece. To make your garden more vivid, more natural, and more vibrant, get a water pot. The water pot can create a unique feeling in your garden. If you are worried about the shape, size or color, no worries, the water pot is available in different colors, sizes and shapes. With such an extensive choice, selecting a water pot for your garden is quite easy.
Garden Gnomes
Whether you have a small or large garden, the garden gnomes can suit perfectly. Some people don't consider the garden gnomes as decoration accessories, but as a tradition. Whatever the reason, the garden gnomes are perfect for any garden. From simple colorful gnomes to solar-powered garden gnomes that emit light in the night, you can find a gnome to fit your style and budget.
Rugs
Rugs can add extra style into your garden, and they also provide a comfortable place for your feet. They are the ideal place for sleeping in hot summer days and an excellent choice for your outdoor table. When it comes to choosing rugs, you have an unlimited choice of materials, styles and colors to choose from. To make your garden more fun, add rugs with different textures.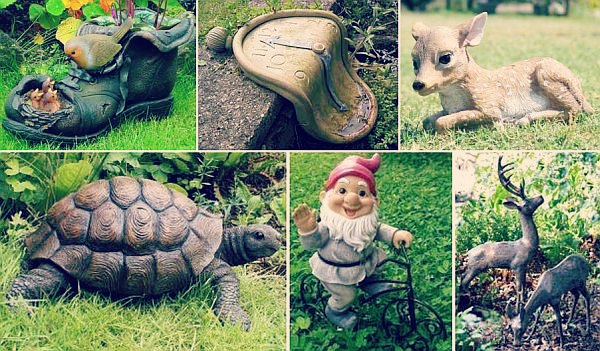 Lantern
To add a calming and relaxing feeling in your garden, buy a set of lanterns. Lanterns are made from rigid materials and they are available in different designs. These beautiful garden accessories can be hanged on a tree, placed above a water pot, near a pool or a bed. The lanterns can also turn your garden into an Asian-inspired place where you will spend the hot summer nights.
Bird Feeders
There is nothing more positive than having birds in your garden all the time. One way to attract birds in your garden is to use bird feeders. These beautiful ornaments will add extra style to your garden, and will attract little singing birds. Place food and drinking water and keep the birds happy.