Roll crusher is a piece of traditional crushing equipment and is mainly used for fine processing of material particles, mining and industrial processes. A basic roll crusher features two cylinders, attached on a horizontal axis and rotating in opposite directions, so it can crush the material between the cylinders in small pieces by generating compressive force. For most efficient results, the space between the two cylinders is completely operator's adjustable. The crushed material, or the small pieces are being discharged under the cylinders once they have the desired size. The most common applications of roll crusher are concrete recycling, mineral production and coal mining applications.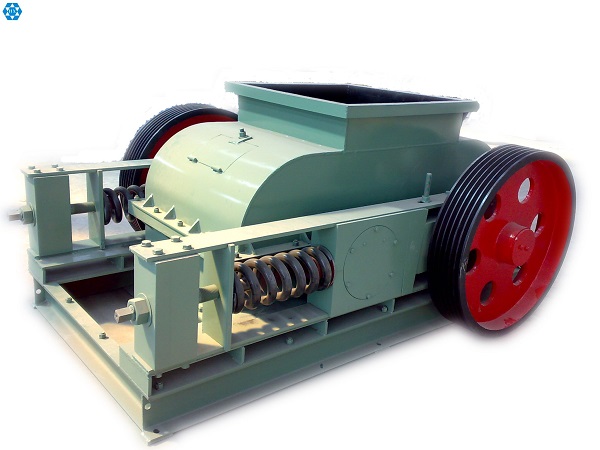 The roll crusher is able to deal with materials of high hardness. If one gets between the two cylinders, the roll crusher will concede, increase the space between the cylinders and allow the material with high hardness to exit, in order to protect the machine from damage. Usually, the surface of roll crusher is smooth, but there are models with a textured surface. For delicate materials, smooth surface is ideal, while for crushing rough and heavy materials, textured surface is more suitable.
Roll crushers can be classified to three types: single roll, double roll and four roll crusher. The double roll crusher is the most commonly used type, as it is efficient for a variety of materials and applications. The double roll crusher is widely used in the industrial field, including chemical industry, building materials industry and cement industry, for medium and fine crushing of materials with medium-high hardness. However, there are some applications that can not be carried out efficiently with a double roll crusher.
Applications that can not be carried out with a double roll crushers can surely be performed with a four cylinder roll crusher. More efficient, yet compact design, the four cylinder roll crusher takes materials to pass through the first pair of cylinders first, and then to the second pair of cylinders. Thanks to the second pair of cylinders, this roll crusher is much more efficient and provides finer and better final product.
Fine product size distribution, little fines and dust production, the roller crushers are extremely efficient for mineral applications, because they are mostly required in small production and are not rigid. While ideal for small loads of materials, roll crushers are not suitable for large production capacity. With some exceptions, the surface of roll crushers is not made for rigid materials and is prone to damages by rough materials.