The rope luffing knuckle boom crane is designed for underwater installation and offshore construction operations in the most difficult environment conditions. The first rope luffing knuckle boom crane was designed and produced by Huisman, a specialist in lifting, drilling and all kinds of underwater operations. This crane is a unique combination of the traditional knuckle boom crane and the normal rope luffing crane, offering the advantages of both cranes. The result is ability to reach incredible heights and very long outreach.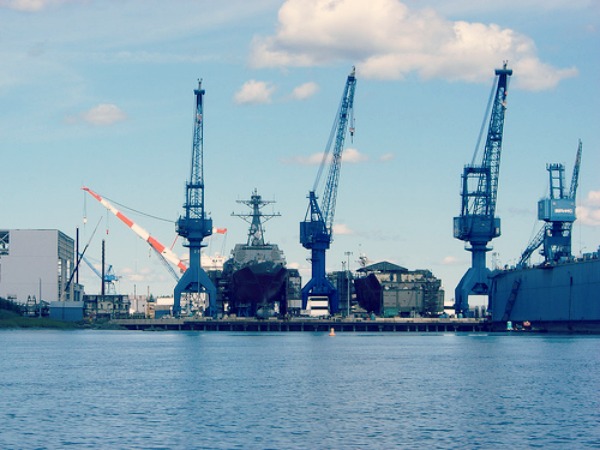 The first rope luffing knuckle boom crane was designed with capacity of 900 tonnes. Today, the lifting capacity of this crane type varies from 500 to 1,200 tonnes. It can reach not only incredible heights, but also this crane can go down in the water for amazing 5,000 meters. This crane is consisted of a main hoist system, anti-twist device and an electric drive system. The innovative design of the rope luffing knuckle boom crane comes from few key components which provide very high lifting capacity and huge lifting radius. For example, a knuckle reduces the pendulum of the hook, and if extended, the knuckle can reach long distances.
In addition to the main hoisting system, the rope luffing knuckle boom crane includes a separate compensation system. This system allows both lowering (or lifting) and heavy compensation to occur in the same time. Also, if a failure in the main hoisting system occurs, the heave compensator will remain unaffected and vice versa.
Most rope luffing knuckle boom crane models are electrically powered, so the noise level and the power consumption are significantly reduced. Also, these models come with few simple components, making them more reliable than the hydraulically powered rope luffing knuckle boom cranes. This means that the operational and maintenance costs are reduced as well.
The heavy compensation system has two modes: passive and active. The passive mode features built-in redundancy, such as a shock absorber. For lifting objects in underwater applications, the passive compensator can avoid any resonance, making it the most efficient lifting solution. The active compensation mode consumes lees power, and it uses an anti-twist device to prevent wire rope twisting during lifting.