'Fishing is not just a sport. It is a way of life'.
As John Buchan once said: "The charm of fishing is that it is the pursuit of what is elusive, but attainable, a perpetual series of occasions for hope". Thus, there is no doubt that fishing is one of the most popular sports activities on our continent. This multi-billion dollar industry is not just about fishing for food. It is among top 10 leisure activities in Australia. After all, Australia is indeed one of world's top fishing outbacks.
One of the most preferred types of fishing by Australian fishermen, recreational ones and professional anglers is shore fishing. This particular fishing discipline is divided into two different categories, depending on the type of fishing ground. Hence, there is a surfcasting shore fishing and a beachcasting shore fishing.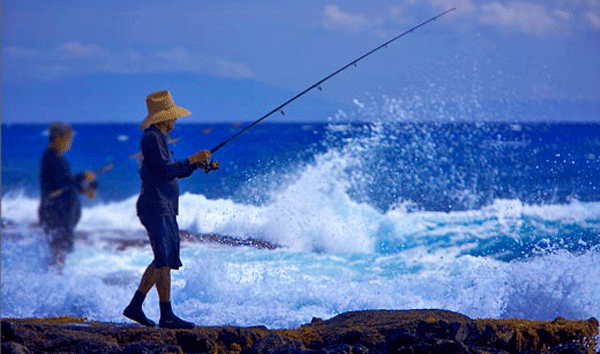 Normally, to enjoy a perfect shore fishing experience, or any other type of fishing for that matter, you have to be well-equipped with several pieces of shore fishing gear. If you are a novice to shore fishing, take a look at the following list of must-have fishing gear you should own.
Rods & Reels – Basic shore fishing can be done with a 4-meter fishing rod, which is ideal for beginners. This is the perfect rod length to start learning the fundamentals of shore fishing and to start improving your casting performance. When it comes to reels, note that they are a little bit more expensive than fishing rods. Again, novices are offered two buying choices – fixed spool reels or multiplier reels. We recommend a fixed spool reel, as this is most suitable option to begin your shore fishing career.
Terminal Tackle – This is the piece of fishing gear at the far end of the line, including hooks, swivels, lines and leaders. Depending on the type/size of fish you target and depending on the fishing conditions as well, terminal tackle comes in a large array of models, weights and sizes.
Shore Fishing Bait  – It is one of those must-have pieces of fishing equipment that comes in various forms, which mostly depends on the particular type of fish that shore fishermen are interested in casting. However, in most cases, a fresh bait is preferable. Most used casting baits are:
– Lug Worm – Rag Worm
– Sand Eel
– Peeler Crab
– Squid
– Mackerel (Fish Bait)