This year in Berlin, Yanmar introduced the successor of the popular B25 Yanmar excavator. The new and compact Yanmar excavator is called SV26 and it brings many remarkable benefits. One of its biggest benefits is the ultra-low transport weight of around 2,590 kg, making it ideal for rental companies, since they can easily attach it to a small trailer and transport it where needed. Thanks to its compact design, the SV26 is suitable for all kinds of urban and landscaping applications.
In addition to its low transport weight, the SV26 Yanmar excavator comes with a 3-cylinder Yanmar diesel engine with a direct injection for maximized power, enhanced safety and better performance. Every cylinder has a capacity of 1,330 cm³, meaning that the fuel consumption and gas emissions are significantly reduced. The maximum power of the engine is17.4 kW at 2,400 rpm. This Yanmar excavator is built to last, with all high-security standards included for easy maintenance.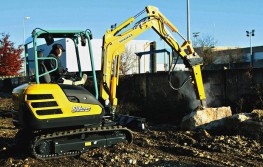 When the excavator is not used for more than 4 seconds, a system automatically reduces the engine speed and accelerates again when necessary. This way, significant amounts of fuel can be saved on a daily basis. This feature is becoming a standard equipment for various machines these days. The patented hydraulic system from Yanmar called ViO Progressive 3-Pumps System, combines three systems simultaneously in order to increase the working speed of the machine. This facilitates the performance of the new Yanmar excavator and makes every operation easier. Also, it has a short tail that enables operation in narrow spaces.
When it comes to safety, the SV26 Yanmar excavator comes with a large cabin windows and a great panoramic view. The operator reads important information from a newly designed digital display that allows convenient management of the working time, easy daily maintenance operations and real-time information about the status of the machine. So, the operators can easily notice even minor malfunctions. Equipped with LED lights, the operators of the new Yanmar excavator can perform effectively even at dark.
Not only for urban and landscaping applications, this Yanmar excavator can be used for agriculture and construction applications as well. With so many features there is no doubt how efficient this excavator can be for a variety of applications. Since Yanmar disposes with more than 150 dealers all about the world, this Yanmar excavator is available for everyone who is searching for powerful and efficient machine.