The movie When Calls The Heart is one of the best historical, romantic dramas you can watch, based on the best-selling novel series by the famous Janette Oke. The Canadian author Janette Oke is known for pioneer era-set and female main characters-centered books. She is an Evangelical Christian that has contributed significantly to the Christian fiction. For doing so, Janette has won several awards. In addition to Christian fiction, Janette Oke also writes entertaining children's stories and inspiring gift books.
The biggest success in Janette's career is the novel and the movie When Calls The Heart. The movie was released in 2013, directed by the popular director Michael Landon Jr in co-production with Believe Pictures. The cast includes a plenty of talented and world-wide popular actors: Poppy Drayton as Elizabeth, Stephen Amell as Wynn, Maggie Grace as Aunt Elizabeth, and Daniel Sharman as Edward. The movie When Calls The Heart features stories of faith, history and adventure, and is a true masterpiece.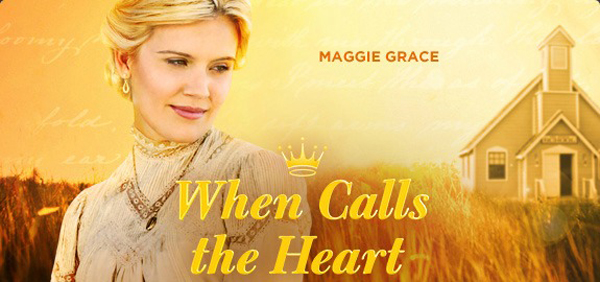 Set in 1910, Elizabeth Thatcher is a cultured young woman who is about to start a new professional life as a school teacher. Elizabeth comes from a wealthy family and is used to a comfortable life. The man who is in charge of assigning Elizabeth a working position is willing to give her a place at the prestigious nearby Weston Day School. To do so, he is asking her to "show him gratitude", which she refuses and gets appointed to a distant Coal Valley. Elizabeth's family is not content with her decision to move to the West and her younger sister Julie even has a plan to ruin her move.
Regardless of her family's disagreement, Elizabeth leaves her comfortable life and moves to a small Western frontier town to start a new life as a school teacher. In the small coal mining town, Elizabeth faces the fear of living in an unfamiliar place, a high-society place where people live entirely different lives. Thanks to her strong dedication and a passion for teaching, she has learned to live on her own and has found her path. The best thing in the new town is that she finds a new purpose and falls in love with Wynn, a handsome Royal Canadian Mountie, starred by Stephen Amell.
The life of the young teacher gets a new direction once she meets Wynn. This is when the adventure of courage, purpose and life in the movie When Calls The Heart begins. The script and acting of this 90-minute movie can be matched with a Hollywood-produced movie. Simply put, this beautiful romantic story by Janette Oke will melt your heart.