The public needs to know about all social issues, such as government corruption, environmental decay and human trafficking. Raising awareness about the social problems through all sorts of means is very important. One of the best ways to raise awareness about various social problems is through movies. Trade Of Innocents is a good thriller about one of the most common social problems, child trafficking. With stars like Mira Sorvino, Dermot Mulroney, John Billingsley and Trieu Tran, there are no doubts that the plot of Trade Of Innocents is excellent.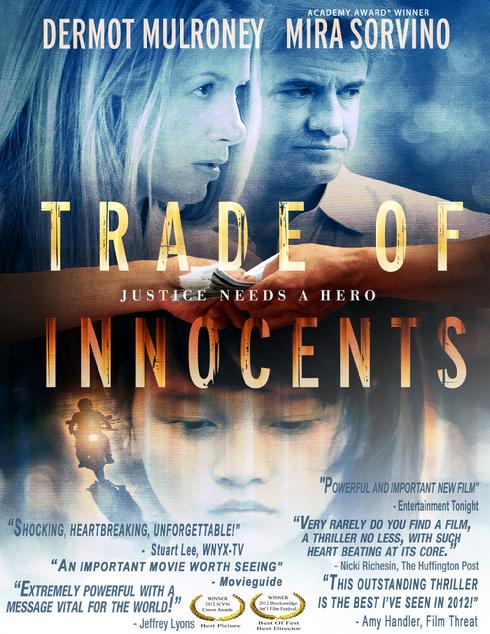 Inspired by true events from all around the world and directed by Christopher Bessette, Trade Of Innocents is a good movie that raises the awareness about the human trafficking problem. Trade Of Innocents tells us a story how one couple starts a mission to rescue young girls who are about to be sold as sex slaves. Alex Becker, a former American solider and a human trafficking investigator, is chasing a man called Duke, while his wife Claire, is working as a volunteer in a shelter for rescued girls. They decide to take some actions because their daughter was kidnapped and murdered.
There are many scenes in which Alex is talking with his associates, and these scenes include explicit details about horrifying human trafficking cases. During the investigation, Alex meets a lot of pimps, but the movie is mostly focused on finding Duke. He is a slaver, a pimp who kidnaps young girls from local neighborhoods to sell them to foreign pedophiles. Local costumers buy young girls, because they believe having sex with a virgin cures AIDS. Duke's biggest client is John Malcolm, an immoral American businessman who is looking for a 7-year-old virgin. Upon Malcolm's request, Duke is planning to kidnap Amy, a young Cambodian girl who have recently moved in the area to live with her grandpa following her mother's death.
While the plot is well conceived and very clear, the execution is fairly decent. The progress of events in Trade Of Innocents is a little slow and by the time it reaches its climax, the audiences may have tuned out of the action. However, the movie raises some questions, and tells the audience that every year more and more young girls are being involved in sex trafficking.