Megger has always been a company that has provided equipment that allows you to have a consistent workflow within its possibilities. Some devices don't have that many features but they are certainly well worth the ones they have. If you have tried working with an insulator resistance tester from Meggers' range of products, you already know that its awesome features make it incomparable. Today we are going to talk about the MIT1025 insulation resistance tester and all the ways it can help you bring your work to a superior level. Let's get started.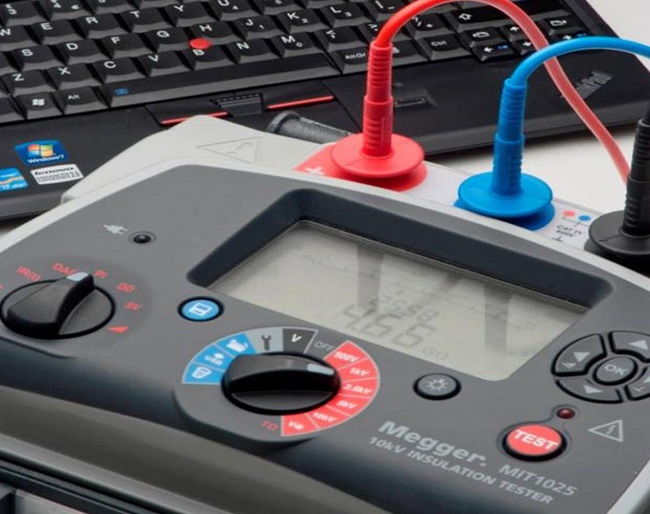 Features
The capacitance of this device ranges from 10nF to 25 µF (voltage set above 500V), and it also has a high noise immunity which allows for noise rejection up to 3mA. With the Megger MIT1025, you also get a dedicated voltmeter function from 30V to 660V and an onboard memory for saving test results which you can transfer to your PC via a USB interface. This device also has multiple test modes like IR, DD, SV, timed IR, DAR, PI and ramp diagnostics test.
Safety & Protection
With a safety rating of CAT IV 600V, the MIT1025 puts operator safety at its forefront. It has a dual case design with a tougher outer shell to better protect it from drops and it also has an internal fire retardant case. The case of this device has an IP 65 rating which means that it is dust tight and it can prevent moisture from slipping in. Test leads meet IEC 61010-31:2008 safety regulations while they also have high measuring accuracy.
Battery
The MIT1025 uses a Li-ion battery which provides the user with enough power for 60 minutes of testing with only 30 minutes of charging. The battery is also compliant with fast charging which lowers charging times but it can also decrease the life of the battery over time (this is the case with every battery). If the battery dies and you aren't able to charge it, you can use the MIT1025 directly from line power. The battery is field – replaceable, which means that it can be easily replaced with a new one, right on the spot.
Contents
The Megger MIT1025 insulation resistance tester comes equipped with a power lead, 3x 3m Leadset with medium insulated clips, 3x 3m Leadset with large insulated clips, a 25970-041 USB cable, a regular USB cable, and the Power DB Lite software. There are other accessories that may come included in this kit but that depends on the type of purchase you've made. Some of them are HV test lead sets and there are different lengths of lead sets with different sizes of insulated clips.