The changes in the body that occur with ageing, can lead to problems with an elder's ability to move around. Mobility problems may be unstableness while walking, difficulty getting in and out of a chair, or falls. Joint problems, muscle weakness, disease, pain and neurological difficulties, are all common conditions that can contribute to mobility issues.
If you have an elder in your home with mobility problems, you may need to help them move around. Although there is a range of mobility aids for the elderly, including canes, walkers, and wheelchairs, that facilitate this, it is essential that you know about the safe moving and handling, so you don't hurt yourself either them.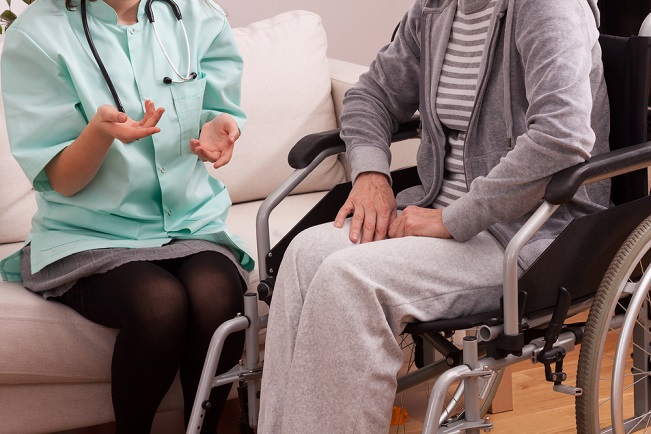 For example, you may find that you need to help an elder to move from bed to a wheelchair. There are some techniques that can help make this process a lot easier and safer. But before we talk about the techniques, let's take a look at mobility aids for the elderly. Just as there are steps that make easy moving a patient from bed to a wheelchair, there are different features that a wheelchair can have that also aid in the process. Consider the following factors during your search for the perfect wheelchair.
Weight – the weight of the wheelchair is an essential consideration. This because you will want a chair that is lightweight and flexible to make easy to lift it into a car trunk or to carry upstairs. Heavier wheelchairs are not as convenient as lightweight ones.
Swing Away Armrests – this is another great feature for easy transfers. Swing away means the armrests swing back behind the chair and to the side, allowing a safe transfer.
Brakes – make sure the brakes of the wheelchair are easily activated. This will ensure the chairs stays in place while transferring the person from bed to the chair. Different styles are available to suit different needs.
Before you buy any mobility aids for the elderly, seek advice from a healthcare professional, such as a social worker or an occupational therapist.
Techniques to Move a Patient From Bed to a Wheelchair
Knowing how to move and lift someone with mobility issues, is not as simple as it might look. Below we provide helpful information on moving and lifting people. Keep in mind that your ability to lift and move someone will depend on your ability and strength as well as the person's ability to hold still themselves. If after reading you feel that you still need help, ask a professional for advice and training.
Move any loose rug out of the way to prevent slipping.
Put non-skid socks or shoes on the patient if he/she will need to step on a slippery surface.
Explain the steps you will take to the patient.
Park the wheelchair next to the bed and close to you.
Put the brakes on and move the armrests and footrests out of the way.
Place the patient in a seated position.
Then place the patient's outside leg between your knees for support.
With your knees bent and your back straight, count to three and slowly stand up.
Pivot towards the chair, moving your feet so your back is aligned with your hips.
Once the patient's legs are touching the seat of the chair, bend your knees to lower the patient into the seat.
If during the transfer the patient starts to fall, lower the person to the nearest flat surface.