If you enjoy the taste of a cool, perfectly textured beer on a hot day, then you've probably wondered whether it'd be worth trying your hand at brewing your own. In fact, maybe you already have. With a starter brewing kit, all you had to do was add water to the extract, and keep an eye on your time and temperatures, right?
But maybe you want more. Home starter kits are great, but they can't produce the same pride or perfected taste that comes from all-grain brewing. Creating fresh mashes and malts from your selection of grains and ingredients is the pinnacle of brewing, but it typically requires a learning curve and an investment in equipment that can make even the most passionate home brewers nervous.
There is, however, a manufacturer of all-in-one brewing systems that specializes in combining the ancient art of all-grain brewing with the convenience of 21st-century automation. And with so many of their products setting new standards for top-tier brewing, it means that you don't have to accumulate decades of experience, or invest in a ton of tubes, tins, and strainers to produce a beer that rivals anything from a store.
All-in-One Brewing Made Simple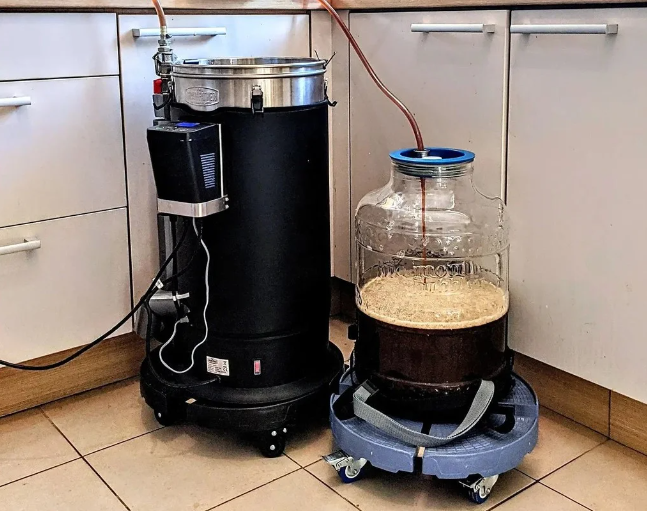 Aside from the flavourful outcome, the most remarkable aspect of home brewing is that with equal conditions, amateurs and professionals alike can achieve equally impressive results. That's the level of assurance you can expect when you choose a premium Grainfather all-in-one brewing system as the starting point for your all-grain brewing adventure. The Grainfather family of systems, including their most advanced brewing vessel, the G40, demonstrate just how confident they are about creating self-contained brewing systems that can produce traditional-styled beer, but without the need to store a garage full of equipment.
The Grainfather system is much more than just brewing vessels, though. From tools to mill your grains and malts, to bottling and kegging gear, Grainfather manufactures equipment that's useful throughout the entire beer-making process. Although the timeless elegance of 304 stainless steel styling is an unmistakable part of every Grainfather product's identity, it's the quality that's built into every Grainfather brewing kit that sets them apart. More than any other brewing vessel on the market, the G40 exemplifies how wireless process management can position its electric all-grain brewing system like no other when it comes to simplifying all-grain brewing.
The Grainfather G40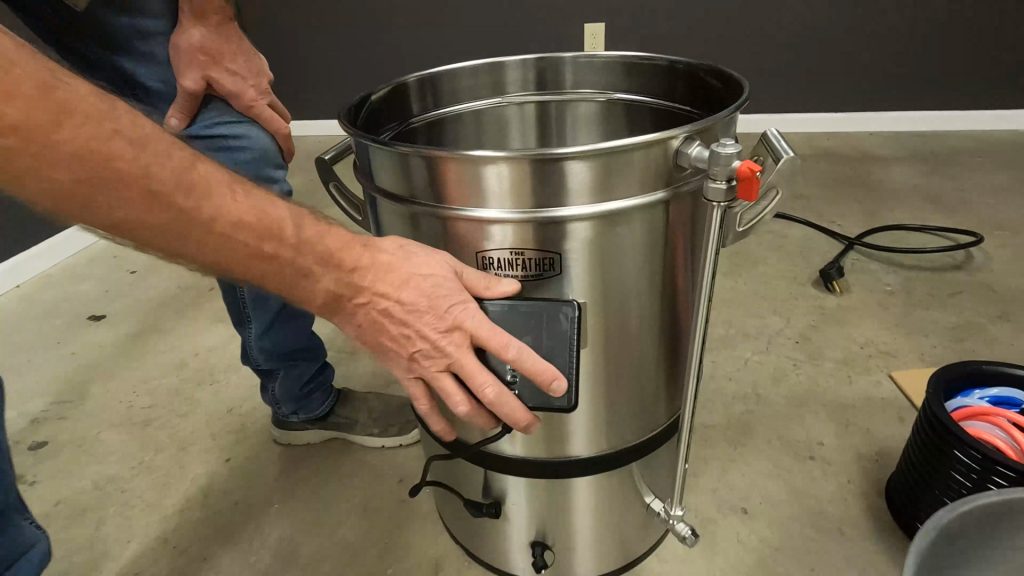 Once you get past the G40's satin-finished good looks, it doesn't take long to realize that these 2300 Watt brewers are much more than good lookers. This 40-litre Grainfather all-grain brewing system features a suite of built-in wireless controls and capabilities that allows brewers to remotely operate and manage their brewing processes.
With the G40, you can access and download thousands of beer recipes directly to the vessel's Grainfather controller using a mobile device, and its integration with the Grainfather App will send you information and alarms on the state of your mash, temperature updates, as well as notifications for when certain steps in the process should be taken. With the ability to receive reminders and automate tasks that you would otherwise need to be present to act upon, the G40 allows you to maximize your time even while it's helping you to perfect your brewing. Beyond its connectivity though, the G40 still boasts all the superior traits that an all-in-one beer brewing system is supposed to have, including:
· A stainless steel lift-out grain basket, grain plate and hop filter;
· A conical base for wort heating and transfer;
· A counterflow wort chiller;
· A built-in pump for maximum efficiency; and,
· An integrated sight glass for easy readings.
Suffice it to say, the G40 is the ultimate Grainfather all-in-one brewing system. It takes you step-by-step through the all-grain brewing process, so that even recipes you create on your own can turn out to taste perfect. That's the Grainfather advantage; and fortunately, it doesn't just end there.
Other Grainfather Brewing Components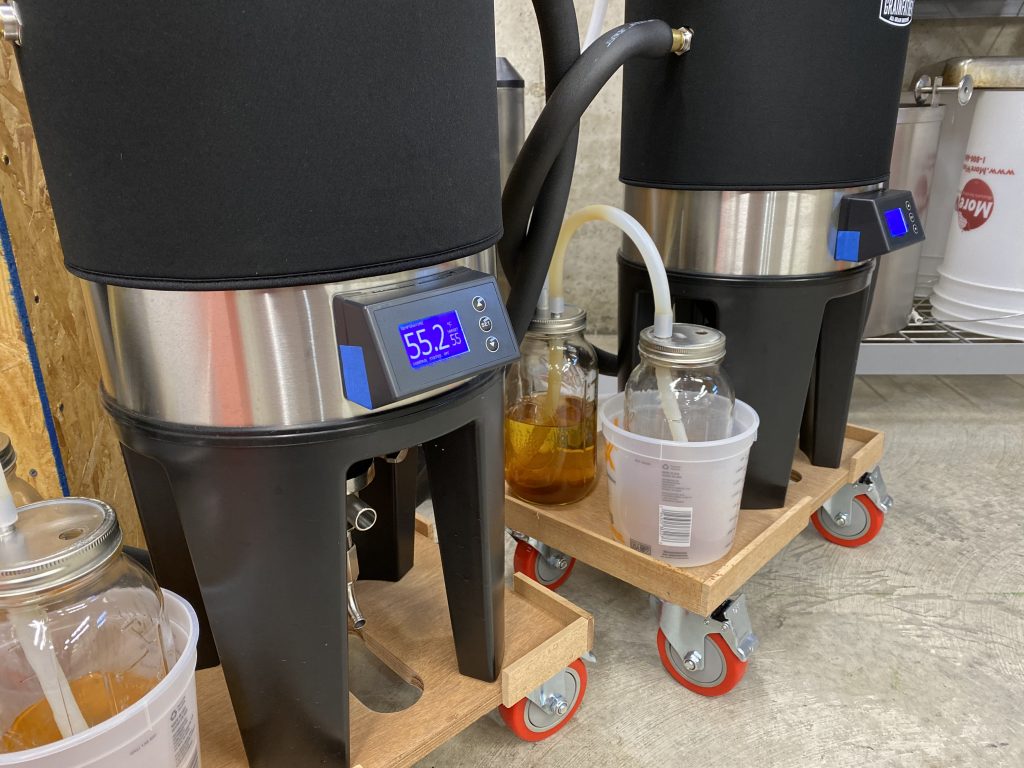 The G40 makes a marvellous centrepiece for your all-grain operation; but remember, the brewing is still only half the job. That's why Grainfather also manufactures all the other major components necessary to build a 100% compatible Grainfather brewing system. Ultimately, anytime you buy Grainfather equipment, you know that you're investing in a level of all-grain brewing experience that you can trust at every stage.
Sparge Heaters
For when you're finally ready to rinse the mash from your brewing vessel, the Grainfather sparge water heater is an 18-litre, temperature-controlled vessel that's designed to keep all of your sparge water at the precise temperature you need it until you're ready to turn it off.
Fermenters
Fermentation is the heart of the entire brewing process, and Grainfather manufacturers a range of conical, double-walled fermenters using integrated 30 Watt, 12V heating elements and water cooling to ensure you have perfectly stabilized wort temperatures that'll result in the best-tasting beer.
Chillers
With the ability to cold crash fermenting wort as low as 4-6°C, the Grainfather wort chiller is a glycol cooling, 300 Watt unit that can be connected to as many as 4 Grainfather brewing system fermenters simultaneously for the ultimate in temperature-controlled fermentation.
The Final Word
At the end of the day, home brewers don't just want to create a beer that tastes good. They want the opportunity to create a beer that's unique in taste and texture. The only way to achieve that kind of uniqueness is with all-grain brewing, and Grainfather produces the equipment that allows you to experience the world of all-grain brewing without having needed to accumulate a lifetime of experience to succeed at it. When you're ready to start brewing the finest beer you've ever tasted, they have the equipment to take your brewing to the next level.