We've all seen Instagram photos of a bride's wedding shoes or photos of the lady of the hour wearing her tallest pair of heels with seeming ease. However, unless you're used to walking in heels all day, a day in sky-high shoes is likely to cause aches and blisters, making flats an appealing alternative. If you're debating whether to wear flats on your wedding day, you're in luck. The choice for this type of great flat bridal shoes is booming right now
Make Sure Your Flats Are Supportive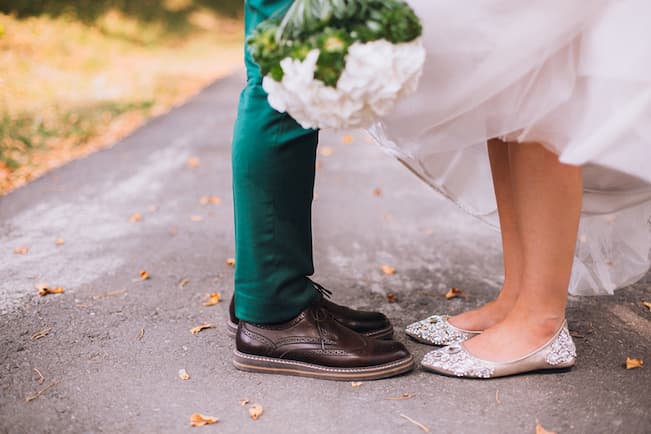 Wedding styling experts advise picking supportive and closed-toe flat ivory shoes for your big day because you'll be on your feet for hours. Whatever type of flats you choose – just like with any other pair of shoes – it's critical to break them in properly ahead of the wedding day. You can avoid blisters and discomfort by doing so.
Bring Your Flats and Heels to Wedding Dress Fittings
On their wedding day, many brides change between flats and heels. While this is a fantastic concept in terms of comfort, it makes things difficult while having your dress altered. Brides should bring both pairs of shoes to any dress fittings to avoid tripping over the front of their wedding gown. If it's too late to make any last-minute alterations, there are plenty of do-it-yourself methods to avoid embarrassing falls. If you want to make a big change, you can shorten the front of your dress with tacks, fashion tape, or safety pins.
Select Flats for Outdoor Weddings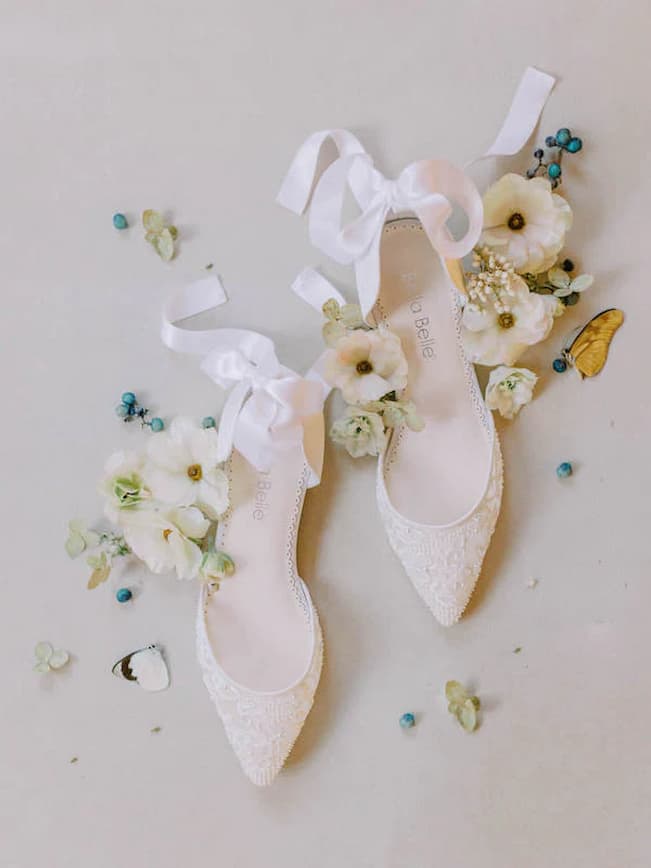 Although heels can help improve stature and posture, comfort should always come first when planning an outdoor wedding. While wedge or block heels are very trendy, they might be exceedingly difficult to walk in if your wedding is outside. That's where flat ivory shoes come in handy!
Bring First Aid for Your Feet
Although comfortable footwear is important, brides can also avoid blisters by having the correct materials on hand. After all, if you don't break them in correctly, flats can hurt just as much as heels. It's critical to have a variety of foot care supplies with you, such as moleskin for blisters, blister block, cushions, and inserts. When you have a blister and apply moleskin to it, it can really make a difference to your comfort.
Remember to Pick Flats You Can Wear Again
Wedding experts advise brides to keep in mind that they can wear their flats after the wedding, regardless of their budget. Choose a style you'll adore forever, and know that if you decide to invest a little, your wedding shoes will last a long time.
Choose the Wedding Shoes According to Your Liking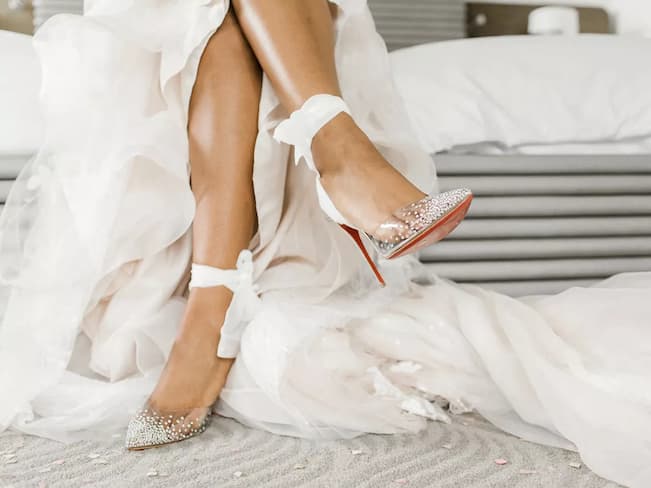 At the end of the day, while white wedding shoes are gorgeous they are not mandatory. You are not required to wear white shoes simply because you are the bride (unless you like). You should always choose shoes based on what you want to wear rather than what you believe you should wear. Don't be afraid to add a splash of colour or something that reflects your personality. You are allowed to be comfortable, and your feet can still look lovely whether they are in boots, flats, high heels, or even barefoot!
Ideas for Accessories to Match with Your Bridal Flats
Wedding Earrings with Pearls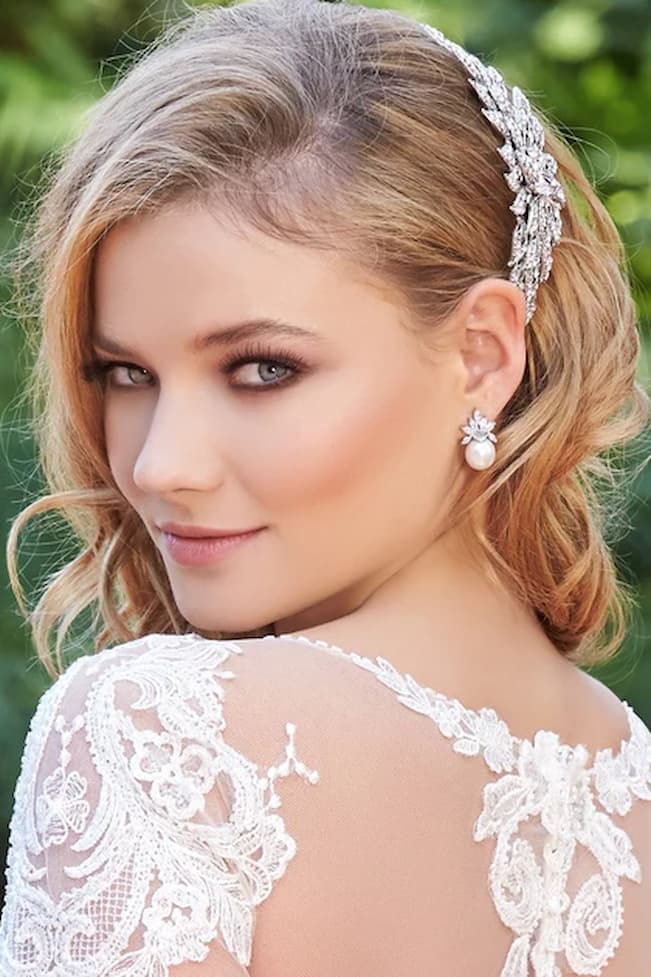 My personal favourite wedding day jewellery is a set of simple pearl earrings. Pearls are just timeless, lovely, and totally complement any bride, ever. They can be large or small, dangling out or quietly gleaming from in between your curled-up hair. No problem if you're a woman who likes to wear minimal jewellery. A single piece of jewellery can nonetheless make as strong a statement as a full set of diamonds, gold, and silver. The aim is complete as long as you are comfortable and feel special in what you are wearing.
Wedding Corset
Lace corsets are a beautiful combination of everything seductive and refined. Forget overthinking; decades have passed and this piece of clothing has stood strong against all fashion critics and the passage of time. Wearing a corset, whether made of lace, silk, linen, or even cotton, is not something you would normally do, but your wedding is the perfect time to show off your figure. And it's also the ideal occasion for you to shine under the spotlight on the dancefloor, especially if you pair it with white or ivory flat wedding shoes of the same fabric.
Faux Fur Coat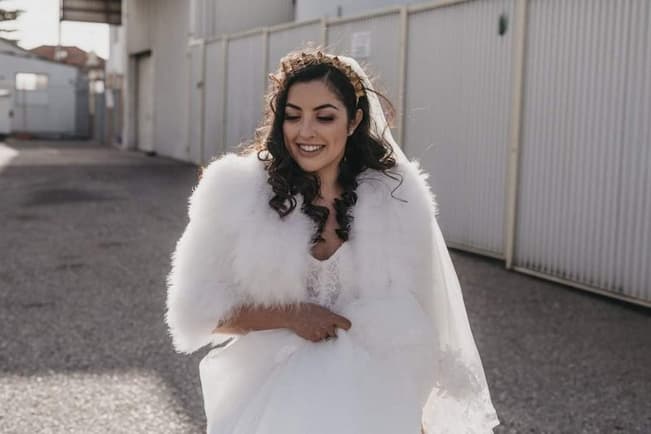 At this time, you can't tell the difference between faux and real animal fur due to the fashion industry's ongoing inventions and advancements. And if you happen to be a bride during the beautiful romantic winter season, a fur coat is the coat for you. Elegant, seductive, and undoubtedly eye-catching. This is a truly legendary item of clothing, and you or a senior member of your family may already own one. Dust it off and wear it as if it were your wedding day because it is!
Bridal Hat
For those who need one more item as the finishing touch to complete their outfit, the bridal hat possibilities are boundless. This is possibly my second favourite accessory, after pearl bridal earrings. Designs such as bohemian, western, Victorian, and southern-inspired are all worth exploring. In addition to your type and style of flats, your choice of hat can also be influenced by factors such as the style of your dress, your hairstyle, and even the location and venue of the event. Simpler, more casual dresses with an open V on the front usually combine well with a traditional, feminine fedora hat to complete that bold, chic look that you may like to sport!