Outdoor living spaces have evolved, and today more and more people find time for their gardens. Who wants to miss out on surrounding themselves with greenery and indulge in the calmness and relaxation it offers? That being said, with the increased interest in outside quality time, the interest in container gardening is also on the rise.
Namely, the beds of flowering annuals are now replaced with outdoor pots for plants that can be strategically placed in the garden and the patio and with that easily create the exact atmosphere you prefer. Almost anything can thrive in pots – from perennials to veggies, herbs and succulents and even trees. If you need even more reasons why you should consider them, keep on reading.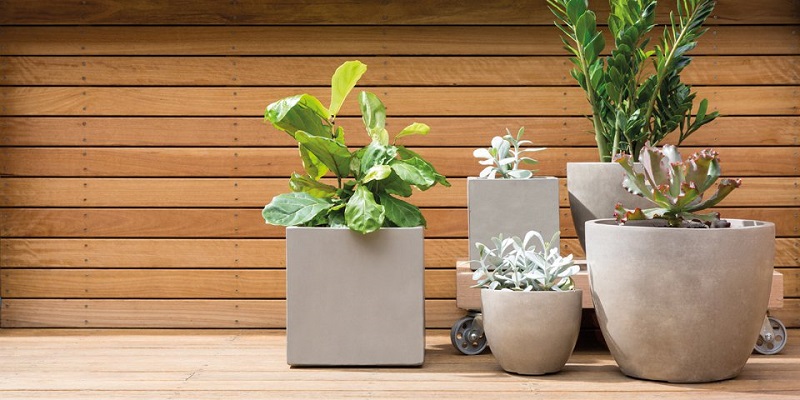 Luckily, outdoor pots for plants don't take up a lot of space, allowing you to grow your favourite plants wherever you deem convenient. On a balcony, patio, windowsills or even indoors, in rooms with adequate light. 2.
Having the opportunity to grow plants in outdoor planters makes gardening an option for everyone, including the elderly, disabled people and children. You can conveniently place them to be easily and effortlessly reachable – put them higher or lower, depending on the person's needs.
The various types, sizes and models of outdoor pots for plants are sure to make your shopping experience much simpler since it is easy to find exactly what you are looking for. Once you find the types you like, you can position them in a way to create an area where the pots are the focal point of your outdoor space.
If in time you get bored with how your garden looks, you can effortlessly rearrange the planters to suit both your personal taste and the season. Some need more light, some need shade – regardless, it is comforting to know that you can place them in any position the plant needs in order to thrive.
When compared, plants that are potted in portable containers face significantly fewer risks with possible diseases than plants grown in the soil. Simply put, fewer diseases, means less maintenance – simple gardening with great results.
When your plants are confined to a small area, the fertilizing process becomes a much easier and faster task since nutrients won't be lost as much as with soil-kept plants. Moreover, when you fertilize plants that are in the ground, more often than not, neighbouring plants also absorb nutrients that are needed for proper growth and health of what you actually want to grow.