I have to confess – I don't like the idea of covering my bedroom windows with curtains. Those long draperies falling from ceiling to floor make me feel claustrophobic. I prefer to keep my great-sight-to-wake-up-to view… well, viewable. However, the Sun rays shine through my big window directly into my face every morning at 7 am. That's 25 minutes before my alarm is set to go off. And while I love the peaceful Hollywood movie-style wake up scene, I honestly don't want nor need to get up that early. Plus, those 25 minutes of less sleep have turned me into a groggy person and not even the strongest cup of coffee can help.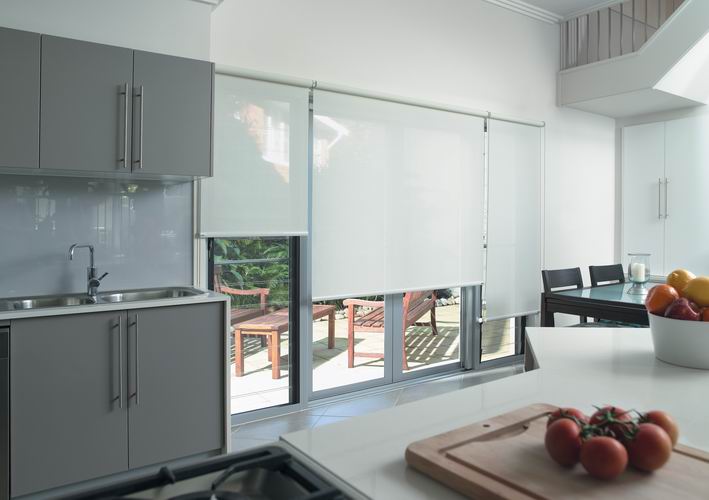 But my windows are not the only ones to blame. The position of my bed contributes to sunlight hitting directly into my eyes. However, changing the furniture layout was out of question because, according to Feng Shui, the current position of my bed is the best to support my personal energy. Hanging up blankets at night to block sunlight was also not an option. I needed to find the solution to my morning distraction fast, so I turned to my new BFF – the Internet. At the end I've decided to go with modern roller blinds to dim my windows. I figured, I could keep the shades up during the day for my bedroom to soak as much sunlight as possible and roll them down before zonking out. Plus, the blinds were not as expensive.
Design wise, the blinds feature simple lines (which suits my style) and fit very closely to my window. There's no excess fabric, plus I got to pick the shade material – so another plus in my book. The textile selection included translucent, sunscreen and block out fabric type. I chose sunscreen fabric mainly because it blocks out glare and sun rays (ensuring very good privacy) but not the view. This flexibility was the selling point for me. For those who like complete privacy and darkness, block out fabric would be the best option.
In addition to being one of the easiest window treatments to use in a home, I also found out that modern roller blinds can be extremely durable. The ones I ordered online came with a steel tube and because I chose high-quality fabric, the vendor said they will last me for years. But best of all, I've been sleeping like a baby and haven't hit the snooze button since (well, maybe once :D). I wake up more relaxed and energized and have been able to get more done in a single day. Coffee cheers to that!
Save
Save