Congratulations! You and your partner decided to tie the knot and you're planning on throwing the biggest party of your lives. You've chosen the venue, you've booked your DJ, what else can you possibly do to make this special day even more awesome? How about loads of candy as sweet as your love for each other!
Candy bars are a wonderful addition to almost any wedding setting. Not only that they uplift the décor, but they also provide the guests with the opportunity to choose from a wide array of goodies to satisfy their sweet tooth. And the best part is, you don't have to spend a fortune to have a gorgeously decorated candy buffet that'll wow all your guests from youngest to oldest.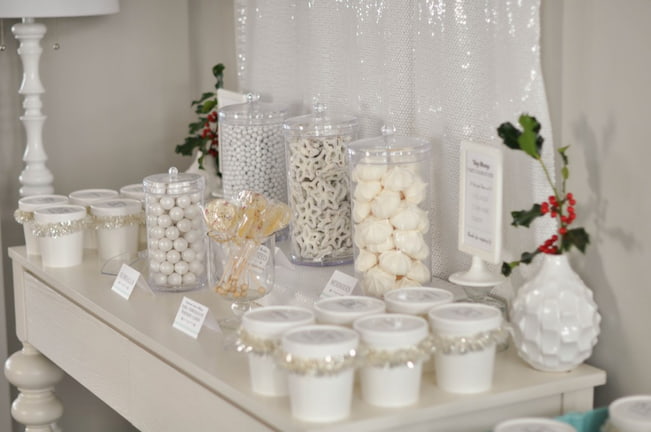 Shopping for Candy
The first thing you need to do when planning for your candy buffet is deciding how much candy you'll need. Some people make the mistake of wasting too much money on loads of candy that there's no way it could be eaten and others end up with empty jars just a few moments after the reception starts. The surefire way to avoid both of these scenarios is to order about 5 ounces of candy per guest.
Next, you need to order different types of candy to ensure there's something for everyone. Some people are vegan, others have nut allergies and you have to be conscious about all these things. It's also a good idea to carefully label the jars to make sure everyone can easily find their treats.
Last, but not least, the candy you choose should be suitable for the venue. For instance, if you're having a beach wedding during the hot summer months, it's best to stay away from a candy bar filled with chocolate to avoid a melting mess.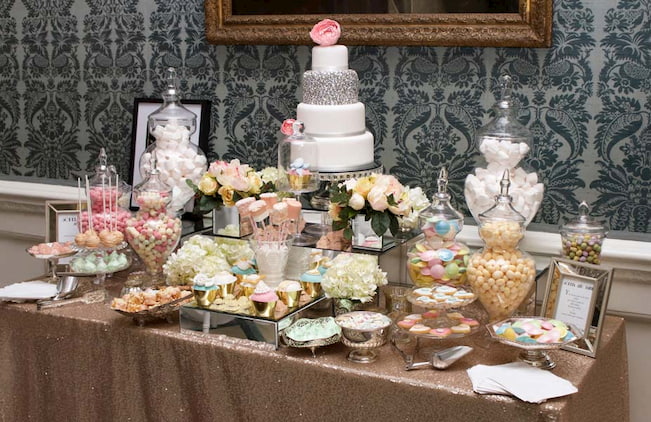 Decorative Candy Jars
After you've ordered your candy, it's time to find the perfect wedding candy jars. The best way to go about it is to look for simple glass lolly jars which will let the candy do all the talking. Plus, compared to other candy containers, glass jars can easily fit in almost every type of décor.
To avoid a dull setup, make sure you stock up on candy buffet jars in all shapes and sizes. Don't be afraid of the giant glass jars which can be easily filled with big fluffy items such as marshmallows and gumballs. These would look lovely next to the cute little lolly bowls filled with colourful M&M's or jellybeans.
No matter which size you go for, ensure that the opening is wide enough so the guests can easily reach for the goodies inside. You can still include candy buffet jars with small mouths, but it's best to use them for candy sticks and lollipops.
The number of jars you'll need greatly depends on your guest list. If you're planning on inviting around 100 people, 10 jars should do the trick. And if you want to take it up a notch, you can order additional candy jars to complement each guest table. This candylicious wedding setup would even make Willy Wonka jealous.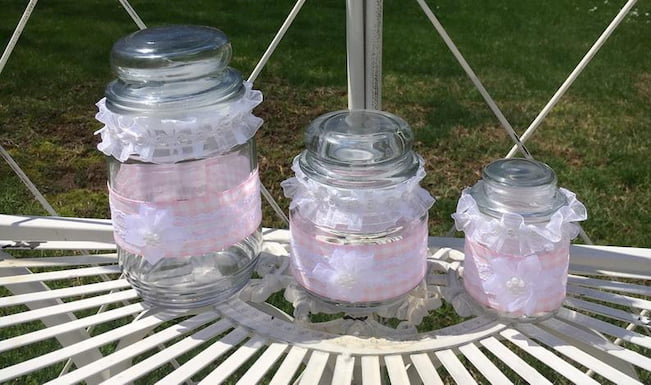 The Right Tools for the Job
Have you ever tried to pick up gummy worms with a scoop? Mission impossible. To make things more convenient for your guests, you should also get the right tools for the candy you're serving. Have both, scoops and tongs next to your candy jars so everyone can easily help themselves to some delicious desserts.
Although you can choose from a plethora of designs, it's best to go for the plastic scoops and tongs since stainless steel ones can damage your glass lolly jars. Plus, plastic scoops come in a wide variety of colours and they can be easily matched with the rest of your décor.
Theme Ideas
When decorating your candy buffet, you're only limited by your imagination. However, to make things easier, it's best to choose a theme first and stick to it when buying candy, glass lolly jars, ribbons etc. This way, you won't get lost in the vast sea of wedding decorations and you'll save yourself a lot of time, money and nerves.
For instance, if luxurious décor is your cup of tea, then you should stack up on all things golden and glitter. Luckily, some of the tastiest treats come already wrapped in a shiny gold foil, so you won't have to spend extra cash on ornamentation. You can fill several glass candy jars with mini Twix bars or Ferrero Rocher and scatter some gold coin candy over the table. Finish the look with bedazzling tea light candle holders and a gold sequin backdrop.
If you want to keep things as lively and cheerful as possible, fill your wedding candy jars with M&M's, gummy bears, starlight mints, jelly beans etc. You can even personalize your jars with pun worthy tags such as "thanks for bean here on our special day" or "it was mint to be". To tie everything together, you can install a colourful balloon arch above the candy buffet for that extra "the party is over here" factor.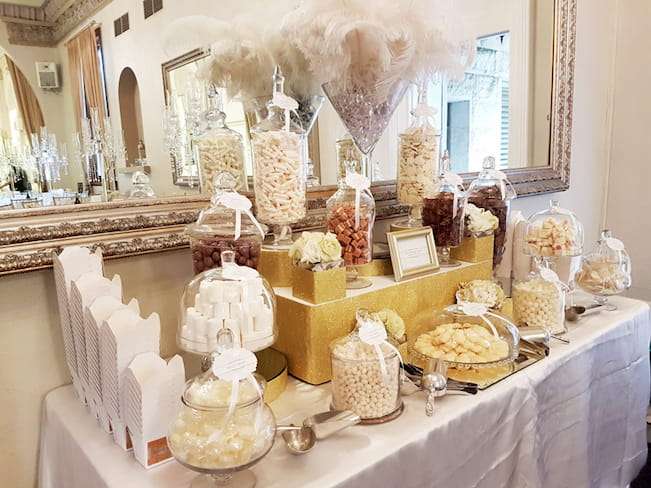 For those of you who wish to keep things low-key and elegant, the classy pink and white combination is the perfect choice. You can place your lolly jars on a simple white table cloth and use the candy to add a pop of colour. Finish your design by scattering some delicate flower petals here and there. You can also include a sweet sign with a loving message that hits right in the feels.
After the Reception is Over…
A great thing about candy buffets is that you're left with all sorts of goodies after the reception is over. If you, for instance, went crazy with candy and you have a bunch of leftovers, you can pack some of them for your guests to take or bring some on your honeymoon to make it even sweeter.
Regarding the glass lolly jars, they would make a wonderful addition to your kitchen. You can use them to store cookies, spices, herbs and whatnot. Of course, you can also repurpose them into unique home décor. If you're up for a DIY challenge, just hop on Pinterest. You'll be amazed by all the things you can do with your wedding candy jars.