The scalp micropigmentation is often referred to as the best natural hair loss treatment for men. It is a simple cosmetic procedure and a revolutionary solution which is used to treat, or better said camouflage hair loss problem.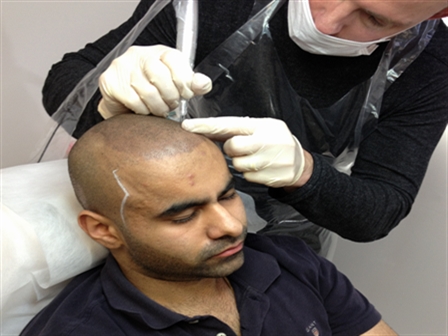 Hair loss may be a result of genetic inheritance (andorgenetic alopecia), scalp injuries or scalp inflammation. Injuries sustained in a car accident, medications, surgery, burns, diseases like lupus, morphea or lichen planus or some other illness, may also cause permanent hair loss. And although there isn't a miracle pill that treats hair loss, thanks to the medical advancements, this problem can easily be treated with scalp micropigmentation.
This Natural hair loss treatment is non-surgical procedure and is not the cure for baldness. The treatment will cover the bald spots on the scalp, but it will not protect you from continued hair loss. Here's everything you need to know about hair tattooing.
Expectations And Recovery – This natural hair loss treatment does not require medications. It is perfect for those who want to avoid expensive surgical procedures. This life changing procedure is drug free, non-surgical, scar free and offers immediate results. Patients can see positive results just after the first treatment. Professionals who perform this procedure are highly skilled in tattooing and know how to blend the pigment colour to match it with your natural hair colour. The final result is a head full of short hairs or simply said, you will get a shaved-head look. People will actually believe that you have new hair.
Risk And Costs Of The Treatment – When compared with other hair loss procedures, scalp micropigmentation is affordable natural hair loss treatment. Unlike other procedures, this natural hair loss treatment does not involves any risks. Also, it is a less painful procedure than the regular tattooing or surgical hair transplantation and there is no risk of bleeding or infection. No need to use painkillers. And best of all, this is a very affordable hair loss treatment which is why the number of men who have underwent this procedure is increasing.
Alternatives To The Hair Replacement Procedure – Of course, if you thing this is not a treatment for you, there are few other non-surgical alternatives:
regular use of prescribed medications, most likely Minoxidil or Finasteride,
hair extensions, hair pieces or wigs,

simply accepting your baldness problem.