Volvo Trucks is one of the largest and most reputable truck brands in the world. Headquartered in Gotheburg, Sweden, Volvo Trucks design and offers transportation solutions to its customers in more than 140 countries. The successful story of Volvo Trucks begins more than 90 years ago when the first Volvo truck was presented on the market. Since then, Volvo Trucks is constantly focused on producing high-quality, powerful, and durable trucks that can fully satisfy the customer needs for quick, safe, and cost-efficient transportation. From the beginning until today, customer focus and quality are some of the core elements of Volvo Trucks.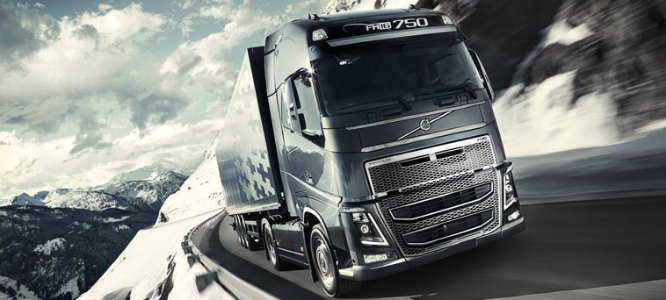 The production structure of Volvo Trucks has a global presence, and all production operations take place in 16 countries all around the world. Beside its home country Sweden, a large part of the whole production capacity is located in Brazil, Belgium and US. With a global network of 3000 service points, that include dealerships and workshops, and with more than 17 000 employees all around the world, Volvo Trucks is capable to deliver high-quality products and to satisfy its customers in every corner of the globe.
Today, Volvo Trucks offers a wide range of medium and heavy duty trucks. Around 90% of the trucks from Volvo are in the heavy weight category which includes trucks with weight capacity of 16 tonnes. All trucks from Volvo are categorized in the following series:
With a wide range of trucks with different power and weight capacities, Volvo offers trucks for a variety of applications and transportation needs. Beside high-quality, powerful, and durable trucks, Volvo also offers other customer services, such as: leasing, financing, logistical operations, IT solutions, and insurance. The transportation solutions and services offered by Volvo Trucks guarantee increased driver productivity, fuel-efficiency, and maximum driver safety.
From the beginning, increased driver safety has been one the core values for Volvo Trucks. Today, the company is recognized as the leader on the market that design and produce trucks which guarantee maximum safety on the roads. As a leader on the market, Volvo Trucks is constantly focused on introducing new safety technologies and systems that will improve the traffic safety. The standard safety equipment which can be found in all trucks from Volvo includes: ABS breaks, three point safety belt, factory fitted alcolocks, and Driver Alert Support System.
The main goal of Volvo Trucks is to meet and to satisfy the need for transportation in the most efficient manner, helping its customers in this way to generate more profitability, while in the same time to minimize the greenhouse gasses and all other harmful emissions. For that reason, Volvo Trucks is focused on reducing the environmental impacts from its operations. The company is fully focused on transforming its manufacturing plants into CO2 neutral plants. Today, we can see that Volvo Trucks is one the first manufacturers that managed to develop and to introduce hybrid technologies on the market. In general, Volvo Trucks is a company that cares about its customers and the environment.