Police officers have first-hand experience with how useful powerful flashlights can be in immobilising possible offenders or anyone resisting arrest. Flashlights are also used during regular patrolling at night, for identification purposes, redirecting traffic, and more. They can be larger handheld units and often fitted with serrated end caps or smaller weapon-mounted lights. Of course, both types aren't limited to law enforcement, and different lights prove handy in dozens of different situations.
Weapon-mounted lights can generally be grouped into rifle and pistol lights. They differ in size, how they mount to the firearm, light intensity, and of course price. But both are specifically designed to do one job extremely well– identify the target before pulling the trigger. Without a weapon-mounted light, or a handheld flashlight for that matter, this becomes extremely difficult.
Why Use a Pistol Light?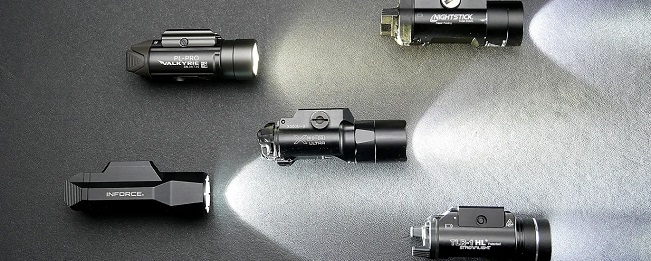 There are countless benefits of using dedicated mounted pistol lights. The obvious one is increased visibility in low-lit areas, inclement weather, and at night. Detecting possible threats and hazards in such circumstances is nigh impossible, and a mounted flashlight takes out much of the guesswork that can land you in serious trouble. Moreover, lights can be used to temporarily blind offenders and adversaries, and give you the advantage. With the flashlight mounted to the firearm, the light is directed right in front of you, and you have both hands available (as compared to handheld models) and more control over your weapon.  
Are there any cons worth mentioning? Possibly the biggest gripe with the different types of pistol lights and torches is finding a holster that will fit both the pistol and the flashlight. These can be hard to come by. In addition, low-end models can have short run times or low brightness levels that may not be adequate for longer missions. But when equipped with the right model, and with the lights in the right hands, you can rest assured that you'll have the edge in any rescue mission, indoor search, or difficult instances involving self-defence.  
What to Look for When Buying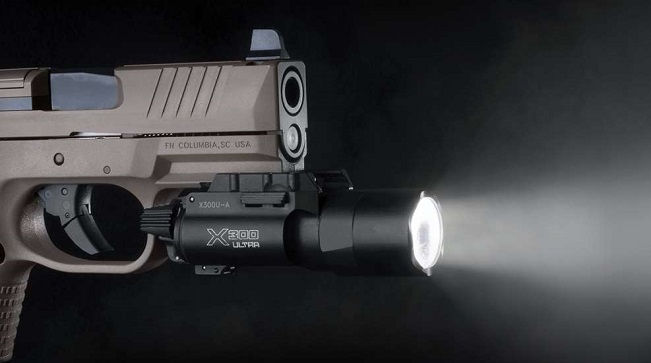 There are a few key factors when choosing the right pistol light. Consider how and where you'll be using it, the build quality, overall brightness levels, how it's mounted to the pistol, and whether the controls are simple and quick to use. Also, differentiating features and prices may be the reason you'll choose one brand other the other.
Usage and Settings
Lights and torches for pistols come in different sizes that determine overall weight, build, and capability. Smaller lights are also lighter and may be more than enough for everyday use, such as open carry, but may be lacking in more demanding defence tasks where the higher brightness of bigger variants becomes critical. Consider where and how the light will be used and get what meets your needs, and the typical settings in which the light will see the most action.
Brightness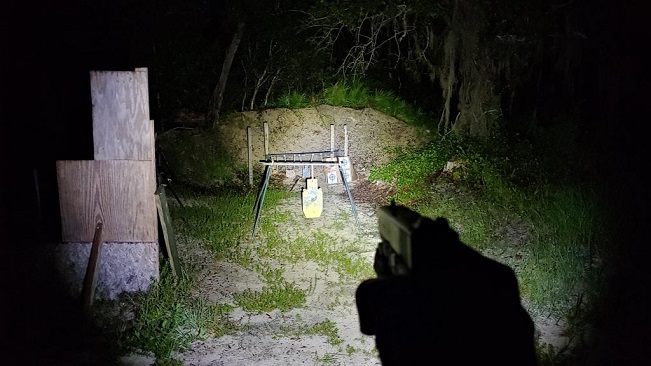 Here, there are two things to go by: overall lumens and candela. Both are used to indicate how bright a pistol torch can get. Lumens is the total light the torch emits in all directions, whereas candela is the focussed light directly in front of you. 
Generally, a pistol light with a max brightness of over 1000 lumens is more than enough to blind targets at distances of 100 metres, let alone identify that target. Most lights feature several brightness levels, and even lower settings of around 300 lumens are ideal for most use cases, while also using little battery power. 
Candela can be considered the intensity of light directly focused on the target, and this has a big say in overall precision, with some pistol lights being extremely bright in the central part of the beam (or the hotspot), while others illuminating more of the surrounding area. 
Mounting Options and Sizes
The majority of lights fit the pistol via rails. Some also have adapters that fit several different pistol models, while others are designed for a specific type or make of pistol. Here too, you need to consider the overall size. Generally, pair smaller pistols with smaller lights and larger pistols with larger lights for the best ergonomics. Size also matters when looking for holsters, and more compact units will be easier to fit.
Controls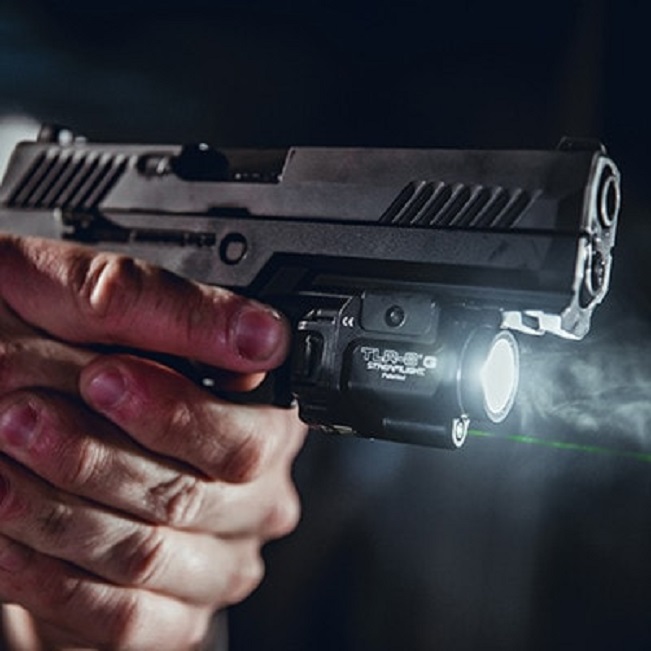 You'll want a light that is easy to turn on when you need it to but still offer some resistance to avoid turning it on by accident. Look for ambidextrous switches that can be activated by either the left or right hand, since this allows you to retain a firm grip.
Batteries
Batteries determine run times. These can be standard batteries that you swap out or rechargeable batteries that will also save you money in the long run. AA and AAA batteries are cheap to buy but lack the juice to keep the light running for longer. Better are rechargeable lithium polymer batteries with higher output, and something you'd want for consistent performance in demanding situations. Some lights can take different types, but most will be limited as to which battery you can use.
Build and Features
Lastly, consider the build quality. A pistol light needs to survive accidental drops, and have consistent lighting regardless of outside temperatures. Also, look for variants that are weather-resistant. 
Specific features, like stobe and alternate lighting or integrated lasers, may be useful for some gun owners but will increase the price. Compile a list of the features that you absolutely need, and weigh these against other buying factors to get the light that ticks most or all the boxes.