Yes, I can totally agree with the widely accepted notion that your inner beauty, mood, level of confidence and mindset are the foundation of feeling sexy, beautiful, and capable of transforming from a busy working woman into a seductress in a matter of seconds. That good feeling you get when you think of all the kinky stuff you can do in the privacy of your bedroom can really boost your confidence and change your facial expression, tone of voice and body language in an instant. However, let's not get too ahead of ourselves: it's not that easy. Men, the objects towards we direct all our sexual energy, are not so bright to catch all that subtle speech; they're visual creatures. Which means, you simply can't nail it with partial weaponry – you need the heavy artillery.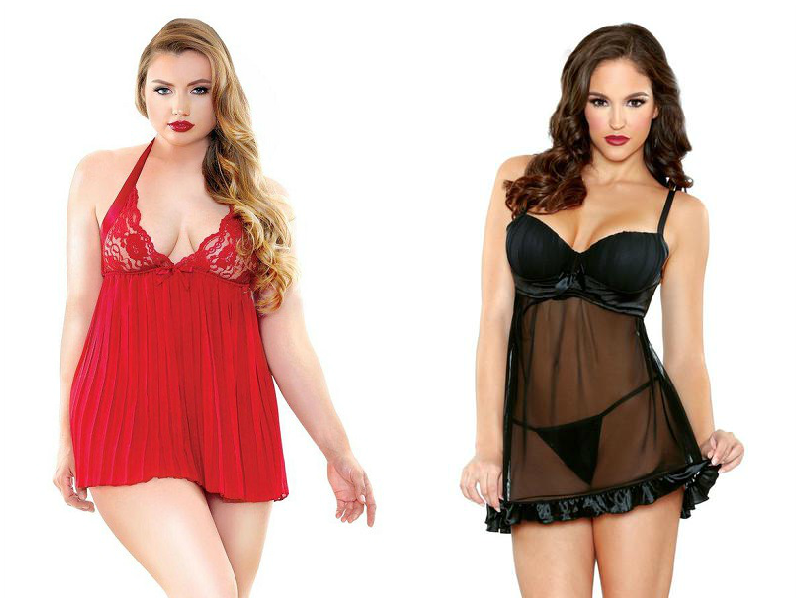 While a lot of people tend to think that showing naked in front of your man will instantly lead to explosive sex, practice shows something else: it's far more arousing and exciting for a man to see his female partner in a sexy lingerie that uncovers just enough to trigger a fantasy you never knew exists in a man's mind. Does that mean you should go on a lingerie online shopping spree? Yup, it most certainly does.
So, what should you choose when lingerie shopping online, in order to make him droll over you every time you show out of the blue in front of him wearing it? Or, lets put the question in another form: what should your kit of sexiness include to transform you from the female partner he sees daily and is accustomed to, into the seductive goddess he meets for a few God-send hours a day?
The bra and panties combo
As Kathleen Tessaro says in her book "Elegance" – every woman's obligation is to have at least one set of luxury lingerie, and every woman who considers herself sexy, should have at least two, in two different colours. And no, I am not talking about cotton-made comfy pants and a simple everyday matching bra; no no, I am talking about the extra luxurious stuff that's made to be paraded in. You guessed it right: lace, satin and silk, and then some more of that! When we talk about sexy lingerie, there's nothing better than minimal coverage with lace. Not to talk about how hot your body would look in it. Combined with satin or silk – and you have yourself a man that drools over you like a restrained dog in front of a big piece of meat. Oh the things you can do wearing that set… But, let's not stop here; sexy luxury has no end.
The proper lingerie accessories
There's no point in simply showing in your sexy set of lingerie. Or, at some point you'd want to change something and make a kinky surprise, like maybe a private performance for your partner. And yes, you can do that in your sexy set, but why not spice things up a little and make his eyes go wide open? When you do your lingerie shopping online, look for accessories as well; these are mainly sets and pieces you won't wear for any other occasions although it really depends on your style. I have to mention the sexy chemise, as these gain on popularity real fast. And how wouldn't they, when they're the definition of minimum coverage and fantasy fire starters. Make sure you have a garter belt and a pair of stockings with a lace end; combined with your lingerie set this combo will transform you into those bombshells you see on runways. Or dancing poles. Your choice.
Finally, the perfume
Take this seriously: no luxury set in the world will do you good if you don't provoke an emotion with your smell. In addition to your sexy set, make sure you have a strong, sexy fragrance that will awake your sex-appeal even more and turn your mindset to kinkiness and seductive behaviour. Trust me, a perfume can do wonders if you can wear it right and of course, choose it properly.
So, are you ready to invest in the sexy version of you? Start searching the market and get your kit of sexiness ASAP!