Industrial compressors are heavy-duty machines used to convert power into energy. Their power source is always external and it can be an electric motor or a diesel engine. Industrial compressors release energy in the form of highly pressurized air and this air is used to power tools and machines used in different industrial applications.
When it comes to industrial compressors for sale, there are many options for you to choose from. Knowing more about each type will help you make the right choice. Here is an overview of the different types of industrial compressors for sale.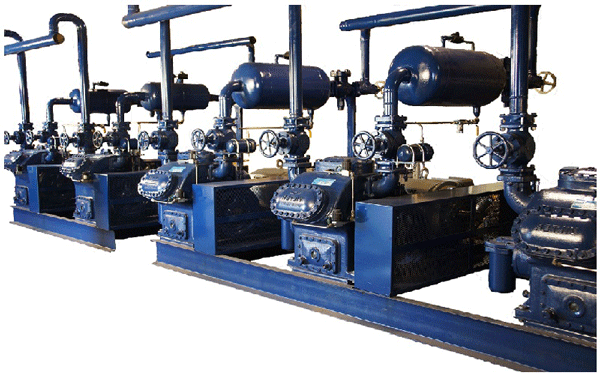 Reciprocating Compressors
Also called positive displacement compressors, with this air compressor type, the pressure on air is gradually increased by reducing its volume. Reciprocating compressors are available in two models: belt driven and direct driven.
Belt driven compressors are very durable and last for years. Also available in single-stage and multi-stage mechanisms, they can deliver highly pressurized air without any problems. Multi-stage air compressors are known to be more efficient and productive than single-stage ones.
Rotary Screw Compressors
An industrial compressor that also work on the principle of positive displacement. In order to be manufactured, helical screws are used. Air is then quickly forced through these meshed together helical screws in a compressed form.
Rotary screw compressors tend to be smoother and more efficient than reciprocating compressors. This is because these compressors don't use any pistons and don't create much noise. In addition, rotary screw compressors require less maintenance and can be portable.
When compared to reciprocating air compressors, rotary screw compressors have the ability to deliver higher pressures easily and effortlessly. Also, they allow you to control and monitor air flow and pressure which will save you a lot on energy bills.
Centrifugal Compressors
Quite different from the previous two models, centrifugal compressors feature a rotating disk designed to create pressurized air. This air compressor type is perfect for a continuous and steady supply of high pressurized air.
Centrifugal compressors can be used for numerous applications. Commonly they are used with different kinds of machines including automotive supercharges, turbocharges, pneumatic drills, refrigeration and air conditioning.
Aside from knowing the different types of industrial compressors for sale, you also need to consider your application in order to select the right industrial air compressor for your business. Seek an experienced professional who will guide you trough the buying process and ensure you get the best model for your business needs.