When it comes to producing and selling loaders, Case is one of the leading manufacturers on the market. Case Construction Equipment is constantly upgrading its range of loaders and one of the latest is the Case 521F wheel loader. First introduced in 2013, this Case loader has found its place among the best loaders on the market. It is available in three different configurations: Z-bar, tool-carrier and extended reach. Not only that all three configurations provide an increased fuel efficiency for about 12% over the previous E Series of Case, these Case loader models deliver a more reliable performance, faster cycle times and faster acceleration.
The 4.5-liter engine of Case 521F loader meets the Tier 4 Interim standards for emissions and is able to meet all kinds of applications and power demands. With 98 kW or 131 horsepower, this Case loader is able to easily operate with weights of up to 10 300 kg. The engine features less components than the previous models of Case, allowing an easier access to service points and contributing to reduced fuel consumption. The standard models have a lifting capacity of about 8900 kg and a bucket breakout force of about 7500 kg.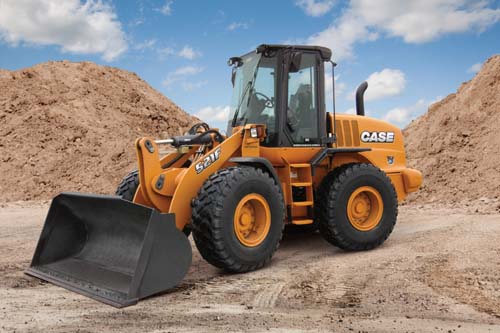 The 521F loader enables the operators to perform tougher tasks with the optional heavy-duty axles that Case offers. These heavy-duty axles provide an outstanding traction in all road conditions, even in non-compacted surfaces, such as gravel. Also, Case loader models with heavy-duty axles are expected to have longer service lives and provide the operators with lower operating costs in a long run. In addition to the improved performance, the Case 521F provides a boosted productivity and incredible versatility.
The new Case loader comes with four operating modes, in order to suit the requirements of each operator. Auto-Idle is the most popular operating mode, as it allows the operator to save large amounts of fuel by being idle while the operator is waiting for the next load or task to be carried out. Aside from all obvious advantages, this Case loader features an Automatic Machine Protection that recognizes problems related to the hydraulic system, transmission and engine. If a problem is recognized, this feature shuts down the engine immediately to prevent damage.
The cabin of the 521F wheel loader is exceptionally made and it provides the operators with great visibility, great control of the job functions and protective controls. The high-class comfort in the cabin is unmatched with any other Case loader, which has a significant impact on the operator's effectiveness. Also, the cabin is very quiet and features a dual air filtration system for cleaner air.