A vibratory feeder is a type of feeding equipment that uses vibration and gravity to transfer materials. The vibratory feeder is used for many applications that require transferring materials from one process or machine to the next one, simply because it does it very efficiently. The gravity determines the direction of the material, while the vibration moves it. The main parts of a basic vibratory feeder are hopper, tray and drive unit. The tray is the most important part, as it provides back and forth movement, feeding the material into a process or machine. The hopper is also essential, because it stores the material about to be fed. But these two would not be able to run if there is no drive unit.
Vibratory feeders provide an exceptional feeding of all types of materials, such as lightweight, abrasives, fiberglass, free-flowing bulk, friable materials and other materials. Most commonly, they are used for feeding light materials, but they are also use for feeding abrasive materials, because most of the other feeding equipment are not able to. The excellent combination of unit that promotes mass flow and hopper makes the vibratory feeder a real mass flow feeding system. A mass flow feeding system without moving parts: bushings, sprockets, bearings, screw, etc. So, the most suitable applications for vibratory feeders are processing industries that deal with smaller objects in mass number of all hardness.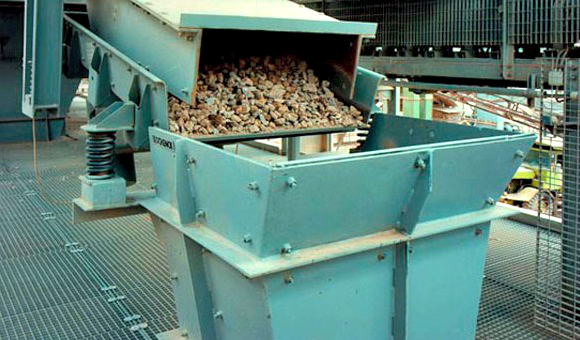 The vibratory feeder is known as a small power-consumer that allows the operators achieve higher profits. It also reduces the human work for getting a job done, while maintaining an optimal productivity. These advantages are recognized by many operators and utilized in automotive, plastic, food processing, mining, pharmaceutical, recycling and construction industry. The main and most important role of the vibratory feeder is in the agricultural industry. The vibratory feeder is extensively used by Australian farmers to feed seeds, grains and similar loose materials from one to another container at very low costs.
However, people involved in other industries can find a suitable vibratory feeder for their specific requirements, as there are many different types available on the Australian market. The most important difference of all types of vibratory feeders is the motor speed, because each material has its specific moving speed on which the vibratory feeder needs to adjust. With all the options, the operators can easily choose a vibratory feeder that is ideal for the materials they are dealing with. Whether small or large, smooth or abrasive, the vibratory feeders are able to efficiently carry out any feeding application.