When someone mentions aprons, it instantly evokes an image of Desperate Housewives' Bree Van de Kamp in my mind. Regardless of what society's stereotypes are or whether I have a soap opera addiction (guilty as charged), the truth is aprons are so much more. Every day, a variety of aprons for work are worn by men and women alike, and in a number of industries that have more to do than just baking cakes. Should that come as a surprise? Not when you consider that the main purpose of aprons is to protect you and your clothes from various different things ranging from cooking oil to industrial oil, and from cake crumbs to saw dust.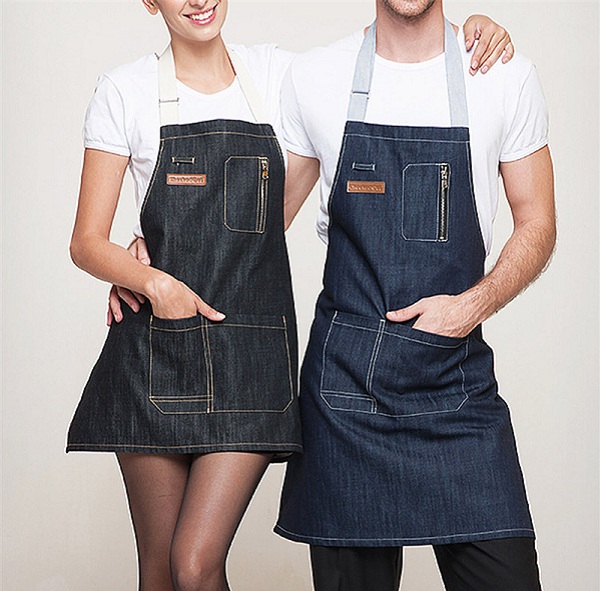 The Material and the Working Conditions
Before you go out and buy yourself a single expensive piece on a whim, or sign an order on multiple aprons for work, you need to consider the working conditions. This is an obvious question, but it's the main point for determining what kind of aprons to get. For instance, aprons for restaurant workers are made from different materials and designed differently than those for welders or carpenters. Thicker materials such as denim or leather are perfect for activities involving tools, because they provide some protection against cuts and fiery sparks. However, this kind of aprons might be cumbersome to work with for a waiter or busboy. Consider lightweight materials such as cotton and polyester aprons for hospitality crews.
The Different Types of Aprons
Depending on what part of the body they are protecting, there are several different designs of aprons for work. A pinafore is a sleeveless, jumper-style apron with wide shoulder straps that is tied or buttoned up in the back. A cobbler apron protects only the body's torso and is fastened on the sides either with laces or buttons. This kind of apron is commonly used in the textile industry. For more body coverage and protection, there is the bungalow apron. This kind of uniform has kimono style sleeves, and extends further than the knees in length.
Out of the many kinds of aprons, the most popular one is the bib. Also know as a chef's apron, the bib is a traditional apron made out of one piece of material that goes around the person's neck and ties at the back. This lightweight and easy to put on apron is most commonly used in restaurant kitchens. Similar to the bib but with a tie, the tuxedo apron is generally worn by waiters in fancy restaurants. Both the bib and the tuxedo can come with pockets. And then there are is the waist apron, designed to protect waiters in cafes from spills. This type of apron can come at knee-height or full-length and normally includes pockets.
The Style Factor
If you want to increase your professional look as an individual, or are a business owner that knows the need of employees to look at their finest, style is very important. Because you'll be dealing with a wide range of customers, it's a good decision to go with something subtle and timeless such as cotton in a neutral colour. White is always a good choice for restaurants that like to look classy, while darker shades like grey, navy blue and black are good for industrial setting where people get dirty a lot. For a casual café or a lounge bar, you can play on the cool factor with a dark denim. You can individualize your choice of aprons for work with straps in fun colours and patterns.
Save