It's nice and also healthy to change up the interior design style of your home every now and then. Of course, you don't have to switch every single piece of furniture and start from scratch, but replacing some key items and adding a few new details to your pre-existing mix will give you an instantly fresh look and feel of your old environment.
There are many key choices to be made when trying this out for yourself. The very first thing is determining what kind of style do you want to update your old one into. Is it going to be vintage and old school cool? Maybe you want to go for a full-on minimalist vibe? Or maybe you just want to help your home enter the 21st century and add some contemporary furniture pieces here and there?
If it's the last one, then congrats and welcome, because this article is going to be all about contemporary furniture design and how to make it work within your home!
Contemporary Furniture: More Than Clean Lines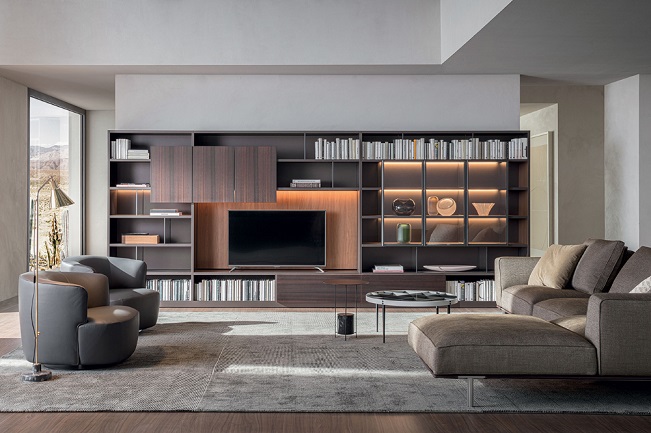 For many people, contemporary and minimalist are the same thing. I'm here to tell you they are not.
While sharing some similarities, like clean lines, the contemporary furniture design on the market is actually so much more than that. The diversity modern contemporary furniture presents can never be something that purely minimalist furniture can.
While minimalist furniture design is strictly bound by laws and rules, contemporary furniture is way more open and allows for true creativity to flow through it, presenting pieces that will freshen up your space while still keeping it warm and homely.
Here are a few ways you can add contemporary furniture to your home with a special overview of the most important rooms of the house.
Living Room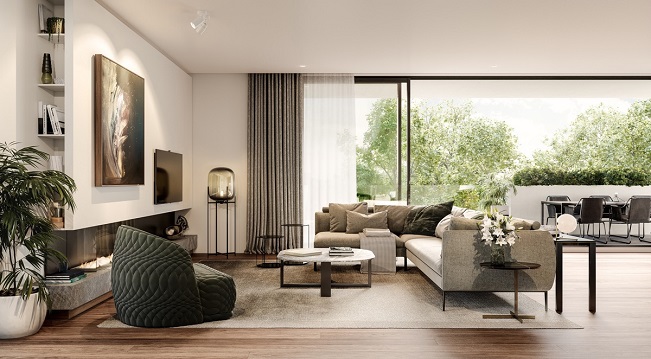 The living room is a place a lot of us spend most of our time while at home and as it so happens it's one of the easiest rooms to update and freshen up, especially with contemporary furniture!
If you don't want to remove and replace big pieces like your couches and armchairs, you can go small and start with a nice, new coffee table. The right coffee table can really breathe new life into your living room, especially when paired up with other new details like picture frames, luxe vases, throw pillows, and other smaller knick-knacks.
Your new coffee table should be somewhat connected to what you already have going on in the room, but it shouldn't follow every established rule. In fact, the further you can get without crossing the line the better. You can also add a nice little side table here and there to finish the look up.
Another thing you can change is the rug you have in place. A fresh rug with an interesting, modern design and fresh colours will liven your living room making it fit its name much better than before!
Don't forget the power of plants, either!
Bedrooms
When it comes to your bedrooms, contemporary designer furniture has great solutions.
For starters, you can switch things up with a new headboard in both the master bedroom and any additional bedrooms you may have. Moden headboards can come in a cloth version, but also a fun, creative, and very detailed wooden version that will transform your bedrooms into Pinterest-worthy creations.
Once again the rule of matching-but-not-quite applies. Remember, you're trying to freshen things up, not continue the same cycle!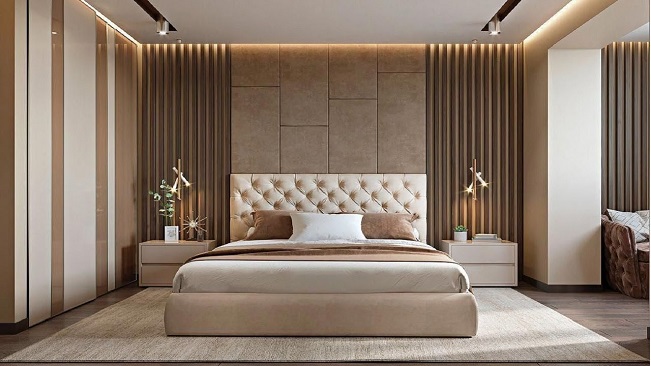 If you have the space, a nice ottoman or an armchair can also make your bedroom more modern and more functional and so can a nice bench at the foot of the bed. There are various styles of these items around, so choose the ones you like most.
Throw pillows and throw blankets do wonders for bedrooms, too, and so does wall art. Pick interesting and modern wall art in wooden frames to round the space up and add a bit of depth. Bare walls are good, but only in limited amounts. A new paint job can also be great, especially if you add splashes of colour in sleek shapes to accentuate wall details.
Finally, you can play around with rugs and curtains to finalize the transformation.
Bathrooms
Finally, one of the most-used rooms of the house – the bathroom. It may not be high on your priority list to update the bathrooms, but trust me, you'll be glad you did. We spend quite a chunk of time in there and having them match the rest of the house and continue that flow of modern energy will do wonders for the whole look and feel of the house.
Updating the bathroom might prove to be a bit more expensive than what other rooms may cost, but it will definitely be worth it in the end. You don't have to rip out old tile and replace whole bathtubs and sinks, but adding a bit of colour and diversity within can have an amazing effect.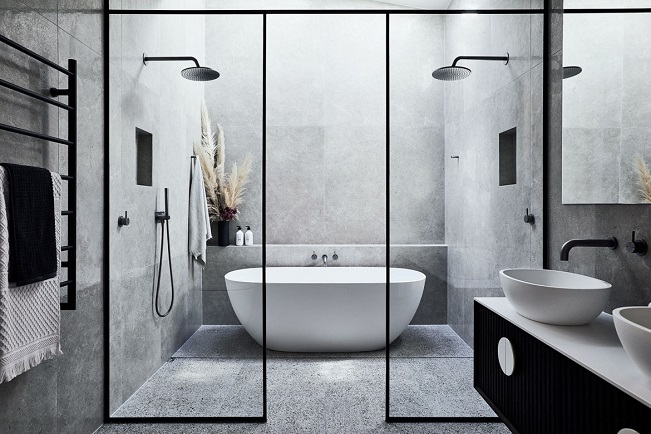 Getting new bathroom fixtures in sleek colours is one way to enhance the look of your bathroom for a fair price. You can also work on your storage space and replace old cabinets with stand-alone, wooden shelving and baskets.
Replacing old soap dispensers, toothbrush and toilet paper holders, and towel rails with modern versions of either matte metal or sleek wood is also another great idea. This can set the scene quite nicely and open the space up for finishing touches like bath mats, towels, and other detailing.
Don't forget about decor items in the bathroom, too, and always try to add a plant that loves a moist and dark environment, as well as some candles and an essential oil dispenser for a relaxing, 21st-century experience.