Living in these pandemic times has made us realise how important it is to wash our hands properly. But personal hygiene has always been an important part of people's daily routine. Like it or not, our days begin and end in the bathroom – taking showers, brushing your teeth, or putting on makeup. It's one of the most frequently used rooms in the house and it deserves special attention.
Whether you're renovating your old bathroom or designing a new one, you don't need to spend a fortune to make it look right. Your choice of wash basin taps can enhance the overall appearance of your bathroom and become the focal point of the entire space. Not only are they a functional necessity, but they are also a powerful design statement.
Define the Look of Your Bathroom with the Ideal Basin Tapware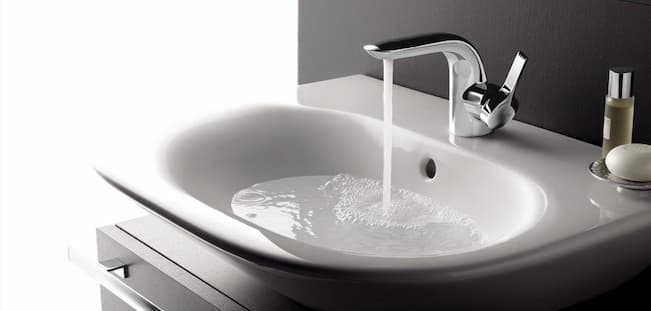 There is a variety of basin tapware out there, many different styles and designs, and selecting the right one can be a challenging task. Consider the type of your bathroom basin and the style of your bathroom, modern or traditional, to help you narrow down your search.
Also, remember to take water pressure into account as some taps require higher water pressure to function properly, like tall basin mixers, for instance. Bathroom taps are used frequently on a daily basis, and for that reason, investing in high-quality wash basin taps is always a good idea that pays off in the long run.
One of the first things you need to check when looking for basin tapware is whether it's designed for basins or baths. Some taps may be technically interchangeable and can be used for both basins and baths. However, to make sure you select the right type for your basin, here are some of the most popular options lately.
3 Piece Tap Sets
This type of basin taps requires 3 holes – one for the spout and the other two for the hot and cold levers. The design of the 3 piece tap sets gives you ultimate control over water temperature and flow. They can be found in both modern and traditional styles and are usually installed on the vanity or countertop.
Basin Mixer Taps
Mixer taps are designed for basins that feature a single tap hole. They have a single spout and some designs come with a single lever that controls water temperature and flow, while others have two, or so-called twin lever taps, one for cold and one for hot water.
Tall Basin Mixers
This type of basin taps features one tap hole and one spout, which makes it a great solution for countertop basins. Tall basin mixers are mounted on the worktop or the vanity instead of the basin, providing a stylish and luxurious appearance to any bathroom.
Wall Mounted
Wall-mounted taps are some of the most modern styles out there, often used with a countertop basin. Mounting the taps on the wall offers a clear area around the basin and a minimalist look. They are available in modern and traditional designs, so you can choose according to your bathroom's style.
Waterfall
Waterfall taps are the latest and most stylish solution that fits well both traditional and modern bathrooms. They offer a minimalistic and artistic touch to any bathroom, available in a variety of width and sizes and usually are controlled by one easy-to-use handle. They use an open spout to create an elegant cascade of water.
Choose the Finish Carefully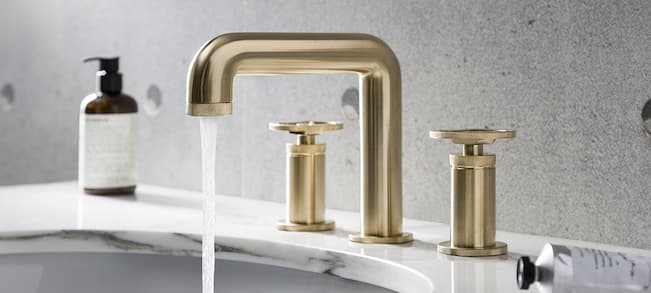 There are many different finishes available, from chrome to stainless steel, matte black, brushed brass and many others. Polished chrome basin taps are some of the all-time favourite choices as they blend in seamlessly with other chrome fixtures in the bathroom, such as the shower or some accessories. Matte black basin taps, on the other hand, are the go-to solution for contemporary bathroom styles as they create a cool and chic look with a designer touch.
Other Ways to Improve the Look of Your Bathroom
Spice It Up with Bathroom Accessories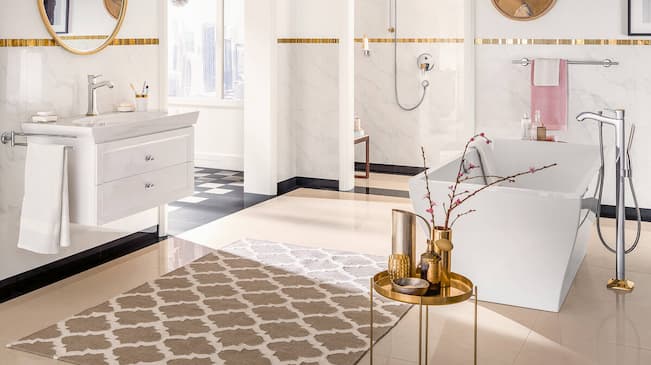 They are essential for everyday use and the comfort of your bathroom. Bathroom accessories can be used in different ways, for various purposes, by the sink, on the countertop, in the shower or bath. They include everything, from soap dishes to racks and towel hangers and most commonly are divided into two categories – fitted and free-standing.
To make sure you select the right accessories for your bathroom space, take a good look around and make a note of what you're missing as well as the ones that should be replaced. To stay on the safe side, choose bathroom accessories that complete the look of your bathroom, not compete with it.
Organise Your Bathroom the Right Way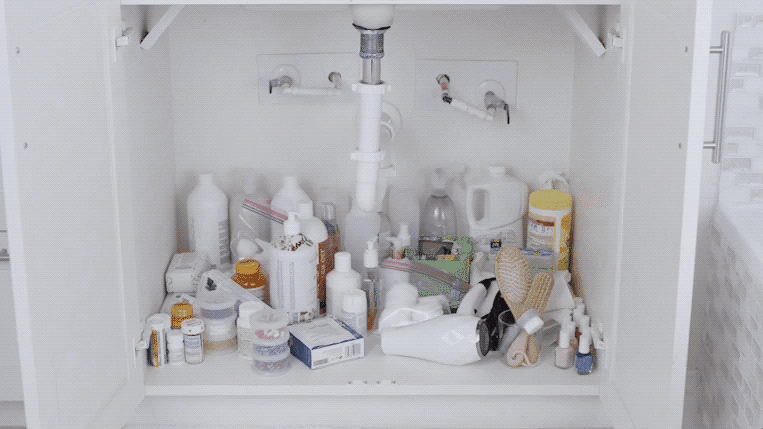 As one of the most frequently used areas in the home, a bathroom can be difficult to organise. Even if you're dealing with a small bathroom, you can use the most of it by adding wall mounted shelves and bath baskets to reduce clutter. Just make sure they're reliably stable and not packed full of products. Keep a few selected items handy and consider storing rarely used items out of sight.
Organising the countertop is one of the most important steps in creating a clear and functional space. Also, it will make cleaning the countertop easier, which can help maintain a polished look at all times. Once you get your bathroom organised in a way that's both practical and comfortable, it will be easy to keep it up. All you'll need to do is return items to their proper places after using them and make this a part of your daily routine.