Is your shower head broken, old or not very water-efficient? If your answer is yes to either one of these options, then it's time to start looking for a new showerhead. But no matter how easy it may seem, shopping for a new showerhead can be daunting. You're probably wondering should you opt for a hand held shower or a fixed one? A recessed design or a wall-mount unit? A complete shower system with more water outlets or a single, basic shower head?
The key to making the right decision is considering your lifestyle and needs. Consider how do you use your shower – do you share it with the entire family or you use it only yourself? Determine your favourite spray pattern, design, size and available budget. So, before diving into the sea of showerheads on the market in order to find the one that will enhance the functionality of your bathing area and provide you with a blissful showering experience, it's important to know the different types of showerheads.
Hand held showerhead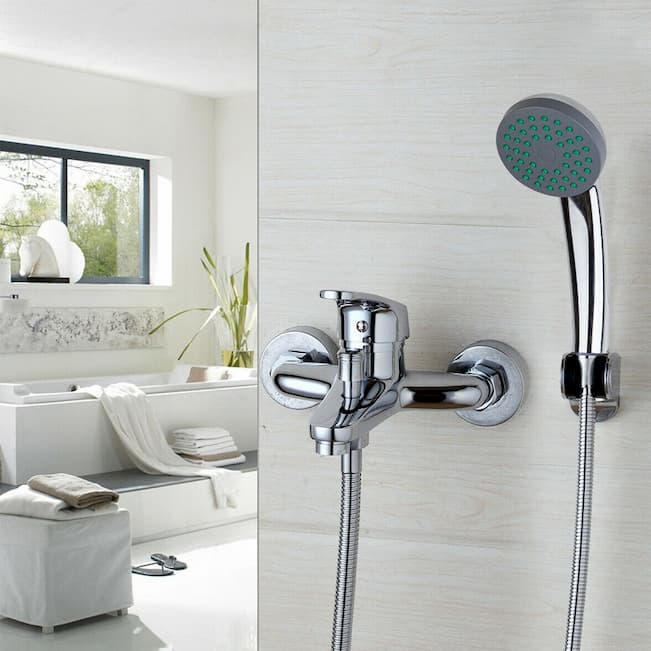 This type is family-friendly and very functional. If you are looking for a shower that makes bathing a breeze for both older and young users, a hand held shower is the ideal choice. Designed to be attached to a height-adjustable, wall-mounted sliding bar or to sit in a wall bracket, this fixture provides additional control and reach when showering. It's also very convenient when bathing little ones, rinsing your hair, giving a bath to your four-legged friend or when cleaning the shower enclosure. So, if you need something flexible, then this is the ultimate choice.
Usually, these models are sold in packages and come with a detachable hose and a holder to mount the showerhead. But, there are models that don't have these mounting accessories or hoses which makes them a cost-effective option if you already have a mounting unit or a hose. The length of the hose is important if you want to enjoy the flexibility of this model. Its material is also important. Metal hoses are one of the best options as they are flexible and durable. Wondering how do you install a hand held shower head? The installation process is easy and simple, which means you can probably do it by yourself without much hassle.
Fixed showerhead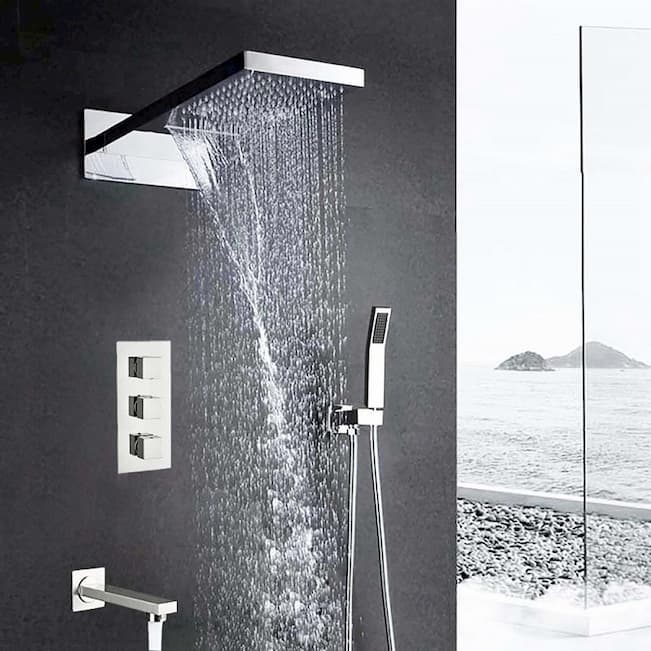 This one is the most common types of showerheads. They are also known as wall-mount heads and are usually smaller in size compared to others and very easy to install. They are a good choice for people who want a model that doesn't have tons of whistles and bells but still provide solid pressure. If you want something fancier, then look for a multi-function fixed head. This option allows changing the spray patterns, ranging from a more gently wide spray to a concentrated massage setting.
Rain showerhead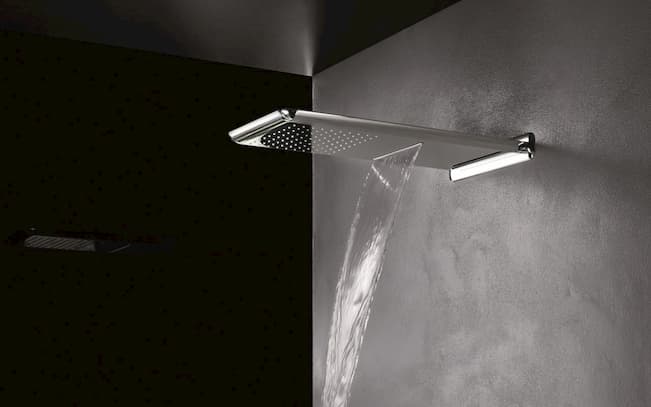 Rainfall and waterfall showerheads are considered a premium upgrade over traditional options. They are usually bigger and can be mounted from the wall or the ceiling. You can also increase the coverage as you wish. This way you can enjoy refreshing showers without wasting too much water. If you want to mount it on the ceiling, make sure you hire a professional plumber to do the job because for this project you will need to run pipes through the ceiling. Speaking of function, you have two options: a single concentrated spray and a multi-function rainshower that allows adjusting the settings for a more enjoyable showering experience. When it comes to this type of shower, water pressure is of great importance. If you have low pressure you won't be able to fully enjoy the experience that this amazing model is supposed to provide.
Dual shower head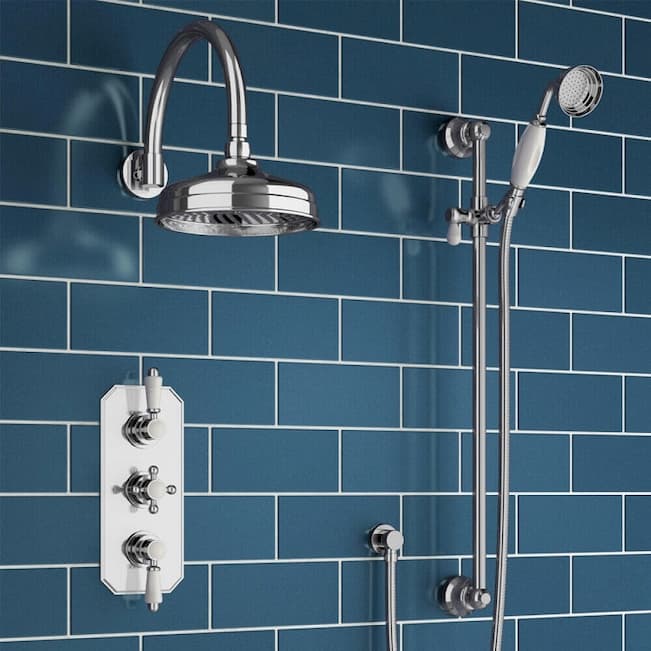 The dual shower head is a combination of a handheld shower and a fixed shower head. Following this trend in the bathroom accessories and fixtures, manufacturers decided to make some creative models that include fixed units with rainfall models. When purchasing this type of shower you will receive all the needed pieces to install it. In terms of installation, you can even do it on your own because they are very easy to set up. One of their drawbacks is losing water pressure so you might need to install an extra pump.
Choosing a certain type of showerhead will depend on your preferences, your bathroom size and budget. No matter which type you choose, don't forget to consider the installation process. If you are building a brand new bathroom that won't be an issue, but if you are renovating your old one, look for something that is easy and quick to install.