Insulation resistance testing is a required procedure by the electrical safety standards. It consists of measuring the insulation resistance of a device, by applying a voltage across a dielectric, thus measuring the amount of current flowing through it, and then calculating a resistance measurement using Ohm's Law. That being said, any contractor or business that deals with the installment and maintenance of electrical equipment needs a quality insulation resistance tester to do their job properly.
But how do you decide on the ideal type of insulation tester for you? Well, there are a couple of important factors to consider when shopping for an insulation tester.
The most important factor to consider is the equipment that's going to be tested on a regular basis. You'll have to write the nominal voltage ratings, and the number of tests you'll have to perform on a yearly basis. The nominal voltage of the equipment will let you determine the test voltage you'll need from the insulation tester. For instance, if the maximum nominal voltage of the equipment is going to be 750V, you'll need a 1000V insulation tester.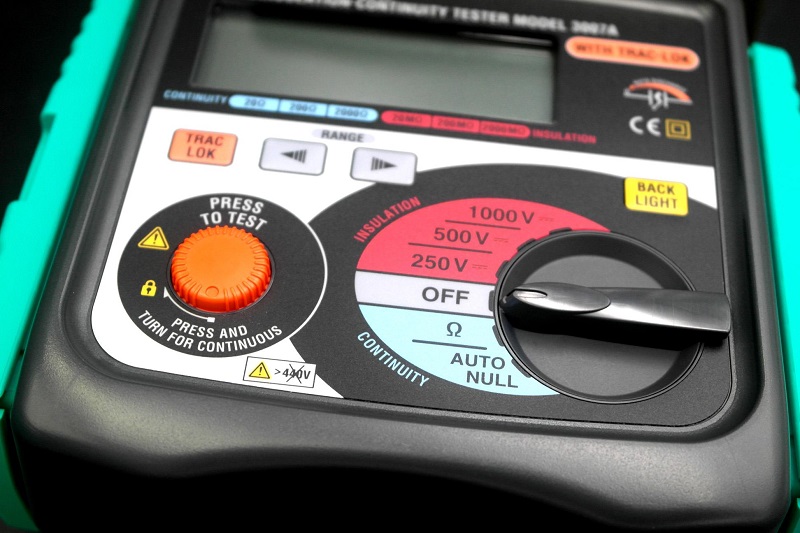 The output test voltage that the tester is going to apply to the equipment needs to be based on the manufacturer's recommended test voltage. If it's not specified, you should use industry practice data. As aforementioned, not all insulation resistance testers are the same, a 1000V insulation tester won't cover as many devices and equipment as a 5000V tester.
Further, you need to consider the environment in which the tests are going to take place, and whether you'll need to test for more than just insulation resistance. Some insulation testers can double down as digital multimeters for convenience, so instead of having to use two instruments, one for ensuring the equipment and circuits are de-energised and one for the actual resistance testing, you can do both with a single device.
Consider whether you'll be using the tester for preventative maintenance, troubleshooting, or maybe even both, and whether you'll be using it in an industrial environment or in a shop. Some insulation testers are easily portable, while others are quite bulky and not as portable. For example, HVAC technicians, besides testing for failed insulation also test for failed capacitors and open fuses, so they might prefer an instrument that combines all of these functions. Alternatively, you may not even need a dedicated insulation resistance tester if the task is a simple insulation test, simply because standard multimeters are already capable of reading resistance.