If you're looking to buy an insulation resistance tester for whatever reason, you might stumble across a few crossroads during the selection process. Insulation testers are rather simple devices, however, there's a difference between models, so the one that's right for you will depend on a couple of factors, such as: the type of equipment you need to test, the voltage requirements, the testing environments, etc. So figuring out what you need from the tester will help you determine the best model for you.
The Equipment You Test
Make a list of the types of equipment you'll perform tests on most frequently. Write down the nominal voltage ratings, which you can find on the nameplate of the equipment, and the amount of tests you plan on performing in a year. The nominal voltage helps determine what test voltage you'll require from the insulation resistance testers whereas the amount of times you'll be using the tester will help you determine the quality, durability, and convenience you'll be looking for in the instrument.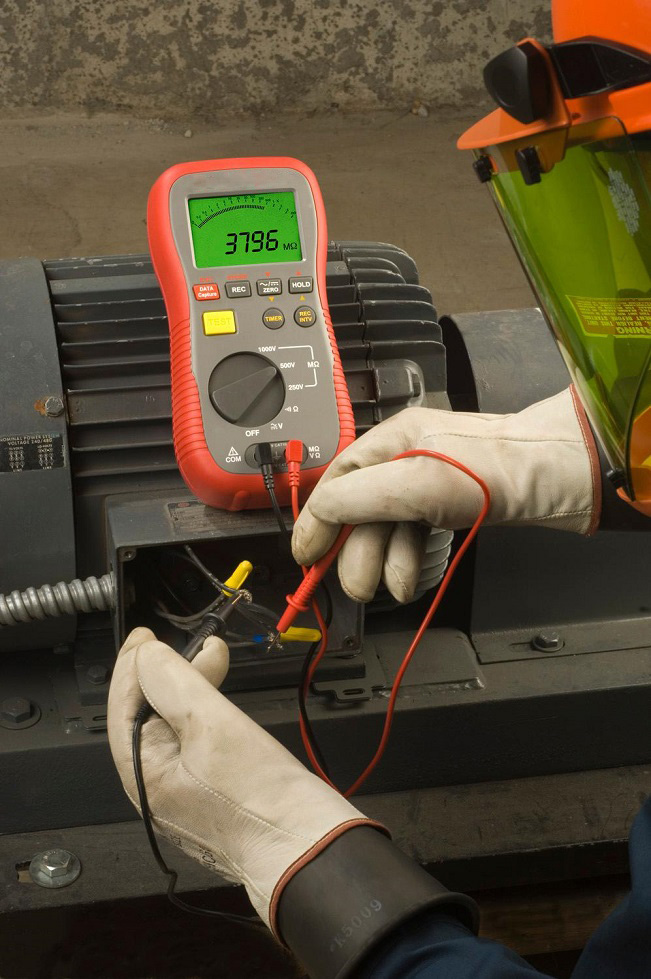 Voltage Requirements
The output test voltage that's applied to the equipment should be based on the recommended DC voltage that's specified by the manufacturer. However, in some cases, the voltage isn't specified, so you'll have to use industry best practice data. You basically want the insulation resistance testers to have the needed output test voltage as the equipment you're testing. Some insulation testers will supply up to 1.000V DC, while others can supply 5.000V DC or more.
The Environment
The environment you test in can impact your decision on buying a tester, because the ability to test for insulation resistance and use the same instrument as a digital multimeter can be very convenient. Moreover, you should ask yourself whether the instrument will be used for troubleshooting or preventive maintenance, or maybe both. For instance, HVAC service technicians test for fuses and failed capacitors in addition to failed insulation. On the other hand, technicians who perform capacitor checks, voltage checks, insulation resistance and temperature measurements may want a tool that includes all of these functions in a single instrument.
After you've picked the ideal tester, it's worth noting that safety is of paramount importance when it comes to troubleshooting and testing equipment. The tester produces a lot of DC voltage, so it can never be connected to an energised circuit. Moreover, the output of the tester can completely destroy an electric circuit. Never connect a tester to a battery charger, electronic power supplier, UPS, VSD or PLC systems or any other solid-state device.