Did you see a sparkle in your kid's eyes when they happened to glance upon a remotely controlled vehicle? Getting your child an RC car is a great way to surprise them. But if you go after an RC car, don't miss the opportunity to assemble it on your own too. This way, you can teach your kids important problem-solving skills  and help them improve their hand-eye coordination.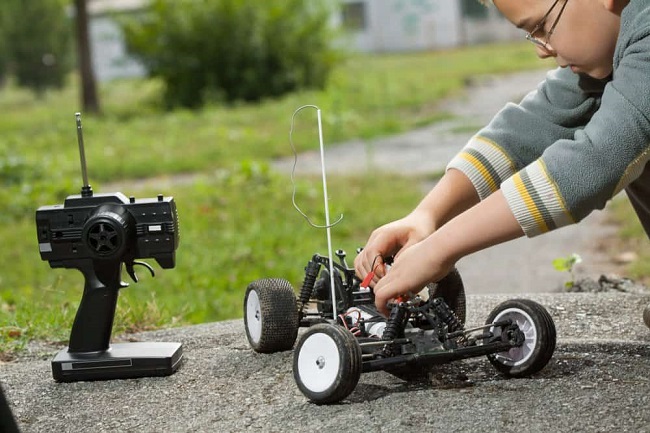 Keep in mind, though, that you will need to lend a helping hand. Self build RC car kits contain multiple parts and require different tools to bring them together. And helping your child build the car can be the perfect excuse to spend more quality time together.
But before you reach for your valet, here are some of the important factors to consider when buying self build RC car kits.
Size of the Model
The smallest model RC cars come at the scale 1:64. We are talking about those small 'toy cars' now. They go up from that to 1:34, 1:24, 1:18 and the life-like (to your child at least) 1:12. You want to choose a scale that is appropriate for the age of your kid. Some are specifically built for small hands, to facilitate handling the parts with ease.
Then you also need to consider the storing space and the driving aspect. Regardless of the enthusiasm in your team, the model will spend most of the time in a fixed spot. So, think of 'parking'. If you want to race your model with others in a club, you should take a look at their guidelines.
Type of RC Vehicle
Depending on your preferences, there's a variety of RC vehicles to choose from – sports cars, race cars, trucks and off-road vehicles, military vehicles, boats planes and exact replicas of real cars. It is up to you and your kid to choose how close to reality and history you want to go.
Some want to recreate vehicles that have been part of historical events, like WWII tanks. Others want to explore the evolution of car design and to bring forgotten models to life. Maybe your kid will like to build a vehicle that doesn't exist in the real world. So, before you choose make sure to consult your child on their preference.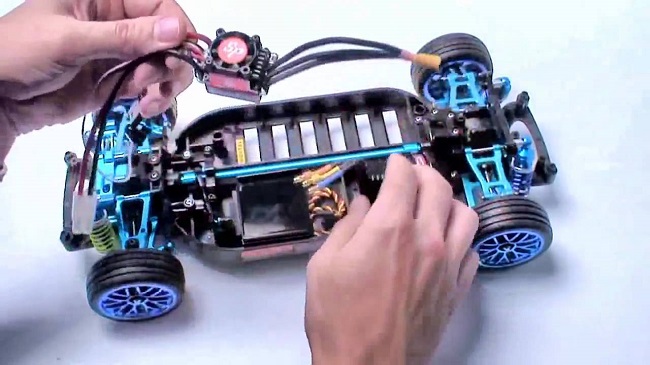 Tools and Methods
Be mindful of the tools. Some DIY rc car kits are similar to assembling toy blocks ()and they are suitable for younger kids. Others require proper tools like screws and glue guns. Will your child be comfortable with these methods? If you go with a method that is not really friendly to small children you will have to step in to complete the build.
Inspect the Kit Closely
Take your time to learn about the exact specifications of the kit you are taking home. Self build RC car kits can basically be chassis kits. They are great for custom creations. This allows you to choose your own wheels, tires, body and electronics. Maybe you already own some hardware, the wheels for example. Ensure all parts are compatible to avoid buying a part you actually don't need.
Remote controlled vehicles can have many parts. Their power source (batteries), the motor, and the charger will be probably your responsibility.
Motivation Is Central
Be gentle when giving instruction. This is something your child does for the first time, and you don't want to be too harsh on them. Yes, you can take them out of their comfort zone but don't push too hard. You can risk creating an aversion towards this activity.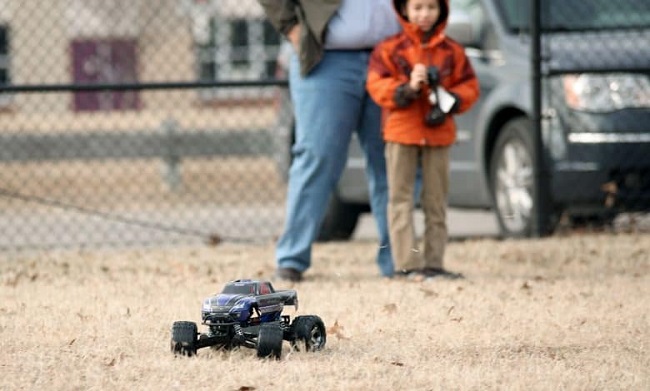 Go slow and motivate your child by turning the whole thing into a fun and laid-back back challenge. Bring some snacks and music into the mix and I'm sure they will be really excited to pursue the project. Doing this project will offer you insight into the sort of things that matter your kid.
Building your own RC car is just the start. Some kids don't want to build them, but sure as hell want to operate them. In a world where drones are to play a part in global society, your children may have a future in moving these things.
They Grow Up Fast
Spending time with your children is precious. Take these moments seriously while there are still available to you. The days when they become teenagers and you see them only for dinner are soon around the corner. But if you instil in them a love for something that you can do together, like building RC vehicles or racing them, you might have more opportunities in the future to nurture your relationship.