The design and the style you choose for your kitchen is a reflection of your taste. If you spend significant amount of time of your day in the kitchen, then you are aware that the choice of a good sink is of utmost importance. Even if you do not cook regularly, the fact is that you still use the sink many times a day.
The sink has to be durable, be able to withstand the aftermath of your cooking adventures and serve as a stylish focal point at the same time. We offer you some of the best styles and materials for kitchen sinks, so take a look and make a wise investment in this essential piece of the kitchen.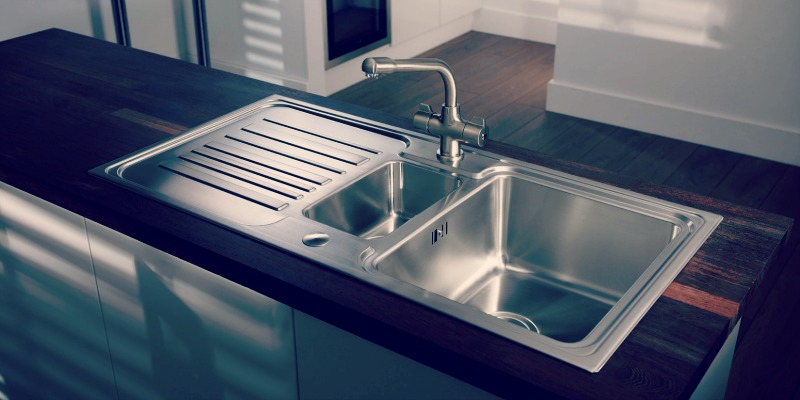 Materials
Stainless steel kitchen sinks are an integral part of every home. They are one of the most popular choices for kitchen materials since their durability, style and easy maintenance are hard to disregard. That is the reason why around 70% of kitchen sinks are made of stainless steel.
Cast iron sinks are really easy to clean, they will not show any spots and will not fade away from the sunlight. The porcelain enamel finish makes these sinks environmentally friendly, giving them extra strength and resistance. Nevertheless, they are really heavy which makes the installation of cast iron sinks more expensive and difficult.
Composite kitchen sinks are made of ground up granite or quartz mixed with resin what makes them more durable than solid granite models.
Style
Single bowl sinks give you more room to work in the kitchen, especially in cases when space is limited. A single bowl is ideal if you wash a lot of large items because it does not have dividers and crevices, thus it makes the job simpler.
Double bowl kitchen sinks provide two different areas to wash, making it easier for you to multitask. You can choose from several bowl sizes and depths.
Farmhouse sinks have a large, forward facing decorative section that replaces a part of your counter. These types of sinks can be usually found in traditional and country style homes, but lately they have been incorporated in more contemporary styles as well.
Undermount sinks have a clean and modern look but they are more expensive than top-mounts since they have to be glued to the underside of the counter.
Topmount kitchen sinks are the easiest to install and have everything you need included. However, they are not as sleek and can get dirty in the seal between the counter and the sink.
Commercial sinks are made of heavy gauge steel and they are extremely durable. These are professional sinks which are very easy to maintain and give you a lot of washing space.
After all, whichever kitchen sink material and style you choose to invest in, make sure it matches the look and style of your kitchen.