Dogs are our best friends and taking proper care of them is the best way to show them how much we appreciate their love. As pet parents, we treat our dogs as family members, we want to give them only the best dog supplies and spoil them as much as we can. And that's why many pet owners let their new puppy sleep in their bed, but that's not a great idea, and for a reason.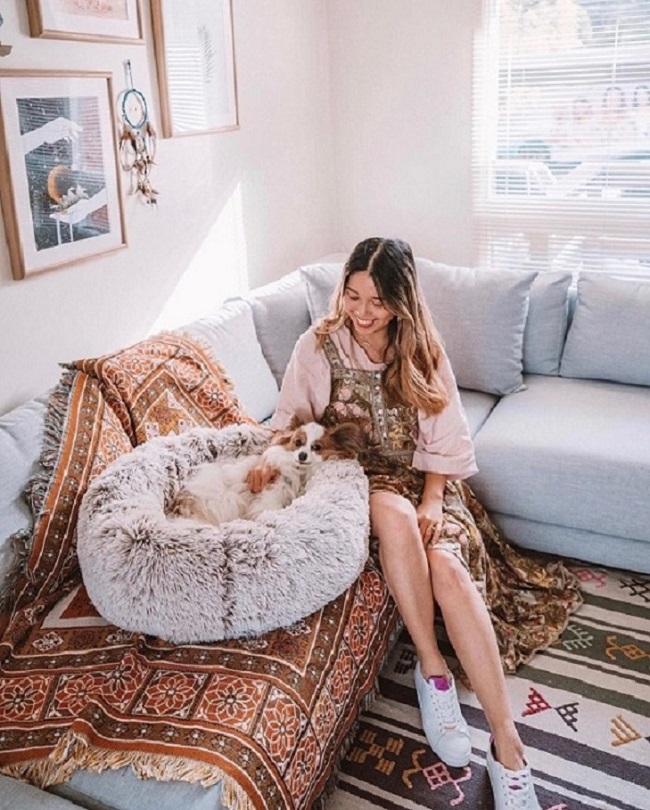 Sleep is just as important for your dog as it is for you. It supports developing nerves, muscles and other body systems and helps both younger and older dogs to boost their energy and maintain their health. Letting your dog pup sleep on your bed might be comfortable at first, but it may not take long until it disturbs your sleep.
Your dog might be turning and tossing and disrupt your sleep, or your movements may hurt their sleep. Also, they may end taking up most of your sleeping space as they grow especially if they're a large breed. Implementing a regular sleep routine is important and to ensure your dog is getting quality sleep, it's crucial to provide them with a comfortable sleeping area.
There are many different types of dog beds out there and you can choose one depending on your dog's needs and habits, so you can opt for a trampoline dog bed, orthopaedic or snuggle dog bed. Dogs sleep between 12 to 18 hours a day, depending on age, and that's why it's important to provide your pup with a space that's comfortable, supportive and soft.
Are Trampoline Beds Good for Dogs?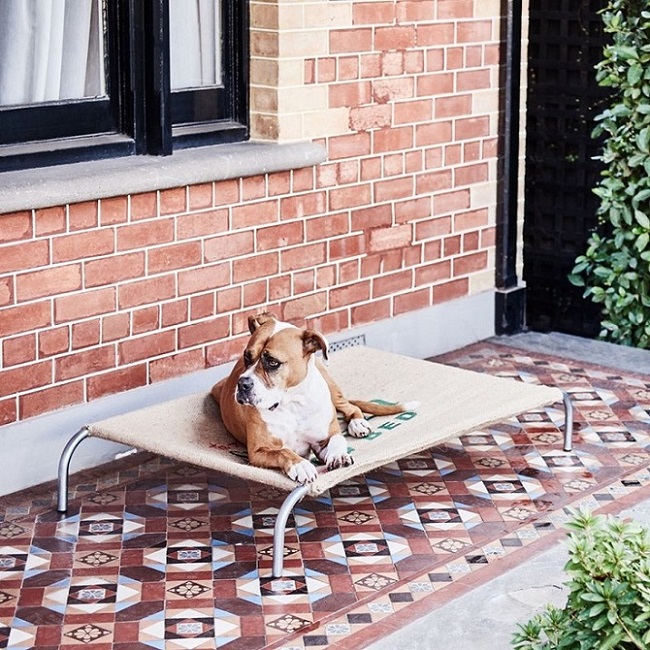 The unique trampoline-like design of raised dog beds allows the dogs to easily hop on and hop off the bed. Moreover, the foam used on the bed supports the dog's body evenly. The raised dog beds have a solid metal body frame, which gives the advantage of toughness and durability over the foam-based dog beds.
Most of these beds come with a rubber grip, so they won't slip if your dog jumps hard on the bed. Therefore, you can choose a trampoline dog bed as a comfortable and secure option for your dog's habits and needs. This type of dog beds is not stuffed, so your dog won't have any material to chew and some are specially designed for hard-chewer dogs, so they can last long even if your dog likes chewing or scratching.
Trampoline dog beds are a great solution if you're living in a hot area as well, since this type of dog beds provides optimal air circulation all-around your dog's body and keeps them cool all day long, but also keep any stinks or odour from developing.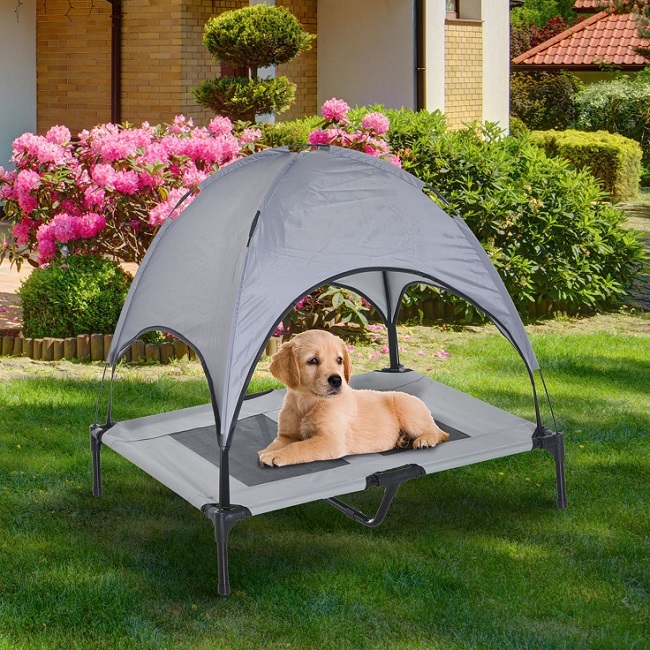 Another reason why many dog owners opt for these dog beds is the hygiene aspect. Their elevated design keeps the floor below clean, therefore free of germs. Even fleas will have troubles reaching your doggo as they can't jump at such height, so your dog can stay pleased and cosy in their own bed. This makes trampoline dog beds the best solution if your dog likes spending a lot of time in the yard.
Lastly, raised dog beds can be assembled easily, so you can take your dog and their favourite bed with you on your next car trip. You'll need an airline approved dog crate if you're travelling overseas, trampoline dog beds are a great choice for family trips to the countryside, camping or days at the beach as they can easily endure the harsh sun rays and water damage.
Raised beds for dogs offer a lot of benefits, but they are not great for older dogs, especially if your dog has arthritis or other joint issues. In that case, consider buying an orthopaedic dog bed and ensure comfort for your suffering furry friend.
Orthopaedic Dog Beds for Extra Support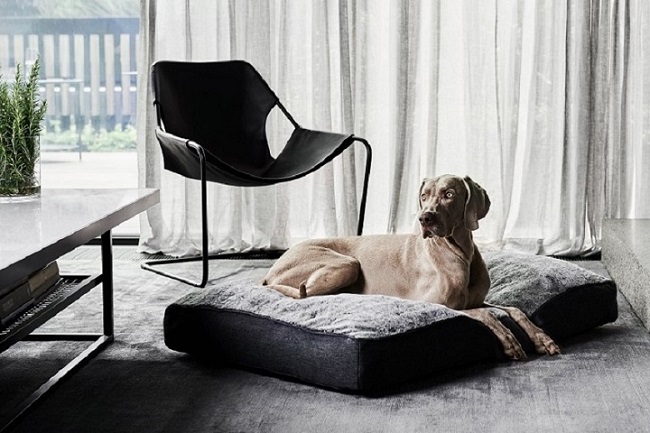 This type of dog beds is designed for canine who suffer from painful conditions, most commonly arthritis or have a low proportion of body fat. Orthopaedic dog beds are designed to support old joints or very large dogs and have medical-grade foam and/or box-spring construction.
An orthopaedic dog bed can provide extra support for your dog's body and alleviate pain. It's the most comfortable solution for any type of dogs, especially senior dogs, dogs suffering from orthopaedic issues and thin and bony dogs, too.
Ensure Ultimate Comfort for Your Canine with Snuggle Dog Beds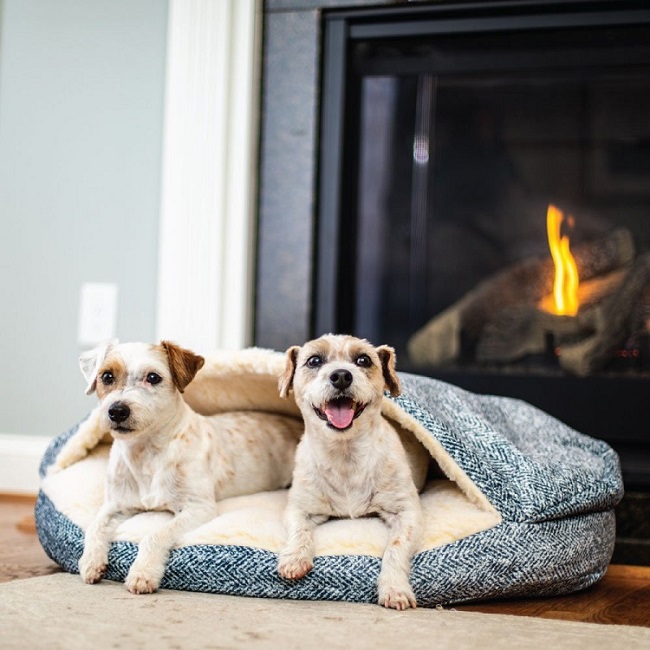 These are some of the most common dog beds you'll find on the market and are a great choice if your dog likes to curl up when they take a nap. They are very comfortable and can be used by dogs of any age, from puppies to senior dogs. Also, there are many stylish options available, so you can choose one that perfectly fits your home décor and makes a beautiful addition to your home interior.
Most snuggle beds have a rubber bottom that provides extra warmth, so you can use them in different areas in your home. A snuggle bed can easily become your dog's favourite napping spot as it's soft and cosy and has a pillow edge where the dog can rest its head and enjoy a nap.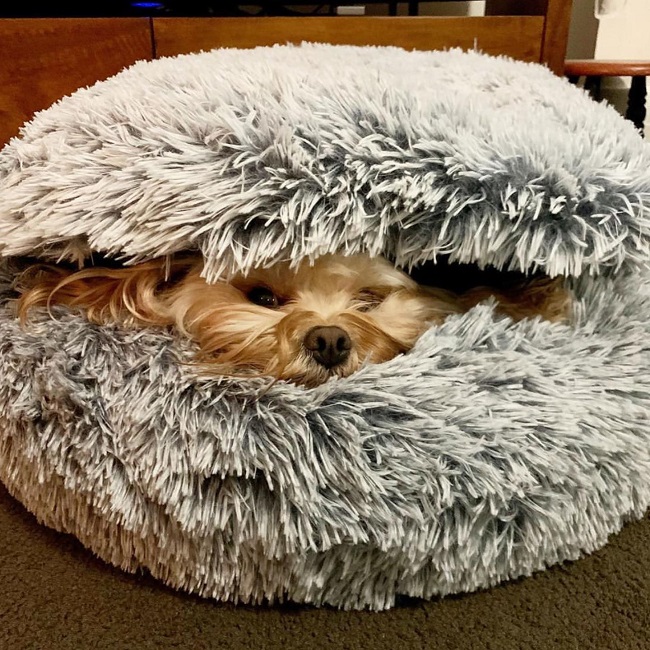 In the end, buying a dog bed is one of the most rightful decisions you can make as a pet owner. The truth is that, when they are tired, dogs can sleep anywhere, but securing a cosy sleeping area is something your furry family members deserve. It offers them a personal space where they can get a good sleep and relax whenever needed.