The great thing about RC toys is that you can be nine years old or ninety years old and still enjoy them. If you love cars and enjoy playing around then you will certainly get hours of fun and joy from RC toys. There are a few RC toys basics you should know before you start browsing online for RC toys for sale.
There is a a huge variety of off and on road RC toys as well as choosing between electric or nitro RC toys, so you might need some help when it comes to making a decision; we will try to answer most of your questions in this article. The more you know, the more confident you will feel when it comes to making a decision about which RC toys for sale you should purchase.
Most average people don't really know just how advanced and excited most RC toys have become over the last few years. The quality has increased a lot and many RC toys can reach speeds of up to 70 km an hour! There are even RC toys that feature suspension systems that can be tuned just like a real car can. The most exciting part of the developments made toward RC toys, is definitely the variety you can choose from. There are so many types of cars, trucks and planes you are sure to find something you really like.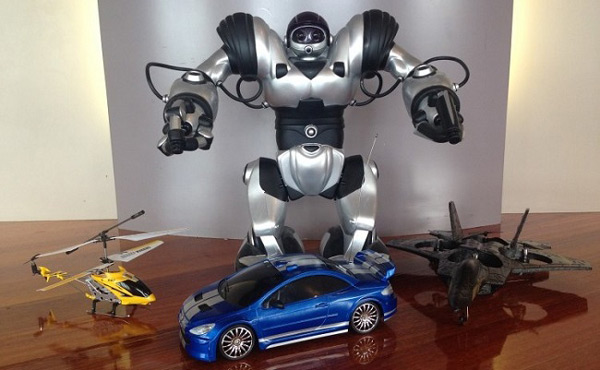 While variety is a great thing, it poses a question that you need to answer before you go out and decide to buy something – Would you prefer on road or an off road vehicle? If road racing cars are made for speed, off road cars like a buggy is more intended for rugged terrain. There is also the question of whether you want to buy one that is assembled and ready to use, or do you want one where you put it together yourself.
Is a nitro or electric engine right for you? Nitro engines are for those people who love speed; reliable and sturdy electric cars for touring; and for the more advanced of you who love RC toys, there are planes that you can fly. Electric cars and toys run quieter so if you want to play with them in the neighbourhood, this is a good choice; nitro cars are suited for those who want the feel of the racetrack.
Something that everyone should remember is that RC toys can be a high end and pricey hobby that can get pretty expensive. If you plan to race your car remember the costs that comes with it. If you are prepared for all that and still make your decisions wisely then you will be rewarded with a hobby which most people find it outweighs the costs that it takes.
You should choose a car based on your own experience with RC toys to avoid getting frustrated later on. If you choose based off your experience and how much you enjoy cars you will make the right choice for you. They are great for people young and old and can give a family a hobby they can practice together. This is one way to really share some time with the people you love and form new bonds and interests.