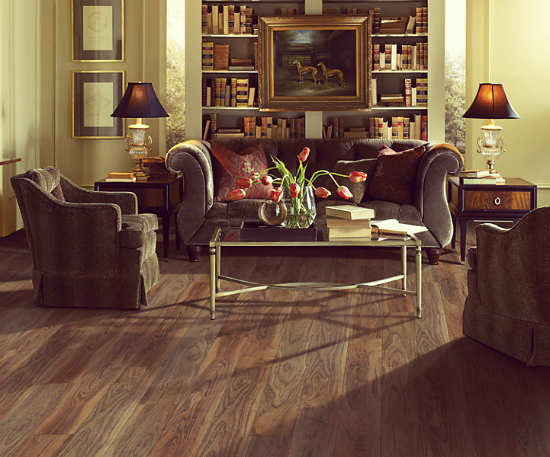 Vinyl plank flooring has become extremely popular in the last few years. According to some, the increased demand for this type of flooring can be attributed to two things – the vinyl plank flooring brings a fresh look and the flooring manufacturers have improved the feel and the look of vinyl flooring, changing the old belief that this flooring type is not of high quality. Because of numerous innovations and guaranteed quality, vinyl plank flooring is No.1 flooring options for growing number of home owners. And not just homeowners, vinyl plank flooring is most commonly used flooring in offices, hospitals, schools, gyms, etc.
When looking for vinyl plank flooring, you will see there are two different types: the single board and multiple board. Before making any purchase, do your research to be sure you get the right one.
Single board – a wide vinyl plank flooring that reproduces the appearance of a single board on the plank.
Multiple boards – a wide plank vinyl that reproduces the appearance of smaller, multiple boards on the plank.
These are not only key elements to consider when looking to buy vinyl plank flooring. To ensure the vinyl plank flooring of your choice is indeed the best one, consider the following:
Width of Vinyl Plank Flooring – When looking to select plank vinyl flooring, you will find different vinyl flooring widths from different manufactures. Therefore, select the vinyl plank flooring width that best suits you needs and requirements.
Length of Vinyl Plank – Another key element to consider is the vinyl plank flooring length. Of course, the best way to ensure you get the right dimensions, is to correctly measure the room you plan to install the vinyl plank flooring in.
Surface Treatment – Because vinyl flooring is made up in the test tube and marked out in a factory, any type of surface treatment is possible. That means you will find both 'like new' and heavy distressed vinyl plank flooring. Which one you choose depends on you.
Installation – Vinyl plank flooring is very easy to install. Whether glue-down or self-adhesive, plank flooring is easier to install compared to regular wood flooring. In fact, anyone can install vinyl floors without even having any skills. Of course, if not sure how, it is always best to hire a professional. For example, the glue-down vinyl plank flooring is more difficult to install than it seems, thus it's recommended to have a professional install it for you.