Hitachi is a well-known Japanese company that produces a wide range of products, including industrial equipment, home electronics and appliances, mining and construction equipment etc. Established in 1910, Hitachi at the beginning was a small mining machinery repair shop. However, with the production of the first 5-horsepower electric motor, Hitachi earned its place on the Japanese market and today produces a complete line of construction machines. The Hitachi excavators are considered as some of the finest on the market because these machines stand for excellent performance and superior results on the job site. The Hitachi excavators are very durable, reliable and capable to perform the most difficult jobs in the toughest working conditions.
This article is about the reduced tail-swing Hitachi excavators. The company introduced two models in 2013, and they represent the well-known reliability and exceptional performance of the Hitachi excavators. However, the ZX75US-5 and ZX85US-5 come with many innovative features and technologies which additionally enhance their efficiency, productivity and durability. Also, they feature easy-to-access checkpoints for easier maintenance.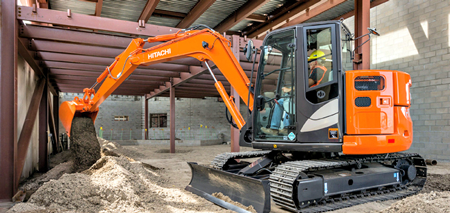 Whether they are used for underground projects, urban renewal projects, street repair projects or in the landscape industry, the Hitachi ZX75US-5 and ZX85US-5 guarantee strong and powerful performance. Their reduced tail-swing design allows them to work and move easily, regardless of the type of the job site. Also, they are very efficient, thanks to the unique combination of a hydraulic boom system and an improved boom recirculation function that generates faster boom speed.
Hitachi designs its two reduced tail-swing excavators with the next-generation engines, which include a diesel particulate filter and a cooled exhaust gas-recirculation system. Also, the engines meet the EPA Final Tier 4 emissions regulations and provide two work modes: economy and power mode. The economy mode reduces the speed and saves a great amount of fuel, while the power mode provides a great speed-fuel balance for efficient operation. The Hitachi ZX75US-5 and the ZX85US-5 are built to last, as they are equipped only with high quality parts and systems.
In terms of operator's comfort, the reduced tail-swing excavators form Hitachi come with a spacious and comfortable cabins that offer an exceptional visibility. The monitors have been improved, while all the controls are ergonomically placed for efficient operation. Additionally, these two excavators are very easy to maintain.