The floating floor underlay is designed to provide support for your carpet. It also ensures increased underfoot comfort and eliminates minor imperfections on the floor. Thus, due to its composition, it also acts as an excellent sound insulation, heat retainer, and protector of your beautiful carpet form any moisture that might come from the sub floor.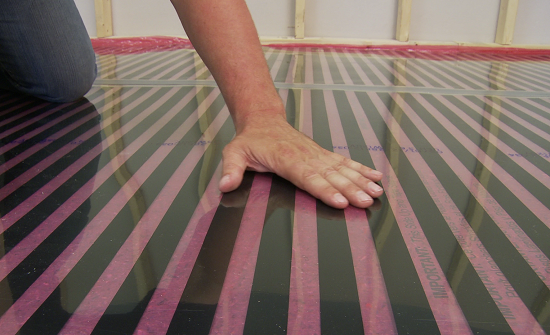 There are three main types of floating floor underlay: felt, foam and rubber.
| | |
| --- | --- |
| Felt | Felt underlay has good thermal insulation properties due to the high concentration of wool fibres. However, after the invention of the foam and rubber underlays, it is not commonly used nowadays. |
| Foam | Foam underlay is described as a light floor underlay. It is made from recycled furniture foam and offers a softer feel and a great thermal insulation. |
| Rubber | The rubber underlay is made from either synthetic rubber or from recycled car tires. It has a higher aesthetic appeal and provides a greater sound proofing qualities and resilience against carpet wear. The rubber underlay can be found with sponge texture as well with rubber 'crumb' texture. Although the sponge underlay is considered as more comfortable option, the crumb rubber underlay tends to last longer. |
It is important for you to know that each type of underlay is used for different purposes.
| | |
| --- | --- |
| Sponge Rubber | Considered as a firm underlay, the sponge rubber is designed to resist damages caused by heavy foot traffic. It is the heaviest by volume, around 25-45 kg per roll, and it is usually labeled as the most comfortable form of carpet underlay. |
| Crumb Rubber | If you have heavy furniture, then this type of underlay is your best choice. That's because it has the capacity to fully recover its shape, providing quality support to the carpet and protecting it from becoming distorted and damaged. |
| Foam | Considered as soft underlay, the foam underlay is not recommended for areas with high traffic. That's because it does not provide the necessary support. The foam underlay is ideal for bedrooms as it provides great comfort and a good thermal insulation. It usually weighs around 15-20 kg per roll. |
| Felt | The most hard-wearing underlay type is the felt underlay. It is recommended for areas with high foot traffic. The felt underlay is also used in cold rooms where noise reduction is required. |
The floating floor underlay price is low when considering the high difference it makes in your home or office. When comparing the floating floor underlay price, make sure you are comparing underlays with the same level of quality. Keep in mind that a poor quality underlay tends to flatten, especially in hallways and on stairs. On the other hand, a good quality underlay ensures comfort and great support for long periods of time.