If you have a bike that you frequently use, it's your duty to take good care of it. This means taking care of such tasks like drivetrain maintenance and ensuring that it's properly stored and well-protected.
Is it bad to store your bike outside? – you may ask now. Leaving your bike out for a couple of days is not a big deal. However, if you leave it for a longer period, you will start to see visible damages.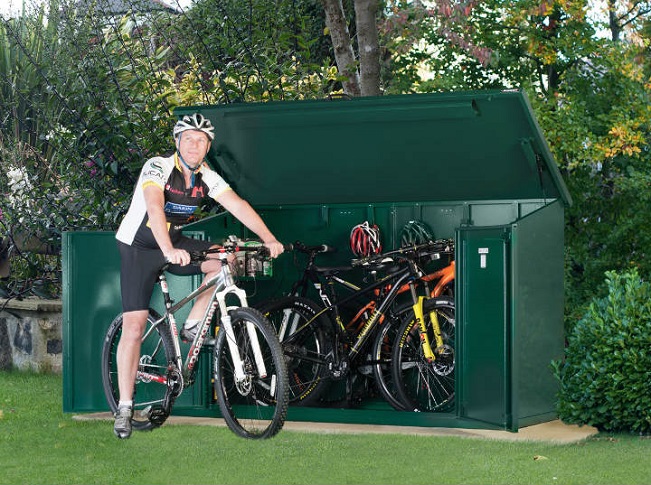 If you have enough free space in your yard, then you have the advantage of adding a shed. Sheds are a great way to keep your bike protected from bad weather, pests and animals, and of course, theft. If you decide to get a garden shed for bike storage, there are 3 main options of materials that you can choose from. Each has its own advantages and downsides.
Metal Sheds

If you are looking for a heavy-duty option, a metal shed would be the best choice for you. This is a strong and durable garden shed bike storage option. Usually, these sheds are made of high-tensile steel, offering more out of the box protection from thieves than any other option.
Metal is not an easy material to damage and it offers long-lasting protection. Meaning these sheds won't be affected by sun and wind, and they won't be damaged from the cold. They have a galvanised layer underneath which protects the metal from environmental factors, and for this reason, they are pretty much maintenance-free. They won't rot and they're rodent and insect-proof. Plus, this skillion-roof shed will help shield your bicycle from too much heat, colour fading, moisture, corrosion, etc.
Metal sheds also have the advantage of being lighter to carry and move around. These units are delivered in lightweight packages and this makes it easier to fit through a fence door opening. They may come as flat-packed which will be pretty easy to manipulate around a very cramped garden. Following this, you can also deal with moving the entire shed on your own, thereby not stressing when it comes to relocation. Plus, they are easy to assemble and you don't really have to be a builder to put it all together, unlike constructing wooden bike storage sheds.
Another thing that is good to know when buying a bike shed is that metal options are cheaper than wooden units while offering all the necessary qualities. Just make sure to pick a size that can store your family's bicycles and all the other accessories for a bike that you may need.
Wooden Sheds

A wooden shed is really an aesthetically pleasing option for a garden shed bike storage. It can easily fit into any exterior style. By being made from wood, they're re easy to paint and by this complement the rest of your garden even more due to their natural texture and earthy colour.
You can also easily add hooks and shelves on the inside. If you properly maintain wooden sheds they can last for many years and remain strong and robust, and by this, you will avoid the need for any replacement.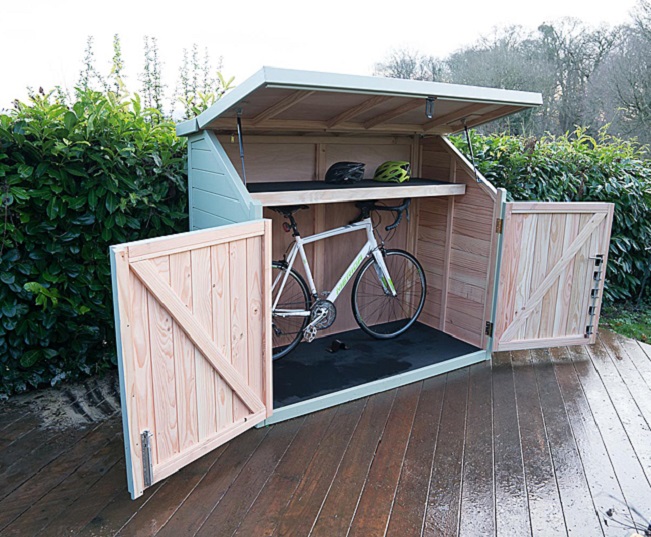 Another advantage is that wooden sheds are well-insulated (the internal temperature is generally well-regulated) since wood is known to be a natural insulator. This is a good option if you plan to spend a lot of time in it because, during winter, it will be warmer there than in a metal or plastic shed.
Wooden sheds have a variety of shades and shapes. In case you are looking for a specific shape, it's very likely that you will find it in a wooden shed. In addition, this is a very environmentally-friendly option.
Plastic Sheds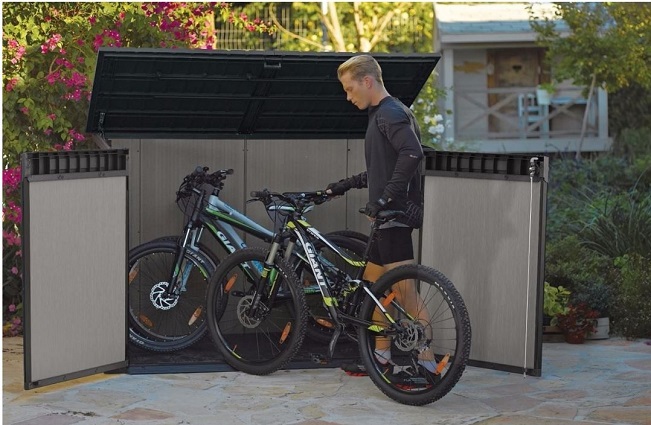 The lightest of all three options are plastic sheds. They are fairly easy to assemble, even in restricted spaces. Plus, they are easy to transport. In case you change your place of living, or just change your mind regarding where you want to place them, you can easily move them.
An important characteristic of plastic sheds is that they won't rot, rust, or need annual treatments. They are encased in construction of weatherproof resin to be tolerant of damp conditions and to withstand decay. Eventually, you may need to wipe down the sides from time to time to keep them clean and looking good. In addition, they are also insect and rodent proof.
When it comes to the security part, they are not as secure as the metal sheds but are probably more secure than the wooden ones.