Pro-level scooters are becoming more and more popular and increasingly appealing to young people in Australia and worldwide as an extreme sport. While they are still not entirely accepted as an extreme sport, the hype is real, here to stay and, most likely, increase over time. As a result of the growth of the industry, understandably, many companies are trying to make their way into the pro-scootering community.
One of the first companies on the scene, Lucky, has been a leading player in supporting riders, offering custom parts. Today, they have built an image for themselves as a company that really has their customers in mind, offering high-quality pro scooter and pro scooter parts.
Innovation, Reliability and Real Community Support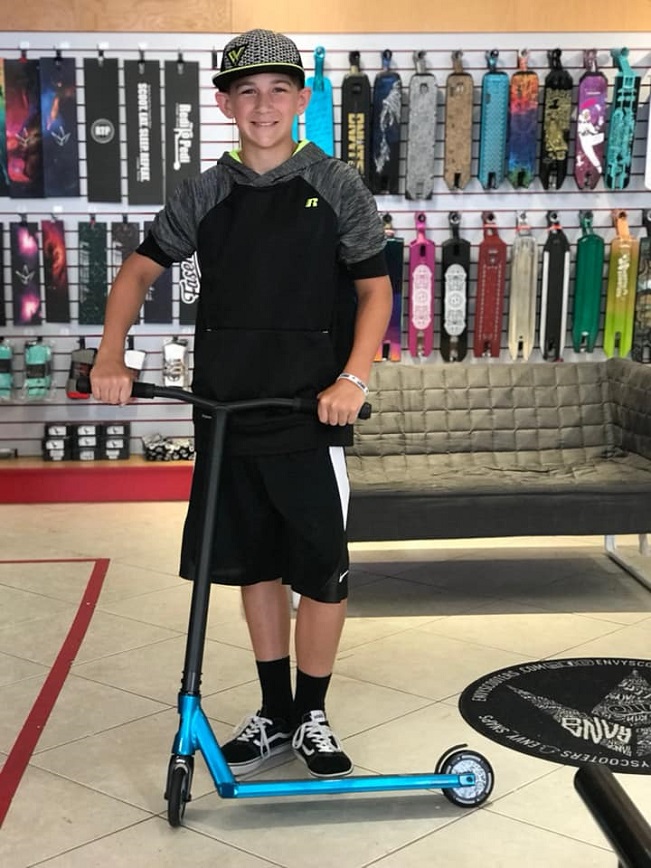 If you are interested in jumping and doing tricks on a nice-looking quality scooter, then what you are essentially looking for is a reliable pro-scooter. Regardless whether you are searching for the perfect parts for your particular riding style, that will also perfectly fit your body, want to build yourself a custom scooter, or you decide to go for a completely assembled pro scooter, Lucky Scooter Co is the perfect brand for you. This company has a long-standing spotless reputation offering reliable and top of the line scooters.
How to Choose a Lucky Pro Scooter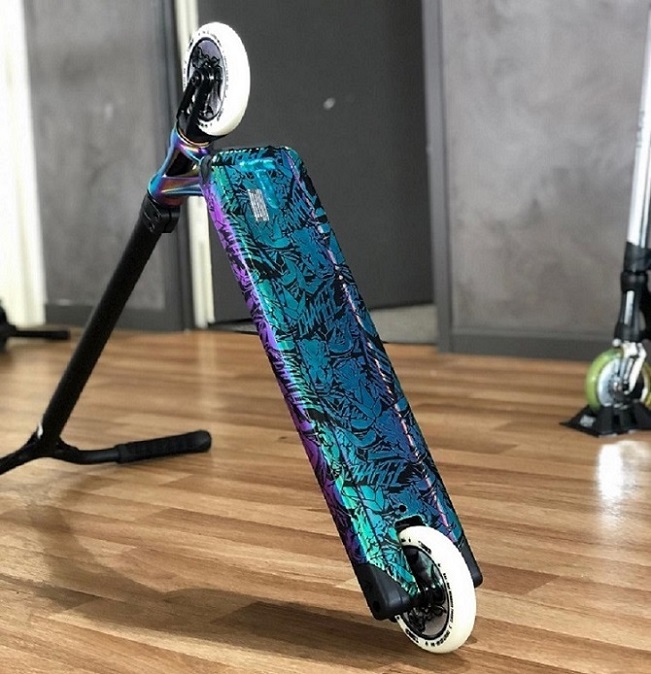 Pro scooters aren't your regular kick scooters. In fact, they are a quite different, more durable and better-quality version of them. First of all, being designed as stunt scooters, or in other words – suitable for tricks, stunts, vert riding…, they have to be much more resilient and sturdier. Furthermore, they don't fold, their height can't be adjusted, they are heavier, their compression is more advanced.
Ready-to-Ride Scooter
If you are a beginner, you might want to stick to a previously assembled Lucky pro scooter, ready to ride. This is primarily because it will most likely be much easier for you, considering that you won't need special tools to assemble your scooter by yourself, but instead, you'll be able to start learning as soon as your order arrives at your home.
Custom Pro Scooter
However, if you are ready for the ride, building yourself a custom stunt scooter can be a very fun and worthy experience, that will result in an incredibly satisfying, and much more personal product. If you decide to go for it, it's crucial that you learn as much as you possibly can about how to choose the right parts for your riding style or the style you are planning to learn and get better at.
Pick the Suitable Parts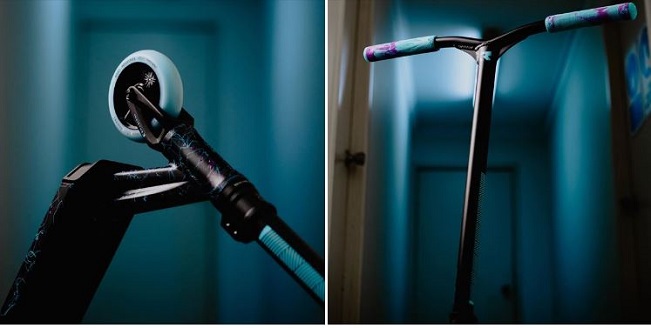 What typically should determine the parts you need for your custom scooter are, as you can imagine, your riding style, your height, the size of your shoes, etc.
The part that connects all other parts of the scooter is the deck, and it's also the first one you need to choose. Mainly both the width and the length of the deck will depend on the size of the riders' shoes. However, you should also take into consideration your riding style. A longer deck, for instance, is suitable for street riding. A wider deck, while suitable for bigger shoe size, can also be beneficial for people with a smaller foot, to avoid heel bruises.
Scooter Deck
All of the elements on the deck – extrusion, brakes, head tube, down tube etc., come in many different variations and combinations. The one you choose will also determine the other parts of the scooter. Then it will also define the overall look of your scooter. Lucky Scooter Co offers a wide variety of scooter deck for different styles, and they also come in a range of amazing designs. You should pick a deck according to what you want to use your scooter for, but you should also love how it looks.
Scooter Wheels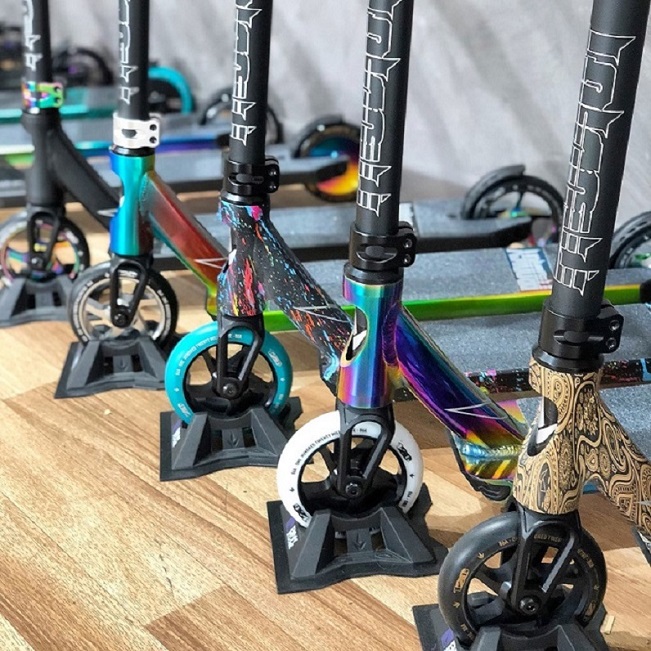 Pick your wheels with quality and durability in mind ­– which definitely means that you stay away from cheap plastic wheels, and choose high-quality materials that can endure a lot, instead. Generally, softer wheels will allow softer landing, and they are better for grip and traction, while harder and larger wheels make for faster scooters. Lucky Scooter wheels are a great option – providing many high-quality options with different diameters (120, 110, 100 mm) with pre-installed LuckySpeed bearings., and again in an extensive variety of beautiful designs and in different colours.
Scooter Bar
When it comes to the bars, it mostly depends on your personal preferences. They come in different sizes, styles and colours, and they are made of very strong steel, that makes highly reliable and extremely durable.
Scooter Clamps
Oversized lucky pro scooter clamps are very reliable. One of their biggest advantages is that they are made of high quality, resilient and durable materials, yet they are lightweight. Clamps' quality is very important since they are the part that holds the bar to the fork together, making them turn in unison with the front wheel.