The flooring found in hospitals should meet many requirements. Hospitals are open 24 hours a day, 365 days a year and with a consistent stream of doctors, nurses, patients and visitors, so their flooring needs to withstand the high traffic and heavy medical equipment, remain resistant to spills, be non-slip and provide comfort underfoot.
That being said, vinyl floors have become increasingly popular in healthcare settings because of the unparalleled advantages that meet most, if not all of these requirements. That's why we can notice more colourful and modernly designed PVC floors in hospitals and less concrete or tiled floor. Its endless design possibilities of colours and graphics can create an ambience with " visual treatment" effects according to different hospital areas. Let's explore the different types of vinyl flooring for hospitals and their benefits.
Types of Vinyl Flooring Used in Hospitals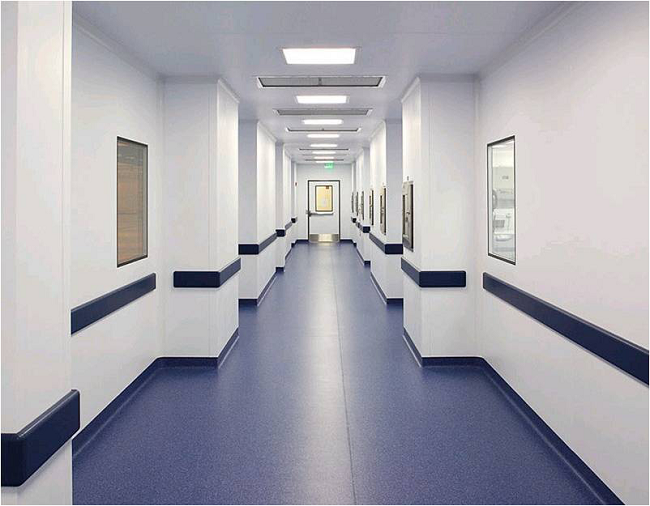 While vinyl plank flooring is mostly used in residential settings, sheet vinyl and luxury vinyl tiles are great for commercial settings like hospitals.
Sheet vinyl generally comes in 2 m wide rolls with 20 m in length and 2-3 millimetre in thickness. This allows the application of vinyl sheets with minimum seams so that the area can get a uniform look. Some components in vinyl allow the conduction of electrostatic charges, steering them away from people and sensitive electronic equipment – an important reason why vinyl sheets are widely used in hospitals. Luxury vinyl hospital tile flooring is well-bonded and incredibly hard and durable. Over time, vinyl tiles tend to perform better than vinyl sheets.
Benefits of Vinyl Flooring for Hospitals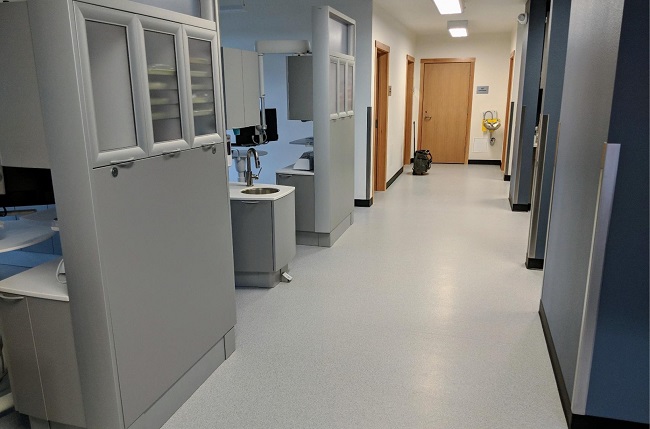 Comfort & Safety
Doctors, nurses and general staff in hospitals spend countless hours on their feet. Luckily, good vinyl flooring can give proper support and provide ergonomic relief. Yielding more under pressure, vinyl reduces the strain on joints from standing and walking. Thanks to its shock absorption function, people can walk comfortably and with a peace of mind as vinyl reduces the risk of injuries.
Top-quality vinyl flooring for hospitals has a cushioned, flexible surface which is also excellent for sound reduction. Vinyl flooring, especially luxury vinyl tiles come with a sound-insulating underlayment. Selecting acoustic flooring materials is crucial to hospitals as it prevents transmission of sound from floor to floor and reduces the background noise in corridors, waiting for areas and patient rooms. A quiet and peaceful environment will promote healing and speed up the recovery time.
Vinyl flooring offers outstanding slip resistance qualities as its surface becomes duller when in contact with water, medicines or liquid waste. It's carefully designed to provide the correct amount of friction (grip and slide) coefficient.
Function
Good quality hospital vinyl flooring is bacteriostatic and fungistatic and is usually treated with a solution which stops the growth of microorganisms. This also prevents the spread of germs which may cause nosocomial infections. These properties are crucial for a hospital setting used by people with immuno-compromised systems.
As hospital interiors have less ventilation, even small amounts of toxic emissions from the flooring can accumulate over time, creating an unsafe environment. The strong smell of oil-based paints or other volatile compounds in flooring materials can make us feel "light-headed" and some mainstream studies have shown that it may lead to some serious health issues. Vinyl flooring eliminates concerns associated with the use of flooring paints, wax and harsh cleaning chemicals. It's easy to maintain and you only need to wipe it with a damp mop to get rid of the dirt.
In that way, the patients' recovery won't be affected by the presence of flooring chemicals. This makes it a great option for settings where people with respiratory problems and allergies are being treated. What's more, the water-tight nature of vinyl flooring deters the growth of mould which may cause certain respiratory problems in patients.
When it comes to durability, this type of floor can withstand heavy traffic and dynamic loads without impeding rolling loads like some other flooring solutions. This means the vinyl should be replaced less frequently and can last up to twenty years.
Aesthetics
Today's vinyl offers a wide range of texture and colour combinations. It can mimic the look of exotic or rustic woods or stone in lovely colours or patterns which can boost the mood of patients, making their stay a bit more pleasant and helping to promote faster healing.
Vinyl can be installed in practically any shape or pattern. Custom and unique designs can be used as wayfinding techniques so that patients and visitor can easily navigate throughout the different corridors and facilities.
Taking all of this into account, it's easy to conclude that vinyl flooring looks like a good match for the modern hospitals and healthcare environments.