Aussies love to travel. When packing our vehicles and setting out, few of us think of how much space we have, but cram everything we need in the boot. There'll always be the bag or children's toy that doesn't fit or the essentials that you need to leave behind. Having extra storage space is always a bonus, especially when going for longer trips or during a few days of camping. So, what are your options? You might be uncomfortable hauling a trailer, if you've never done so, let alone for a few hundred kilometres out of the city. A better and safer way is to install a roof rack on your vehicle, no matter big or small, and give passengers some breathing space.
Platforms vs Baskets
The basic types of roof racks are flat platforms or roof baskets. They come in a range of sizes and fit most roofs, no matter if you're driving a big 4WD or small hatchback. There are differences, however, so if you're getting your first set of roof racks, but unable to decide between a platform or basket, read on.
Platforms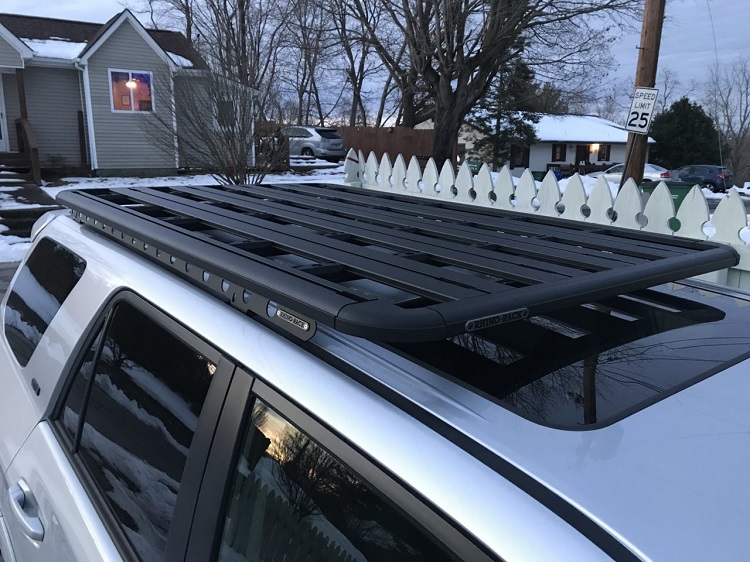 Platforms fit flush on the crossbars that hold them in place on the roof. They're ideal for carrying longer items, like canoes or kayaks without being obstructed from additional rails. Things like longer ladders, shovels and hi-lift jacks or anything with some heft to it can fit safely on a roof platform. Items are tied down to mounting tracks that run the length of the platform. The longer the rack the more tying points there'll be, so you can rest assured that they'll stay in place no matter where or how fast you're driving. Platforms also provide a lower profile, meaning they'll be less buffeting in wind or at higher speeds. This also helps when you're driving in the city, and negotiating low roofs in car parks.
Baskets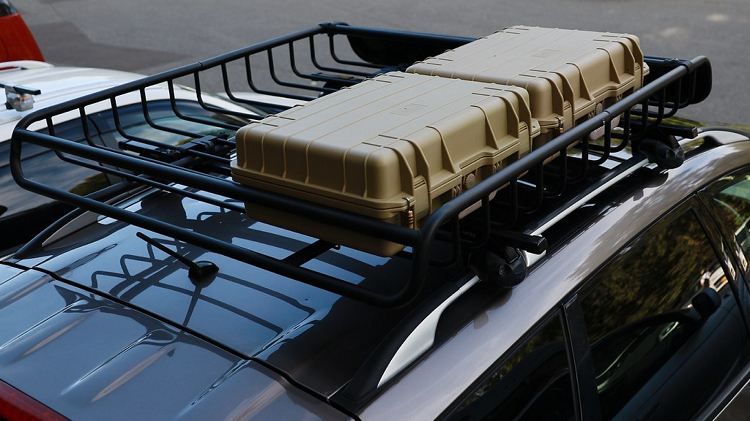 A roof basket for sale is intended to carry smaller items, like tyres, bags, toolboxes, or anything that can rattle around if not tied down properly. Baskets come in a mesh design, with added side rails. This allows you to better organise the smaller stuff, without them falling off to the sides. Baskets have the tradie in mind, but also the camper. The side rails can be used to fit awnings, tents, screens and lights.
Roof baskets or cages take up a little more height, so this can be something to take in mind if you're driving a particularly tall vehicle. There'll also be more wind noise at higher speeds, but most baskets are sold with front wind deflectors, so consumption shouldn't be too much of an issue. Just mind the safety bars in malls if you're planning to do some shopping before heading off fully loaded.
Things to Look for in Platforms and Baskets
Size
Depending on your vehicle you can fit the right platform or basket in the right size for the car. You can go for smaller racks if you don't intend to carry any bigger things or want a smaller footprint. You can also use the whole roof space, and opt for a longer basket or platform.
Weight Capacity
Retailers stocking platforms and roof basket for sale offer storage solutions that are lightweight and yet can handle weight several times over what your roof is intended to carry. To find out your recommended roof carrying weight, before installing a roof rack of any type, consult your car manual. Most 4WDs or SUVs won't have any issues here, but for station wagons or sedans it's better to check.
Materials
Roof baskets and platforms are made either of lightweight aluminium or steel alloys. Steel is considered the more durable material but is usually a little heavier. Added coatings protect from rain and corrosion. In addition, all provided mounts, brackets and bolts and nuts, basically everything you need to fit the rack, should last for years in any type of weather or driving conditions.
Vehicle Compatibility
When buying a roof basket consider the size you need and the weight of your load. Does everything you need fit on your vehicle and the rack? There are universal racks that can be used on all 4WDs, good if you're planning to change vehicles in the future. Also, you'll find baskets and platforms that fit your particular make and model. Racks will come in the appropriate width for the car, but you can choose from different lengths.
Mounting and Installation
Most roof baskets for sale come as kits, so you get everything you need for installation. Depending on the roof of your vehicle, you'll need roof rails or crossbars to attach the rack. Alternately, cars with roof channels, platforms and baskets can give a tighter, lower fit. Most cars have pre-drilled mounting points, but some may require additional drilling in the roofline for the best fit. You can do the installation yourself, or can get it done quickly and professionally at the store of your choice.
Buying Roof Baskets and Platforms
Whether you need a platform for larger, wider items, or a roof basket that can carry smaller things at once, it's up to you to decide. You can go for OEM racks from your car dealership or aftermarket racks that are a lot cheaper. Many are also Australian-made, so you'll know they're top-notch.