ATVs are a fun way to get into riding. They've been extremely popular Down Under, with sales spiking during the global pandemic. And there's no shortage of reasons why that's so. The vehicles are small, agile, easy to handle, and as the name implies, can manage just about any type of terrain. With models spanning all skill categories, this is an affordable way to get your off-roading and racing kicks.
Size them up, and you have UTVs, staples used in farming, hunting and camping. Both vehicles are easy to maintain and run, easy to ride (especially when compared to dirt bikes), and have the versatility other vehicles can't touch. What's more, they're also simple to repair. Both replacement and performance parts are readily available and won't break the bank if you're looking for an extra push or outright usability.
With so many brands, searching for parts is straightforward. There's a wide selection of both ATV and UTV parts online or in dedicated atv parts shops that cater to all buyer's needs. Riders can choose to go the OEM route when needing replacements or shop the aftermarket for more options.
Get The Performance Boost You Want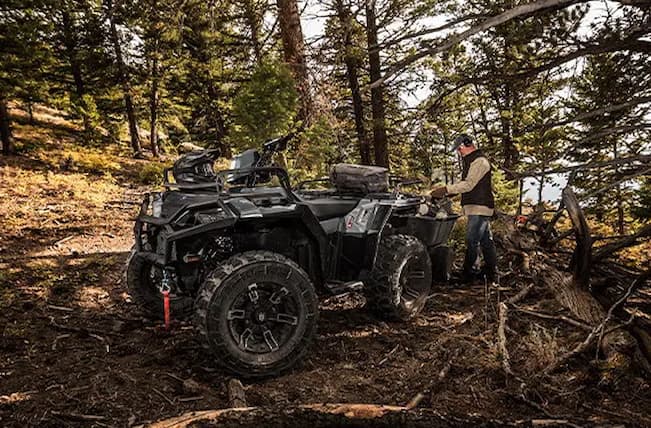 CV Axles and Boots
The engines in ATVs and UTVs are in no way short of grunt, even in entry-level models. They're revvy and quick on the throttle and guaranteed to deliver. For riders who like to have fun over tougher surfaces, changing out the stock CV axles and boots is where there's more fun. Factory variants have a hard time in uneven terrain and can soon show signs of wear. And this is more evident if you've made other changes to your quad bike, such as throwing in a lift kit or going with bigger and grippier tyres. When you start to notice clicking or popping sounds from the wheels when accelerating or braking, it's time to check the boots and axles.
Upgraded axles with paired boots are offered in higher-grade steel to cope with harder riding. You'll be looking at different types, either solid or half-shaft axles, fitting either the front or rear of the quad. What you get is improved articulation and handling and the ability to throw the ATV in any direction you like. As well as the added strength, axles, and boots won't run as hot as your factory gear, so the fun lasts longer.
Upgraded Suspension
By now you've noticed that factory parts are adequate but not awe-inspiring. What goes for the axles also goes for the factory suspension. If you're after more high-speed stability and safety, without the ATV wallowing in every minor jump, then stiffer long-travel springs are the way to go. These allow more control and comfort in all riding conditions, especially when paired with matching shocks.
Cooling Fans
ATVs and UTVs with air-cooled engines can get really hot. Idling for longer periods leads to overheating pretty quickly, so you'll want some form of heat management. Cooling fans are an easy way to get more air over the cylinder fins. This ensures that there are optimal working temperatures at all times, and there's no loss of power due to an overheated powerplant.
Digging in Deep – ATV Tyres
The tyres on your quad play the largest part when deciding where you can and cannot ride. ATVs can be fitted with general-purpose trail tyres, and most probably the ones that came with the vehicle, and these are good for most surfaces. Mud tyres have more pronounced treads, so dig deeper in looser ground and mud, and keep the ATV stable. Sand or paddle tyres have smoother treads and ridges along the length to enable steering and grip on sand and similar surfaces. And race variants have knobby treads and a harder compound designed specifically for motocross terrains.
When choosing tyres consider ply count. More plies mean a higher load capacity and generally a stiffer, more responsive tyre. Alternatively, tyres with a low ply rating are better on softer and looser ground but have a more vague feeling in the steering. Additionally, most tyres today are radial designs, so offer decent strength. Get tyres that match the wheel sizes, or swap out both wheels and tyres for a combo that works better in more demanding riding.
Other Worthy Additions
Other versatile ATV and UTV parts extend the scope of how the vehicles can be used. If you're bashing your quad at every opportunity that comes around, then you'll also need some basic protection parts to keep the ATV intact. Steel bull bars do a good job of getting rocks, branches and other obstacles out of the way while keeping the rest of the vehicle, especially the plastics, protected. These are fitted up front and cover basic riding tasks. When you need all-around protection, go with bull bar and side rail kits designed for your make and model.
Storage is one difference between ATVs and UTVS, but both quads are capable of carrying more essential outdoor gear. Racks can be placed both front and back and are made of lightweight yet durable aluminium. These can be had in different sizes and loading capacities so you can carry all your gear to where it's needed. Also, consider getting storage bags in ripstop Nylon to keep items protected and well-organised, and for UTVs larger bed extensions when carrying bulkier items or equipment.