I am willing to bet that no one can truly disagree how pleasant a sight David Beckham's little daughter Harper and her Micro scooter are. Have you ever seen a sweeter daughter and daughter sight? You haven't right?! Well, neither have we. The Micro scooters have literally become the most popular and favoured means for our kids as they are super cute, lightweight and easy to handle. Ever since the company's establishment in 1996, Micro immediately gained a lot of popularity and nowadays, it deliveries to around 52 countries including Australia, USA, England, South Africa and Scandinavia.
Kids of all ages around the world can enjoy riding Micro scooters, and nowadays everyone is familiar with the result: millions of Micro scooters have been sold around the world, and it still remains a best-seller. All Micro scooters, kick boards and accessories are manufactured according to the stringent European regulations for scooters, EN14619 and EN71-1 which is another proof of their quality and durability. Whether you decide to buy a Mini Micro or Maxi Micro Scooter best price, sturdy design and best of all, an opportunity for your kids to explore the world at their own speed, you can get all of that with this award-winning Swiss design.
Give your kids a wheel-y nice time with the following Micro scooters models.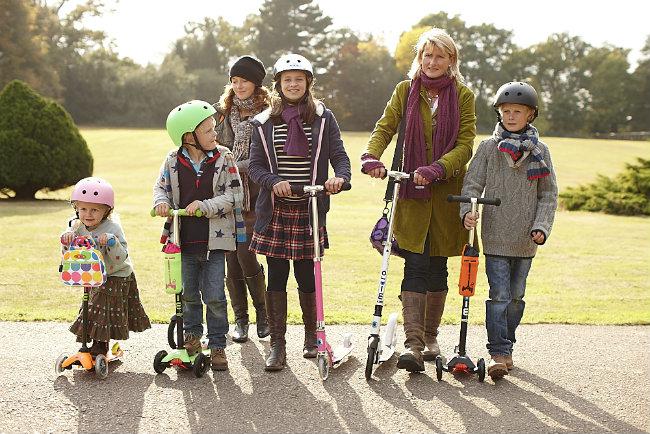 Maxi Micro Scooter
Handy, durable, appealing. These are the three words that can describe this little scooter by Micro. The Maxi Micro scooter has adjustable handle bar height, strong and wider deck as it is designed for school aged kids from 5 to 12. Beside tough-built features, with Maxi Micro scooter best price is an added benefit.
Features
It is available in a range of colour suitable for both boys and girls
It can take a maximum load of 50kg
The adjustable handlebar height extends from 680 – 920mm
The deck is wider when compared to the mini scooters. It is 330mm long and 140mm wide
The Maxi Micro scooter is suitable for kids above 5 years of age
It has polyurethane wheels with the following dimensions: 120/85mm
Mini Micro Scooter
The Mini Micro scooter is specially designed for the very youngest of kids. Preschoolers absolutely love Mini Micros mainly because of their bonnie design. They are fun, cute and perfect for learning how to balance their weight and coordinate the motor skills.
The Mini Micro scooter is easy to manoeuvre as it is made from light-weight reinforced plastic, suitable for little ankles and shins. It is low to the ground which makes it the safest option for your little ones. Moreover, its T-bar steering column and sturdy 3 wheels made from polyurethane render this scooter safe and stable for preschoolers giving them a smooth and quiet ride. It is available in 6 colours: green, red, orange, pink, blue and yellow.
Micro Spite Scooter
Micro allows you to have fun together with your kids. Micro Sprite is the perfect scooter designed for both kids above 5 and adults that will enable you to have the best outdoors time when with your kids. Can you imagine their precious little faces once they see you on a scooter too?! Priceless! Available in red, black and pink, the Micro Sprite is lightweight scooter with a handy kickstand that makes it even more practical.
Features
Handlebar Height: 63-93cm