There is nothing more wholesome than walking into your home with your newborn wrapped in your hands. From that moment on your whole life changes, because then you are officially a parent. Being a parent though doesn't just consist of long hugs, kisses and taking naps together. Instead, it's a huge responsibility to take on. Especially during your loved one's first couple of years, you have to do your best and raise him/her properly. Kids learn the most important lessons during this period, such as walking, speaking and creative thinking while you will be the one making sure they do so correctly and safely.
Besides teaching your child things all by yourself or with your partner, you should also definitely consider getting items and toys which will aid the process. You can go for various kinds of children's books and stimulating toys to cute stuffed animals that will keep your child company. Most recently, baby walkers have been quite popular, and for a good number of reasons. They are the perfect item that will both mentally and physically stimulate your child while encouraging them to start taking their first steps. Continue reading down below to find out a bit more about the amazing baby walker toy.
Types of Baby Walkers and Their Advantages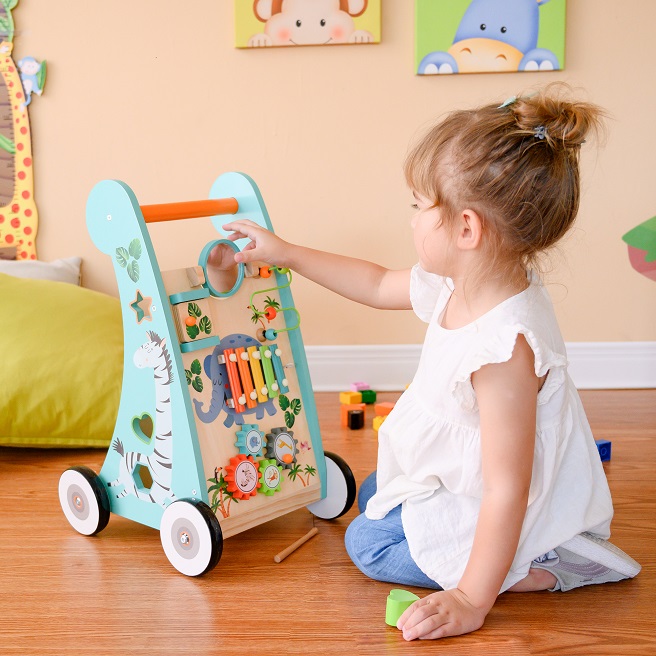 First, let's answer a lingering question – At what age should babies start using walkers? There really isn't a major rule here, except making sure that it's not too early. The ideal period would be from 4 to 16 months, but overall, all kids are different and they can learn walking or crawling at their own convenient time. Now, there are different types of baby walkers to choose from and they all offer various benefits. Let's take a look:
First, let's talk about the sit-to-stand type. It's surely a great baby activity walker you can get for your little one. It can come with all types of fun features, such as a toy station or an interactive panel that can mentally stimulate your child and keep him entertained. This kind has 2 or 4 textured wheels and handle bars that are easy to grip and help balance. Some of these walkers even come with boxes that you can fill up with your kid's favourite toys and stuffed animals, which offers great company! They are also very easy to clean and they don't take up a lot of space. Not to mention, they are probably the most affordable option.
The next kind is the seated type. It can only support children who are big enough to know how to sit and hold their heads up without any help. They are usually adjustable to height, have a wide footprint and they even come with a tray where your child can eat. Some kinds contain buttons that play different sounds or music, and even have learning stations with words and numbers. The seated walkers are a perfect choice because they are easily washable, just be sure to clean the rest of the walker regularly as well.
Finally, the last type is the convertible walker. The name gives it away – it is a seated walker which can be switched up and turned into a standing walker. They also have a toy and activity centre and they can really save up your money, considering you won't have to buy a different one when your child learns to walk.
The Benefits of the Baby Walker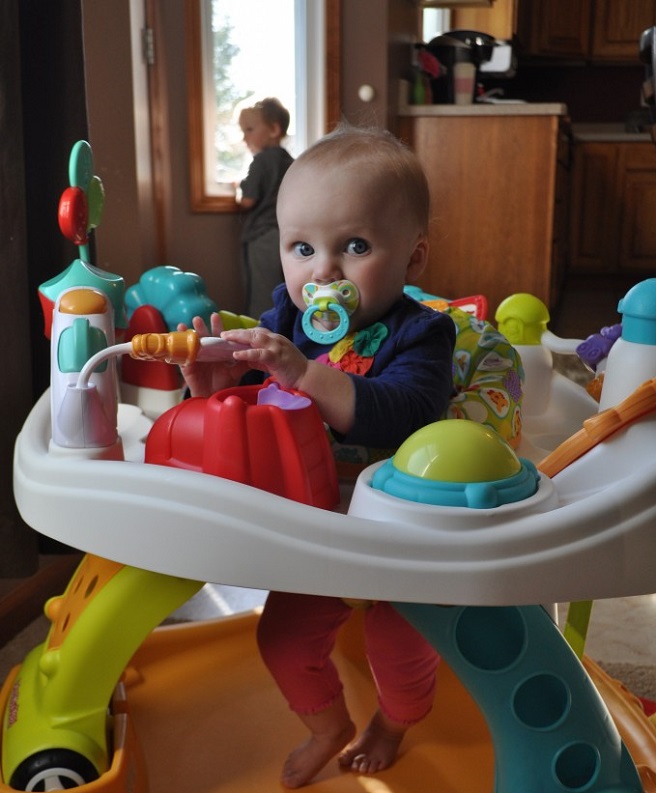 The most important benefit is the fact that these toys will definitely encourage your child to walk. Even if he/she hasn't learned to walk properly, the baby walker will provide the needed support to make the experience more fun and safe. By using it, your child will develop a good sense of independence and possibly boost confidence. Another advantage is the stimulation the walker offers. By just walking around with it, your child's visual coordination and body muscles will surely engage and improve. The interactive learning panel that comes with the walkers also help your kid learn faster and stay entertained for hours, which will give you a bit of free time. Of course, don't forget to supervise and stay alert.
How to Pick Out the Right Baby Walker
When picking out child essentials, it's of huge importance to be cautious in the process. You should know everything about the product you are buying, to avoid any unwanted events.
Safety Features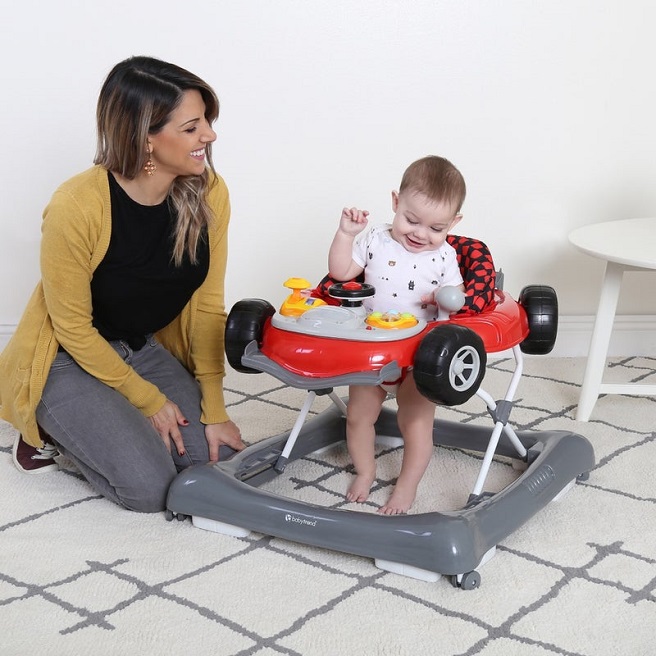 Make sure your child will be perfectly safe by getting a walker with seat belts, wheel lockers or automatic braking to prevent injuries and a wide stable base for support. Also, make sure that the walker doesn't come with sharp edges or toys that can potentially cause harm.
Non-toxic Materials
Even though most baby push walkers are made from plastic, you just have to be sure that it's a non-toxic variety. The paint should also be toxin-free and safe. Pay attention to the products you use for cleaning the walker or toys as well since many cleaning agents can contain toxic properties.
Comfort and Adjustability
Not all kids are the same. Some are a bit taller and skinnier, while others are shorter and chubbier. Make sure that the walker can be adjustable according to your child's height. Also if it comes with a seat, check exactly how many pounds can it hold up and if it comes with a support cushion to ensure maximum comfort.
Check the Price
Always be aware of how much money you can spend on a certain item and choose wisely. Some walker toys might not be of good quality, yet still, have a ridiculously high price tag. Be sure to take your time and make the right decision.
The Takeaway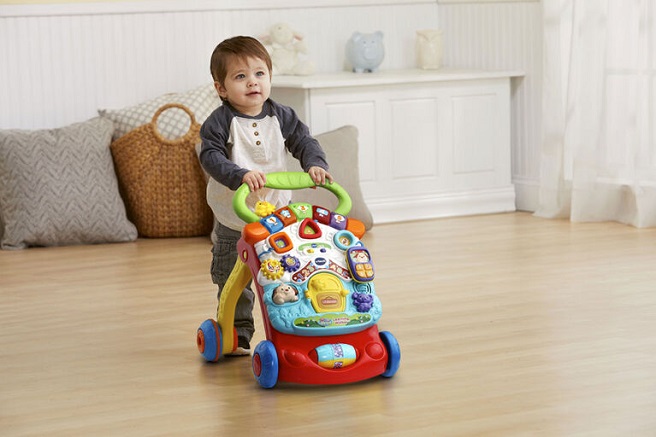 Overall, getting your child a quality baby activity walker will do both of you a huge favor. It will aid in the process of encouragement to walk and learn, and it will prevent your child from getting bored. Keeping them busy and engaged will also tire them out faster, so a good night's sleep is certain. Go ahead, pick the right walker and have a fun parenting time!