Besides having the right diagnostic equipment and all medical supplies, to be optimally functional, hospitals also need to have the proper floors. Emergency situations and accidents are common in hospitals, so it goes without saying that the chosen floor should be safe, secure and non-slippery at all costs. Luckily, there are two types of materials that are considered the safest choices on the market.
Vinyl Hospital Flooring
Wondering why is vinyl flooring used in hospitals? Welcoming, warm, appealing and comfortable underfoot hospital vinyl flooring is the ideal long-lasting solution. Even if installed in the most demanding and visited hospital areas, this floor can withstand the daily wear and tear. Being designed especially for this purpose, hospital vinyl flooring has a clear wear layer on its top in order to protect its surface from stains and spills. This floor has many other coatings that can also contribute to its safety and longevity. And, on top of this, vinyl flooring for hospitals is very appealing and budget-friendly.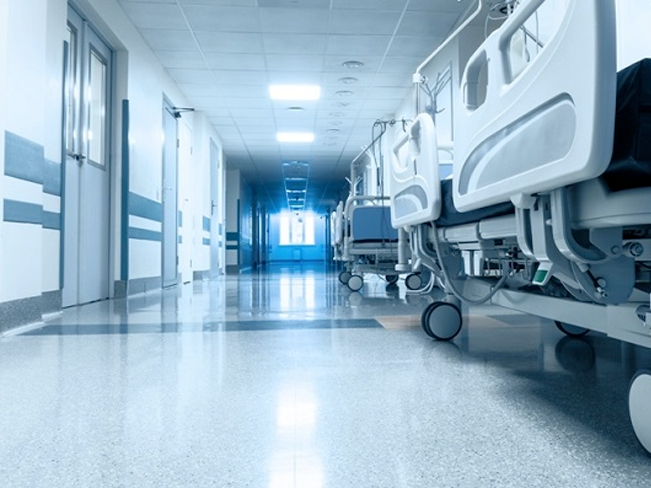 Vinyl floors are also extremely easy to clean and maintain. And since this floor won't have absorbency power, all of the dirt will stay on its upper layer, making it very easy to keep clean. All it takes is wiping it with a damp mop and that's it. The best of all is that even wet, this floor isn't that slippery.
Sheet vinyl is the most commonly used option when it comes to hospital flooring. It can also mimic all-natural floor looks like wood, marble and stone which can give the hospital's decor a warmer look.
Rubber Hospital Floor
Just like vinyl, rubber flooring is another option that is comfortable underfoot even if standing or walking on it throughout the whole day. Usually made of high-quality natural and industrial rubber, rubber flooring is an excellent choice for traffic work areas like hospitals. Its non-slippery surface is another great benefit, as well as its resistance to stains. Same as vinyl floors, rubber floors are extremely easy to clean and maintain, which is another reason for their popularity. Keep in mind that, from time to time, this floor needs to be waxed. And, although it doesn't need to be left to dry, still it'll take some time for its application.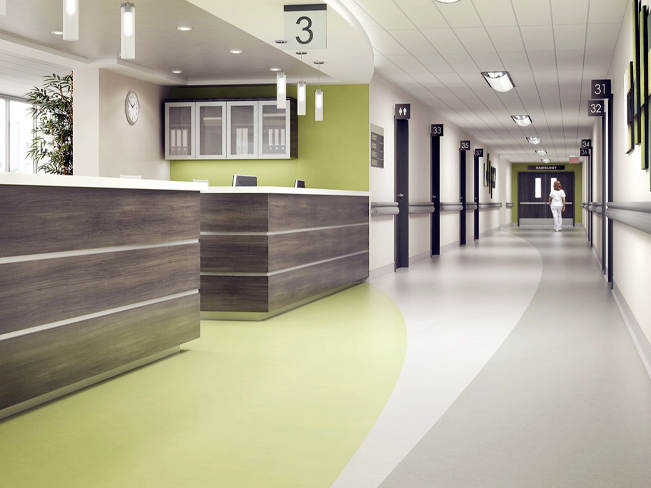 Hospital Flooring Recommendation by Location
Corridors
These hospital areas allow for the installation of both vinyl sheets and rubber flooring. Being resistant to spills, gouges and being easy to install, both of these flooring solutions represent a great candidate for corridors. When comparing both of these flooring solutions, vinyl is considered more attractive while rubber more cushioning. However, whichever type you choose, it won't be a mistake.
Entrance
When choosing a floor for the entrance, practice shows that vinyl flooring is the best option because it's extremely durable, slip-resistant and easy to clean. And being available in numerous finishes and designs, vinyl can make the entrance more warm, cosy and welcoming.
Emergency
Emergency rooms also allow for the installation of both vinyl and rubber floors, however, vinyl is the more commonly used option. Both of these floors can be sterilised and cleaned on a daily basis. Given the fact that this is the emergency floor and all kinds of cases come here, flash coving is essential in order to provide better floor isolation. Luckily, this can be done on both rubber and vinyl flooring, so it's really up to you which type of floor you'll choose for this hospital area.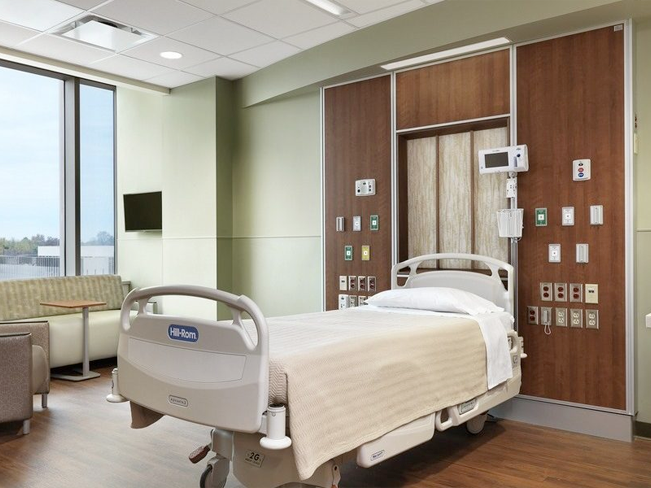 Patient Rooms
When it comes to choosing a floor for the patients' rooms, you should opt for the most resilient and non-absorbing option – vinyl. Although rubber is resilient as well, being a natural material it makes it more prone to stain and microbe absorbency.
Nurse Stations
Lastly, these rooms also allow for the use of rubber and vinyl floors. Being resilient, comfortable underfoot and appealing, both of these flooring solutions can be used for these rooms. Once again, vinyl floors might be the winner as the design and colour choice is bigger and more appealing.